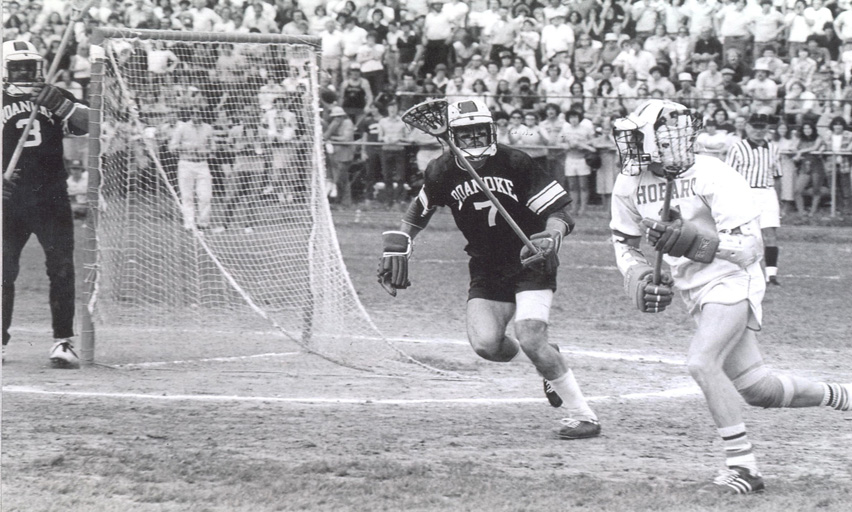 Bob Rotanz '78 (No. 7) during the 1978 national championship game against Hobart College.
1.03.2017
By Brian Hoffman '74
Paving the way
The Roanoke College lacrosse program has a history of success, with many conference championships, All-Americans, NCAA appearances and even a national championship team. Equally as significant is how this sport came to be in a small, Southwest Virginia town.
Fifty years ago, lacrosse was far from a national game. It thrived in the Baltimore, Maryland and Long Island, New York areas but was seldom seen in Virginia. So when Roanoke College students who ventured south to school from those two localities started tossing the ball around on the Back Quad, it was greeted with looks of curiosity by the local crowd.
"We used to throw the ball around for fun but no one else knew what lacrosse was," said Gary Trageser '67, a member of the very first team. "Then one year, I think it was 1965, we put on an exhibition at halftime of a soccer game. The place went crazy, and we started to get a following after that."
The first "club team" was played in the spring of 1965 after three years of promotion by students at the College who were passionate about the game. Doug Smith '65 and David Hume '68 were instrumental in getting donations and a grant from the National Lacrosse Association, and Smith, a student, was appointed player-coach of the first RC team. Others on the founding 1965 team included Trageser, Terry Smith, Kim Bramley, Bill Carlile, Joe Carroll, John Chase, Jim Cheston, Charlie Cipolla, Frank Lee, Todd Mahoney, Dick Sears, Dan Stone, Ron Voss and Bill Wood.

Smith and his brother, Terry, called on Salem businesses to secure funding for the program because the National Lacrosse Association (NLA) required matching funds. They raised $1,000, and the NLA matched the total for much-needed equipment. The first team borrowed soccer uniforms, and the players provided their own helmets, gloves and sticks, which were hard to come by in Southwest Virginia.
"The closest place that sold sticks was Lexington," said Terry Purvis '69, who was a freshman on the second club team in 1966. "We didn't have much equipment. The school was never in favor of having another team and they didn't want any part of it."
Despite the absence of participation from the College, Smith and friends were undeterred. Smith was able to pull together a five-game schedule for the spring of 1965, including two home games. On May 4, 1965, the Roanoke club team defeated the Washington and Lee University junior varsity, 5-3, on a field where the Science Complex now stands.
"Doug Smith should be in the Hall of Fame, because he was the real force behind starting the team," said Bill Wood '65. "We had a lot of fun but we didn't get much support. We had to travel on our own and supply all our own equipment."
The club picked up 18 more players for the 1966 season. Smith was determined to make lacrosse a varsity sport but the school required that a faculty member be associated with the team. Smith talked soccer coach <B>Andy Moson '62<B> into becoming the first official lacrosse coach at Roanoke.
Moson "didn't know anything about lacrosse. He just did it because he was a good guy and he wanted us to have a team," Purvis said. "Some of his soccer players came out for the team in the spring."
Craig Rowley '69 came to Roanoke in the late '60s to play soccer, but ended up playing lacrosse as well.
"I had never played but it wasn't that difficult to pick up," he said. "Coach Moson was looking for guys to play and I was a pretty good athlete. I had played hockey, so I was familiar with having a stick in my hand. Lacrosse has a lot of the principles of hockey, football and basketball. You have the contact, like football, and a lot of the same things you do in basketball, like zone defense and the pick and roll on offense."
And, even some aspects of baseball.
"One year we needed a goalie," said Purvis. "I had a fraternity brother, Bob Jackson, who was a catcher on his high school baseball team. I knew he wouldn't flinch, so we recruited him to play in the goal. He did pretty well."
The 1966 team, with 27 players, went 3-3. They beat W&L, Randolph-Macon and the Augusta Military Academy, and lost to Swarthmore, Duke and East Carolina. Swarthmore was nationally ranked but the young Maroons team battled them to a 16-10 loss.
"We had some good players," Purvis said. "Most of our players had played in high school, but outside of the Baltimore and Long Island areas there weren't many places to play lacrosse in college."
"It's important to pay tribute to the guys who started it and paved the way. We're fortunate they did the hard work and had the love for the game to start it up here."
Bill Pilat '85, head men's lacrosse coach
In 1968, the school officially recognized the lacrosse team as a varsity sport. Much of the equipment, however, was supplied by the players or donations from parents.
"We didn't have enough gloves, so one guy would come off the field and he'd toss his gloves to the guy going in," said Bill Doxanas '72, who would go on to become Roanoke's first All-American player.
"We had maybe a dozen balls for the whole season. When we'd go to an away game we'd grab balls and tape and anything we could get our hands on," Doxanas said. "The school had made us goals but the pipes weren't the right size and the nets didn't fit."
Bill Pilat '85, now in his 28th season as lacrosse coach at Roanoke College, says the team still has that goal.
"We still use it," said Pilat. "It's a big heavy thing and the pipes are huge. It's supposed to be six feet tall, but it's 6'1". We had two of them but one of them broke. They were here when I was a freshman and I'm pretty sure they were the original goals."
That's about the only thing that hasn't changed since the '60s. The team now rides to road games in a nice bus and has a spacious locker room in Alumni Gym. The team also has a brand-new, state-of-the-art locker room in the new Cregger Center that leads to an entrance to Kerr Stadium.
"We didn't even have a locker room," Doxanas said. "A lot of the players were in fraternities, and they'd get dressed at the fraternity house and walk across the street for practice."
As for a bus? Forget it.
"We'd load up in cars to drive to the games, five or six to a car," he said
Purvis remembers a trip to East Carolina University in 1968 when the Maroons almost didn't reach their destination.
"It was right after Martin Luther King was killed," said Purvis. "The National Guard was stopping cars on the road looking for strikebreakers, and they saw our helmets in the back window. They thought we were there to cause trouble, but one of the guards was familiar with lacrosse and told them they were lacrosse helmets, and they let us go."
Back in the early days Smith scheduled games around big weekends at other schools.
"We played a game at East Carolina the same day they had a Beach Boys concert, and we all got to see the Beach Boys," remembers Leonard "Buzz" Getschel. "When we went to Randolph-Macon they had the 'Friends of Distinction' concert that day."
By 1969, the team was well-established.
Moson left the college in 1970 and Ted Savage was hired to coach the team beginning in the 1971 season. Doxanas credits Savage with taking the program to another level.
"We beat a lot of good teams that year," he said. "We beat UNC, and the University of Virginia was the only team to blow us out."
Doxanas was named Honorable Mention All-American that year, the first of many to be so honored in program history.
Pilat looks back at the 1972 year, when the team joined the USILA, as the true start of the current varsity program. But he respects the efforts of the program's founders and enjoys meeting the old players during Alumni Weekends and on trips out of town. In March, he recently talked with Dick Sears '65, a member of the founding 1966 club team, on a Men's Lacrosse Team trip to Colorado.
"It's important to pay tribute to the guys who started it and paved the way," said Pilat. "We're fortunate they did the hard work and had the love for the game to start it up here."
Doxanas has a diner in Maryland and often feeds the team on their trips to Baltimore. Getschel's son, Karl, played lacrosse for RC.
"He's a great guy and he carried on the tradition," said Pilat.
Many of the founding players continued to be involved in the game after leaving Roanoke, coaching, officiating and promoting the sport. They're very proud that only a dozen years after that first club team took the field, the Roanoke College Maroons won the national championship under Hall of Fame coach Paul Griffin. The rest is history, but they'd like to be included in the early chapters.
"We had a great time and we just played for the love of the game," Leonard Getchsel said. "It was so much fun, and I made lasting friendships from lacrosse. We have a group of guys in Baltimore who still get together."
"I can't believe it's been 50 years," said Purvis. "I've had two daughters graduate from Roanoke College and I try to get to the games when the team comes up to Baltimore. "I'm proud to have been part of the history of this program, put lacrosse on the map at Roanoke. Without us, there probably wouldn't be a Mac and Bob's in Salem."
Mac and Bob's, a Salem restaurant, is owned by Bob Rotanz '78 and Joe Dishaw '78, who were members of the 1978 national championship team. It's been a meeting place for the lacrosse community for years. Among the many lacrosse photos on the restaurant walls is a picture of Doxanas, the first All-American.
"Five years later I might not even have made the team," Doxanas humbly said. "We were big fish in a little pond, but we got the program started and it's been a great thing for the College."