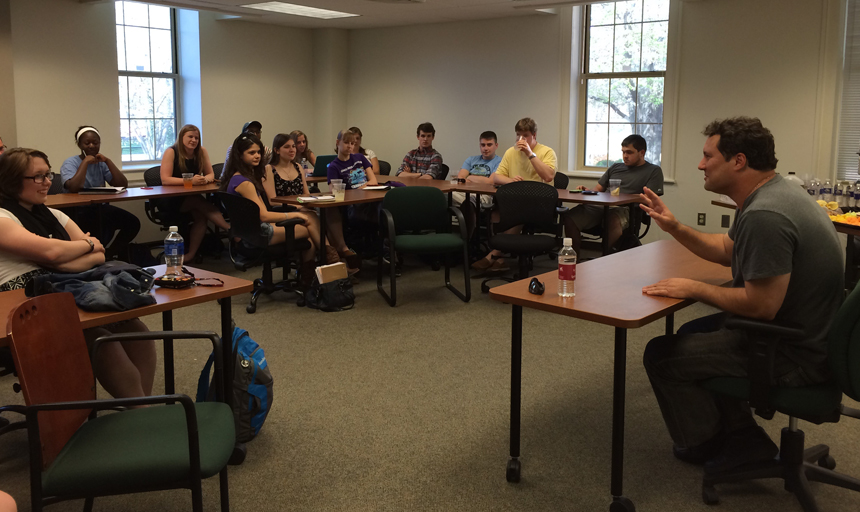 Hollywood television, movie producer and alumnus shares advice with Roanoke students
The hit shows "The Simpsons" and "King of the Hill" have one person in common - Joe Boucher, a 1987 Roanoke College graduate. Boucher was the producer for both shows and still lives in Los Angeles, where he continues to produce movies today. He returned to Roanoke College's campus in April, during the 2014 Alumni Weekend, and spoke to students and professors about his time at Roanoke College, his time in Hollywood and advice for work in entertainment.

A Long Island, N.Y., native, Boucher played lacrosse at Roanoke, eventually serving as the team captain. He credits his experience at Roanoke for contributing to his future success.

"It wasn't necessarily what I learned in the classroom, although I really liked the business major and my classes here. It was about all of the other things I did and being away from home for the first time," Boucher said.

Such things included working the College's switchboard Wednesday nights, serving on the interfraternity council, and playing on the lacrosse team for four years.

Although Boucher was a business major, he took art history, drafting, and theater classes. Boucher said that he was not really sure what he wanted to study in school, and he just figured that he would "go the practical route" and do business like many of his friends. However, before his senior year he realized that he had a story he wanted to tell as a film and his interest in film began to blossom.

Following graduation, Boucher moved back home and worked for a construction company with his brother. He saved $800 and bought a one-way plane ticket for California. He had small jobs, such as a car salesman and a personal trainer in the beginning, but after a job interview one day, Boucher found himself inspired to pursue his dream in a film career and drove to Fox Studios.
After humorously trespassing into the studios and realizing that the personnel office was located outside of the gates, he finally made his way to the office and struck up a conversation with the receptionist. Although he could not talk to anyone in the office that day, he "sweet talked" the personnel employee, told her about his dreams, gave her his resume, and she ended up helping him land a job in the mailroom, which Boucher found to be a tremendously helpful job in starting his career.
He delivered mail to Hollywood big-timers, such as Rupert Murdoch, which helped him develop relationships that guided him further his career. He eventually worked his way up to producing two major television shows, and the rest is history.
Boucher said that "doing the little things" like adding a rose cut out of a parking lot garden when serving dinner "on a crappy lunch tray" to a star, looking at every situation and coworker as real people, and using his team, business and creative skills helped him to establish himself in Hollywood when he started out as nothing.
Boucher concluded the talk by offering some final advice to students.
"You have to have a dream and kind of go for it at times," he said. "When you're young is the time to do it. I still have dreams and things I want to do, but it's harder when you are older and have a life."
By Anna Moir '14
Published May 22, 2014