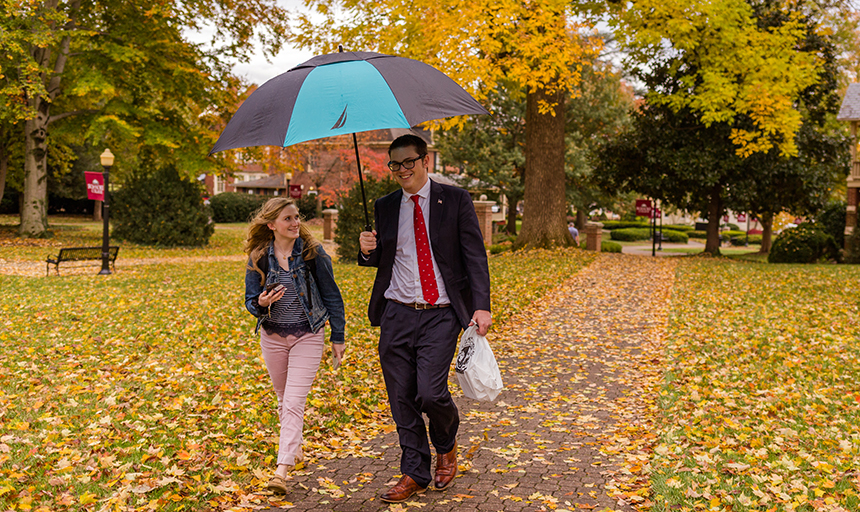 Preparing for Severe Weather from Hurricane Ian
Good afternoon, Maroons! As you have heard, Hurricane Ian made landfall in Florida yesterday and is likely to make a path through the South and into Virginia for the weekend. While Ian may not be categorized as a hurricane-level storm when it arrives in Virginia, it is still expected to bring strong winds and significant rainfall to the region. The latest local forecast from the National Weather Service in Blacksburg indicates that the storm may bring several inches of rain between Friday and Monday. We are located on the line between an area forecast to have 3-5 inches of rain and an area forecast to have up to 5-7 inches of rain. The full NWS overview is included below.
It is important to remind everyone, especially students who may not be entirely familiar with the region, that streams, creeks and roadways can flood. Heavy rainfall may saturate the ground, and additional rainfall may bring about flash flooding very quickly. It's important to stay weather-aware this weekend and remain tuned to local media for the latest alerts and weather warnings. If you are going off campus this weekend, stay alert to weather conditions. While the situation may look fine on campus, areas around the campus may be impacted by rivers and creeks that run through the Roanoke Valley. Local media outlets are listed below.
Additionally, remember these important tips for staying safe in a flood or flash flood:
DO NOT DRIVE THROUGH FLOODWATER. A small amount of floodwater can make it impossible to navigate. Floodwater can sweep a car away or cause it to stall, putting your life and car at risk.

With flooded roadways, it can be difficult to assess road conditions under the floodwater. The road may be washed out. Turn around and don't drive through.

Don't wade or play in floodwater, which may contain unsafe substances that have leaked from other flooded areas.

Standing floodwater can spread

infectious diseases

, contain chemical hazards and cause injuries.

If you are in a building that is flooding, move to higher floors or higher ground.

Power outages are possible, so keep phones or other important equipment charged and ready for use.
Roanoke College staff are preparing for possible heavy rains, wind and resulting issues related to flooding and possible power outages. Students are encouraged to prepare and stay weather-aware.
The parking lots along Market Street sometimes flood during heavy rains or storms like Ian. If your car is parked in these areas, keep an eye on the creek and move your car to higher ground if necessary. The parking lot off Hawthorn Road is a good option.
We know many of you are from Florida and areas where the storm has hit and you may have storm damage or concerns at home. Please remember our counseling services are available to you. If there are other needs or concerns, please reach out to the Dean of Students office or email questions@roanoke.edu.
DO NOT DRIVE THROUGH FLOODWATER.
From the National Weather Service
Sept. 29, 2022 Overview:
Flooding and localized flash flooding are possible Friday night into Sunday, with the threat for river flooding continuing into early next week, as widespread rainfall amounts of 3-5 inches with localized 5-7 inch totals along the southern Blue Ridge are expected. In addition, wind gusts of 25-35 MPH, with higher gusts along the ridges Friday afternoon into Saturday, combined with the saturated ground, will likely result in downed trees bringing localized power outages.
Threats:
Flooding and flash flooding

Damaging winds
Location: The entirety of southwest Virginia, southeast West Virginia and northwest North Carolina, with the greatest risk for flash flooding along the southern Blue Ridge from northwest North Carolina to southwest Virginia. The strongest wind gusts with the greatest potential for localized wind damage will be south of U.S. 460, especially along the higher ridges in the southern Blue Ridge.
Timing: Friday afternoon through Monday afternoon
Impacts: Flooded roads from flash flooding of small creeks and streams, and from flooding of rivers, late in the weekend into early next week. Gusty winds may bring down trees or limbs, resulting in localized power outages.
Additional Information: Monitor the latest forecast track from the National Hurricane Center at www.hurricanes.gov.

Local media resources:
National Weather Service, Blacksburg
WDBJ7 – CBS affiliate
WSLS10 – NBC affiliate
WFXR21/27 -- Fox affiliate