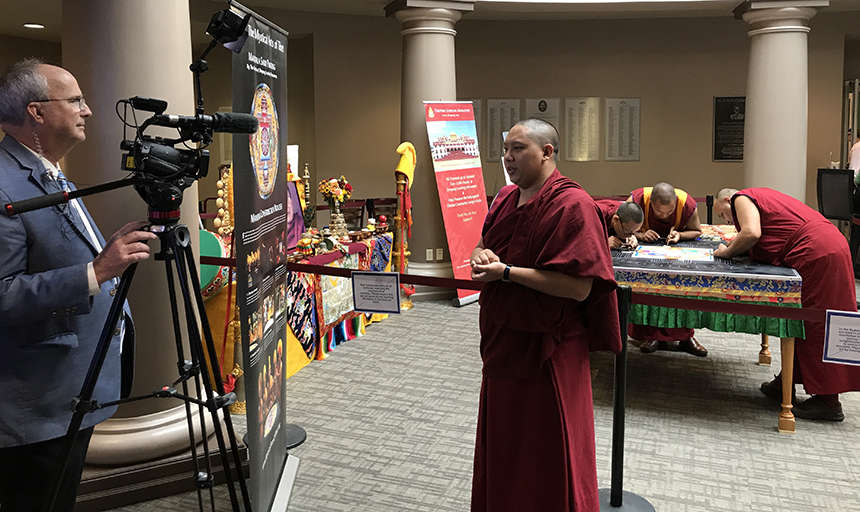 ICYMI: Roanoke in the News - Fall 2019
Roanoke College recognized for strength of teaching in 2020 U.S. News rankings
U.S New & World Report released its "Best Undergraduate Teaching" list and Roanoke ranked 40th on the list of the nation's top liberal arts colleges for undergraduate teaching.
Roanoke College featured in U.S. News & World report about college admissions standards
President Mike Maxey, Vice President for Enrollment and Dean of Admissions and Financial Aid Brenda Poggendorf, and student Callie Hammer '21 are all quoted in an article reporting about colleges that use a holistic approach to the admission process.
Dr. Todd Peppers commentaries appear in national and state-wide media
Dr. Todd Peppers, the Henry H. and Trudye H. Fowler Chair in Public Affairs, speaks out against the practice of hiring Supreme Court clerks from only the top law schools in commentary carried by The National Law Journal. He also has an opinion column about televised executions in the Richmond Times-Dispatch.
Roanoke College expands test-optional admissions policy for all applicants
Standardized tests scores will now be optional for all students applying to Roanoke College, an announcement picked up by Inside Higher Ed, the leading digital media outlet covering higher education, and local television station WDBJ-7.
Brenda Poggendorf pens op-ed on recent nationwide changes to the admissions process
The National Association for College Admissions Counseling (NACAC) recently took action that could change the admissions process for many students about to enter college. In an op-ed in the Richmond Times-Dispatch, Roanoke College's Vice President of Enrollment and Dean of Admissions Dr. Brenda Poggendorf weighed in on what this could mean for students and their families.
National and statewide media reported on recent polls conducted by Roanoke's Institute for Policy and Opinion Research.
A pre-election poll showed Democrats leading in a generic General Assembly ballot, President Trump's approval rating down in Virginia, and approval for Governor Northam up slightly.
As the special session of the Virginia Assembly convened to address several issues related to gun violence, the Roanoke College Poll looked back on polling on issues related to firearm regulation from the past few years.
A real estate poll showed that Virginian's sentiment about real estate markets backed away from the second quarter numbers, yet current conditions are trending upwards.
The Virginia Consumer Sentiment and Inflation Expectations Report revealed that sentiment continues to fall despite household spending, which is driven by expectations for the coming year.
Legendary Roanoke men's basketball coach Charlie Moir passes away at 88
Coach Charlie Moir led Roanoke to the first national title of any kind in 1972 when he led the men's basketball team to the NCAA National Championship. He coached at Roanoke from 1967-73, and afterwards at Tulane and Virginia Tech. He has been memorialized in numerous media outlets, including The Roanoke Times.
Center for Community Health Innovation Receives Grant to Improve Healthy Food Access in Local Community
Roanoke College's Center for Community Healthy Innovation was the only academic institution among 23 grantees receiving financial and technical assistance awards through the Healthy Food Financing Initiative's inaugural grants program. The work of the CCHI has been featured in the Journal of Appalachian Health.
Dr. Tom Carter's students visit cemetery, learn about the culture of Halloween
Dr. Carter's unusual class activities caught the attention of Faculty Focus, a national higher ed website that writes about effective teaching strategies for the college classroom.
Program founded by Dr. Gregory Samantha Rosenthal gains regional and national attention
Dr. Rosenthal founded the Southwest Virginia LGBTQ+ History Project, a community-based queer public history initiative. A Roanoke Times article about a recent project was picked up by the Associated Press and carried in several media outlets, including The Washington Post and U.S. New and World Report.
Author and Vietnam veteran John Ketwig visits campus
The Roanoke Times reported on John Ketwig's visit to Dr. John Selby's class on "The Vietnam War," where he shared his firsthand experiences and talked about his new book about the war.
Virginia town with Roanoke College ties captures the attention of Pittsburgh columnist
The renovation of many buildings in Paint Bank, Virginia, has been a labor of love for Roanoke Board of Trustees member Nancy Mulheren '72 and her late husband John Mulheren '71. Columnist Ruth Ann Dailey of the Pittsburgh Post-Gazette came across the town in her travels south and was impressed by the impact the family's generous investment has made to the town.
Tibetan Buddhist monks create sand mandala on campus during week-long visit
Five Tibetan Buddhist monks from the Drepung Loseling Monastery in southern India visited campus in September for a weeklong residency. Their visit included lectures on meditation and on the meaning of mandalas, a geometric figure representing the universe in Hindu and Buddhist symbolism. WSLS-10 and WDBJ-7 each carried the story.
For 14th year, students build Habitat for Humanity house during orientation week
Roanoke's unique and meaningful orientation week ice-breaker, the RHouse project, caught the attention of the local CBS television station.
Roanoke College is regularly featured in national, state and local media. Read more articles like these at Roanoke in the News page.