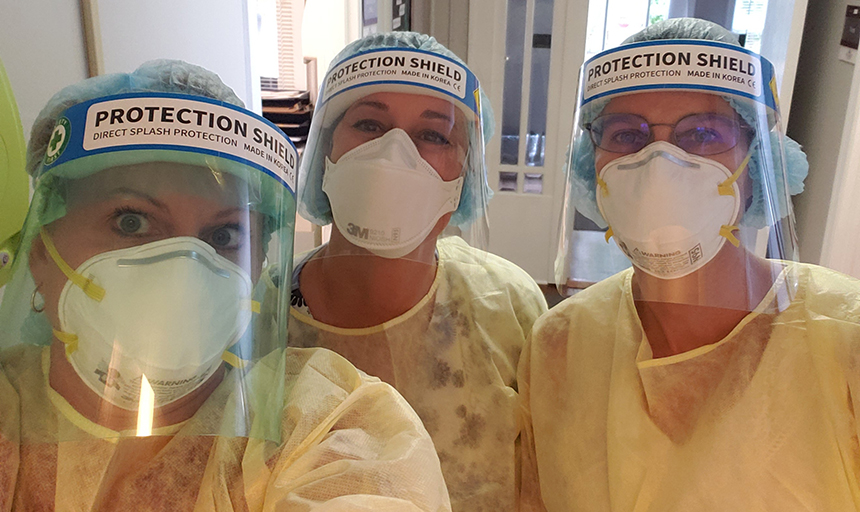 Some of the nursing staff at Student Health Center. Thank you!
What if I'm positive? What you need to know about Isolation and Quarantine
Now that positive cases of COVID-19 are on our campus, it's a good time for everyone to review the process for seeking care and then limiting your movements and interactions if you are positive or in contact with someone who is positive. Here's the process.
Do you feel sick?
Feel bad? Have a fever? Developing a cough or sore throat? Fill out the Daily Health Assessment at covid.Roanoke.edu. If you answer yes to one of the three questions, this triggers a notice to Student Health Services and they will follow up with you by email.
Know the potential symptoms of COVID-19 (such as a fever, cough, chest pain or difficulty breathing). If you have any of these symptoms, remain in your room, contact Roanoke College Health Services at (540) 375-2286. If it is after hours, please leave a voicemail and remain in your room. Health Services will reach out to you the next business day.
If you believe you need emergency care, call 911 for transport to the nearest emergency department for evaluation and treatment. Be sure to inform them you have been under quarantine for COVID-19.
Roanoke College will provide care and support to students who have tested positive for, or been exposed to, COVID-19.
Student Health Center and Testing
You may be asked to report to the Student Health Center for a rapid test to determine if you are positive for COVID-19. These test results are available in minutes and help the College to know who may be capable of spreading the virus to others.
Students who test positive are moved to Catawba Hall, the College's Isolation hall, for at least 10 days. The College and student then work together to identify others they have been in contact with. Close contacts would then be placed in quarantine in their own room for at least 14 days. This is a recommendation from the Virginia Department of Health because the incubation period is 2 to 14 days. The duration of quarantine cannot be shortened by a negative test. Testing is not recommended unless the individual is symptomatic. A "close contact" is considered someone who has been less than six feet away from the COVID-19 positive person, without a mask, for 15 minutes or more. Contacts who wear masks or maintain six feet physical distance typically do not need to quarantine.
What's the difference between isolation and quarantine?
Quarantine and isolation are similar in some ways. Both involve separation of people to protect the public, both help limit further spread of COVID-19, both can be done voluntarily or be required by health authorities, and may lead to contact tracing to monitor close contacts and contacts. Both also provide an environment in which students can focus on their health so they can recover and return to their academic studies.
Quarantine: Quarantine, as defined by the CDC, separates and restricts the movement of people who were exposed to a contagious disease to monitor symptoms and see if they become sick. This also helps to reduce possible spread in case these individuals should become sick. Residents who come in contact or suspect they may have COVID-19 will be able to quarantine-in-place due to our residential structure.
Isolation: Isolation, as defined by the CDC, is separating a sick person from those who are not sick with COVID-19.
Other important points about isolation and quarantine:
If someone you were close to notifies you they have tested positive and you place yourself in quarantine, you must notify the Student Health Center at 540-375-2286.

If you go to a local urgent care, or your own doctor, and test positive for COVID-19, you must notify Student Health Center at 540-375-2286. This is part of your housing agreement with the College.

If you live off campus and have tested positive at an off campus facility, you must notify the Student Health Center.

Notification to the Student Health Center also puts students in the process for support from College in the way of notification of contacts, notification to professors, meal deliveries (if on campus), mail delivery and more.
Meals:
Dining Services will deliver meals to students in quarantine and isolation. Each day at lunch, students receive lunch, dinner (to be heated later) and a continental breakfast for the following day.
Mail:
Mail and packages can be delivered to students in isolation or quarantine, upon request, Monday - Friday. Students placed in isolation or quarantine can contact programs@roanoke.edu with their mail request and cell number to arrange contactless delivery.
Being prepared:
If you should be placed in isolation, you will need to take several items with you. Many students prefer to have a bag packed with most items, just in case. Here are the items recommended to take to the isolation space in Catawba Hall:
College ID, wallet/purse, any other ID, and legal documents

Insurance card or insurance information from parents

Books, notebooks, pens/pencils, and other items needed for classes

Computer and power cord

Phone and charger

Enough clothing for up to 14 days

Toiletries (Soap, shampoo, razor, deodorant, etc.)

Laundry detergent

Bedding & pillows if not provided

Towels & washcloths

Face coverings (Masks)

Thermometer
Most important is for everyone to remember to maintain the basic public health guidance to avoid the spread of COVID-19.
Wear your mask

Maintain six feet of social distance, you can still be social, just stay apart

Wash your hands frequently, especially after using the restroom or sneezing.

Use hand sanitizer regularly.

Stay healthy, Maroons!