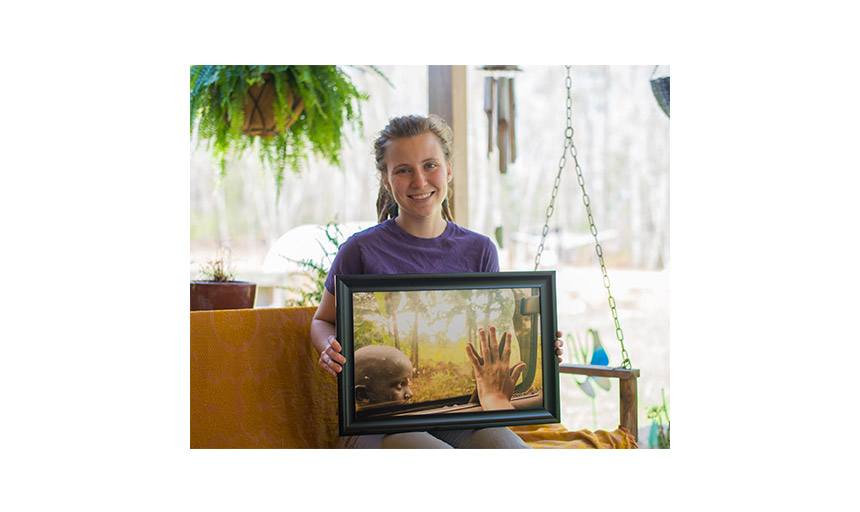 Jaina Lanum '17 with her photo, "Universal Language."
7.12.2017
By Roanoke College News
Roanoke alumna wins contest for unique photo message
A Roanoke College alumna recently landed an award for her ability to depict a message through photography.

Jaina Lanum '17 took first place for a photo that she called "Universal Language" in the first annual Roanoke Valley Sister Cities Young Photographers Showcase. The contest called for photos that show "world peace through mutual respect, understanding, and cooperation."
Lanum took "Universal Language" in Uganda, where she traveled with family friends. The photo shows a child putting his hand up to a window to touch the hand of Lanum's sister, Karlee Lanum.
After winning the local contest, Jaina Lanum, an Art major at Roanoke, was invited to submit three photos to the Sister Cities International Young Artists and Authors Showcase.
Along with "Universal Language," she submitted two other photos, both taken in Uganda - "Smiles" and "What's so funny?" "Smiles" is a photo of a Ugandan child who was so infatuated with Karlee Lanum that he jumped up to hug her and touch her face. "What's So Funny?" is a photo of Jaina Lanum and a friend, with a lake in the background.
For the final stage of the Young Artists and Authors Showcase, five finalists will be selected by a panel of judges in Washington, D.C. The grand prize winner will receive $1,000.