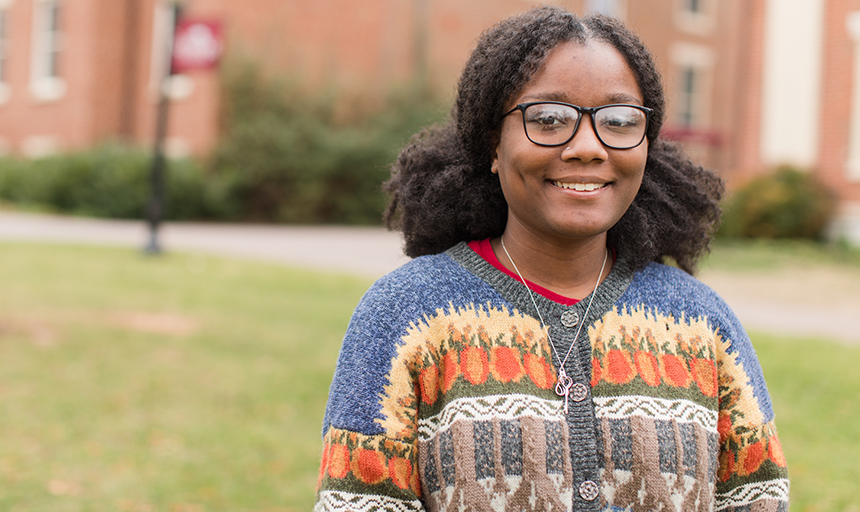 Tillery awarded Gilman Scholarship to study Mandarin in Taiwan
Janiah Tillery '21 has been named a Gilman Scholar. Tillery is the 13th Roanoke College student to receive the award.
Tillery, from Baltimore, Maryland, will study this spring at Providence University in Taichung City, Taiwan. This competitive and prestigious scholarship will help fund her semester at Providence and for lessons outside of school to become more proficient in Mandarin. On campus, she is active in the service fraternity Alpha Phi Omega, and is majoring in history with a concentration in East Asian studies.
"I am so excited and thankful for the opportunity to study abroad in Taiwan," says Tillery. "Studying abroad will allow me to fully immerse myself in a different culture and to better my Mandarin skills. Ms.Rosti, Dr. Xu and Ms. Boggs-Parker have been a great help to me and it is because of their support and hard work that I have gotten this far and that my dream has become a reality."
The Congressionally-funded Benjamin A. Gilman International Scholarship broadens the U.S. student population studying and interning abroad by providing scholarships to outstanding undergraduate Pell Grant recipients. Since the program's establishment in 2001, over 1,300 U.S. institutions have sent more than 28,000 Gilman scholars who represent the rich diversity of the United States to 145 countries around the globe.
The Gilman Program is sponsored by the U.S. Department of State's Bureau of Educational and Cultural Affairs and is supported in its implementation by the Institute of International Education (IIE).