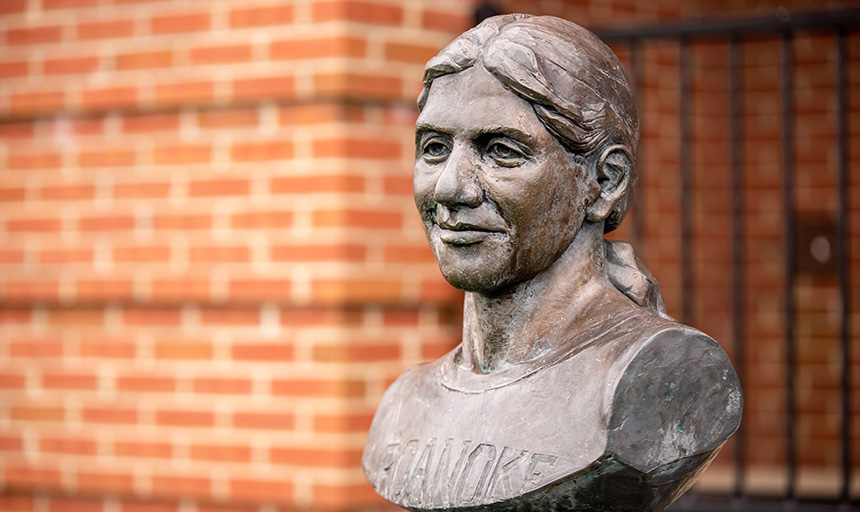 A bronze bust of John Pirro '77, which now overlooks Kerr Stadium on the Roanoke College campus, serves as a poignant reminder of athletic greatness. Photo by Griffin Pivarunas '16
A long time coming
I'll never forget the first time I saw John Pirro '77. It was the fall of 1973. I was starting my senior year at Roanoke College, and I saw this shirtless freshman with hair halfway to his waist striding across the Back Quad.
Little did I know this guy would go on to become an All-American lacrosse player, head coach of the Roanoke College men's lacrosse team, one of my best friends — and now, posthumously, a member of the National Lacrosse Hall of Fame Class of 2021.
On May 25, 2021, USA Lacrosse announced that Pirro, who died in 2013, had been named one of the eight new inductees.
A bust of Pirro is located in the corner of the Kerr Stadium Field, a telling reminder of how highly thought of Pirro was at Roanoke College. The lacrosse players pass by and pay tribute to it before every home game.
In the spring of 2022, Pirro will take his rightful place in the National Lacrosse Hall of Fame in Sparks, Maryland. According to his former teammates, it's been a long time coming.
"It's an honor that's so overdue it's ridiculous," said Joe Dishaw '78, who played on the team for three years with Pirro.
Pirro was flamboyant as a player, outspoken as a coach and a fiery competitor in everything he did. I played pickup basketball many times with him, and he competed like it was the NBA Finals.
"With his credentials there's no doubt John is worthy," said Paul Griffin, Pirro's coach at Roanoke and mentor who brought Pirro to Salem from Long Island, New York. "I know he had some real advocates in Doug Horn and Bill Beroza."
Bill Beroza '77, who was inducted into the National Lacrosse Hall of Fame himself in 1996 after an outstanding career as a goalie for Roanoke, the Long Island Club team and the United States National team, has been lobbying for Pirro for a long time.
"He was a two-time Defenseman of the Year in college," Beroza said. "Before moving back to Salem, he played one year for the Long Island Lacrosse Club. We won the club championship and John was the Defenseman of the Year. At the time, that was the highest level of lacrosse there was."
"Pirro was flamboyant as a player, outspoken as a coach and a fiery competitor in everything he did."
Brian Hoffman '74
According to Doug Horn '78, who was Pirro's teammate at Huntington High School in New York and at Roanoke College, Pirro was a coach on the field when he played.
"He was a team leader and really good at putting his insight into certain situations," Horn said. "He was a great teammate. When we were in high school he was friends with everybody, not just the athletes. I wouldn't have gone to Roanoke College if not for John."
In 1979, Pirro returned to his alma mater as assistant coach to the legendary Griffin, then assumed the head coaching role in 1982. Pirro coached the Maroons for five years, including an appearance in the NCAA Division II National Championship game in 1983. Over his five-year tenure as Roanoke's head men's lacrosse coach, his teams never lost an Old Dominion Athletic Conference game. A year after his retirement from coaching at Roanoke in 1987, Pirro was voted into the Roanoke College Athletic Hall of Fame.
Horn and Beroza, never gave up on their efforts to get their deserving friend into the National Lacrosse Hall of Fame. Pirro already was a member of the USA Lacrosse Long Island Metro Chapter Hall of Fame (1995) and the USA Lacrosse Charlottesville Chapter Hall of Fame (1997). He also was the first lacrosse player inducted into the Roanoke College Hall of Fame in 1987. His number 14 jersey is retired.
A firm date for the National Lacrosse Hall of Fame induction has yet to be announced. Without a doubt, Pirro will be well represented at the ceremony.
My one regret is that my good friend won't be there to accept the honor. Pirro died of Huntington's Disease on Aug. 13, 2013. I know he would have been thrilled by the national honor.
"It's a shame, but it will be great for his boys [Joe and Nick], his family and everyone at Roanoke College," said Griffin.
Pirro's sister, Mary-Jo Reynolds, will be one of the family members on hand to accept the honor.
"The Pirro family is thrilled that John will be inducted into the Hall of Fame," she said. "I think I can speak for all of us when I say that we are all just very sad that he is not here to enjoy this incredible honor."