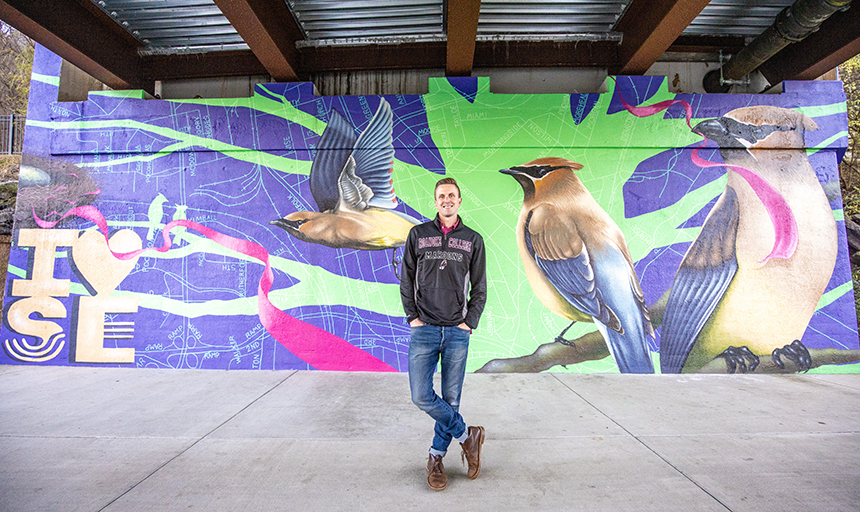 Jon Murrill '09 poses in front of his mural under the 9th Street bridge in Southeast Roanoke.
Art with heart
Of all the locations a person might expect to encounter a show-stopping splash of public art, a bridge abutment on the outskirts of an industrial area is probably not high on the list.
Nevertheless, a vibrant mural painted under the 9th Street bridge along the Roanoke River Greenway in Southeast Roanoke by artist Jon Murrill '09 is capturing the hearts of local residents and becoming a favorite spot for greenway enthusiasts — and that was the hope all along.
"Public art can help us see things anew," said Roanoke Arts and Culture Coordinator Doug Jackson. "There is that little bit of shock when you are running along the greenway and suddenly you see art in a place where there was graffiti. It makes you want to pause and reflect a bit."
Murrill, who earned a degree in studio art at Roanoke College, is inspiring folks to pause and reflect all over the Roanoke Valley. In addition to the 9th Street bridge mural, the city tapped him to paint two murals under the 13th Street Southeast bridge along the greenway. His work can also be seen in private establishments including Sidecar restaurant, Local Roots restaurant, Twisted Track Brewpub, Valley View Mall, Oak Grove Plaza and The French Farmhouse.
These efforts have made Murrill, a native of Vinton, Virginia, something of a household name around Roanoke in recent months. The Southeast project has been featured on WSLS (Channel 10), WDBJ (Channel 7), Roanoke Valley Television and WFIR (960 AM), and in Southwest Virginia Living magazine. Just last year, Murrill was included on The Roanoker Magazine's "40 Under 40," a list of up-and-coming young professionals.
Those who remember Murrill from his college days, including Gallery Director Talia Logan, who supervised him in his student job at Olin Gallery, are not surprised by his success.
"Jon was a hard worker, and he had a great eye for detail," Logan said. "It has been great to see his role grow from a student into a young professional artist and teacher. Even as a student, you could tell that he had great talent as a visual artist."
Murrill said mentors like Logan and retired fine arts professor Scott Hardwig inspired him to pursue art at a higher level, as did some of his courses. "The humanities classes challenged me to perceive different areas of the arts in different ways," he said.
Following graduation, Murrill went on to earn an MFA from Radford University with a concentration in painting and drawing. He taught art in Craig County Public Schools and as an adjunct professor at Virginia Western Community College before taking a job teaching visual arts at Patrick Henry High School in Roanoke in 2015.
On the side, he continued to produce stunning portraits of both regular folks and celebrities he admires, mostly using charcoal and graphite. His award-winning art has been exhibited in juried shows and galleries all over Virginia and beyond. But doing portraits was a relatively lonely endeavor compared to his newfound passion for murals.
"I wasn't getting the engagement I wanted when I was doing portraits," Murrill said. "I love having real people interacting with my work. Not every artist cares about that, but I do."
Cyclists zip past Murrill's mural under the 9th Street bridge in Southeast Roanoke.
"I think there is a real community-development outcome with projects like this, and I think Jon is built to facilitate that kind of growth in a neighborhood or community."
~ Doug Jackson, Arts and Culture Coordinator | City of Roanoke
Murrill puts the finishing touches on his mural at Blue Eagle Credit Union in Salem.
In 2021, the city of Roanoke had completed a public art project under the Memorial Avenue Bridge and was ready to move on to the next stage in its Public Arts and Cultural Plan, which would involve engaging Southeast Roanoke neighborhoods in a conversation about public art under the 9th and 13th Street bridges. Jackson and Sunni Purviance, director of the I Heart SE community organization, applied for and received a National Endowment for the Arts (NEA) grant to fund the project, then they reached out to Julia Sienkewicz, an associate professor of fine arts at Roanoke College, to ask for collaboration.
Sienkewicz frequently includes community engagement in her classes and was already familiar with I Heart SE from earlier collaborations. She agreed to have her INQ 271 class, Race, Ethnicity and American Art, spend fall term 2021 thinking about public art and exploring possible themes and goals for the Southeast project. They then presented those themes in a poster session for the community at the Belmont Branch Library and those presentations informed the Roanoke Arts Commission's request for proposals from artists in January 2022.
"That project represents what community-engaged teaching is really about," Sienkewicz said. "The community had a need and a limited amount of manpower, so we were able to support the work that they were doing, and what our community partners wanted, but in no way dictating the final result."
She added that the work helped students see the practical applications of art history and mingle with different corners of the community. "It's important to me to get students into places unlike where they might have grown up and talking to people they perceive as not like them," she said. "It helps them to have a greater level of empathy and curiosity about communities outside that 18-21 age bracket."
Murrill's response to the city's RFP included three murals inspired by local wildlife — they feature cedar waxwings, a green heron, an osprey, damselflies and fireflies — and a series of community days, during which community members could volunteer to help. In the end, more than 60 people participated in the project, including a number of teens, and Murrill drew on his role as an educator to show them different techniques and brush strokes. He said community involvement turned out to be his favorite part of the job.
"It gets a little boring when you are out on a wall for days or weeks and there's nobody to talk to but the wildlife," he said. "This experience opened my eyes to what a process with a lot of people involved could become."
Thanks to Murrill, who calls it a "happy coincidence" that his surname is so similar to his art form, more locals are realizing that there's something magical about public art. Sienkewicz points out that art can uplift communities and help them feel a sense of connection and engagement. Jackson knows that painting a mural in a transitioning neighborhood can attract more investment in that neighborhood, and he said Murrill was the perfect person to lead the charge in Southeast.
"Jon has the technical skills, a positive vibe and vast experience working with people as an educator, and that all came out," he said. "Pushing artists to do community-based art can put them in a very anxious space, but Jon is pretty unflappable and has the confidence to do it. I think there is a real community-development outcome with projects like this, and I think Jon is built to facilitate that kind of growth in a neighborhood or community."
Murrill, who is married to his high school sweetheart, Lindsey, and has two young boys, Jackson and James, has no plans to stop illustrating walls across the valley. He just completed a new mural at Blue Eagle Credit Union in Salem and will soon begin two murals inside the Virginia Museum of Transportation in downtown Roanoke. Not only does he want to paint new murals, but he hopes to do much larger pieces and restore faded or damaged murals.
"As an artist, I want to take up that banner and run with it," he said. "Murals bring so much joy and relevance to the area."