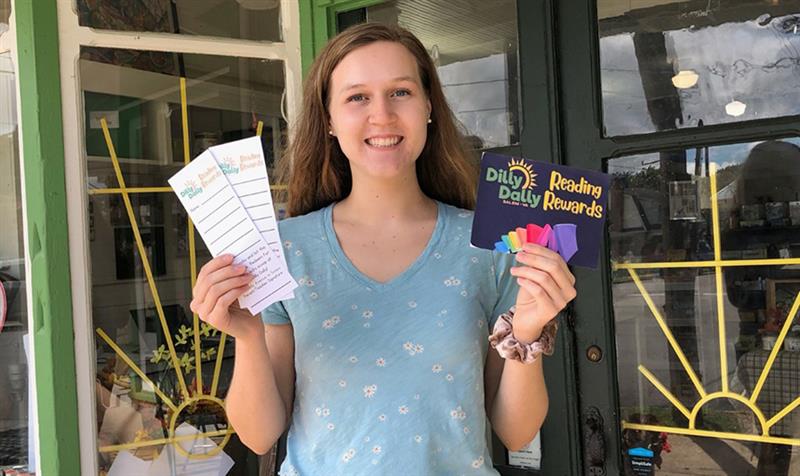 Vaughan aids reading initiative at local café
Roanoke College sophomore Katherine Vaughan has a busy schedule. The Honors Program student and business administration major is a member of Alpha Phi Omega and participates in Women in Economics, Collegiate Entrepreneurs Organization (CEO) club and the Center for Leadership and Entrepreneurial Innovation (CLEI).
Outside of studies and activities, Vaughan works for the Dilly Dally, a Salem café that offers deli foods, sweet treats and gift items. Vaughan, with her business background, has been involved in the café's promotions, most recently its Reading Rewards initiative.
"The Reading Rewards promotion is part of our effort to 'spread some sunshine' [Dilly Dally's tagline]," Vaughan said. It's "a great way to get kids to read, so naturally I was very excited to work on it," she said.
Here's how Reading Rewards, which is open to preschoolers through fifth graders, works: Students can pick up a bookmark at the Dilly Dally. Once they've read five books, they write on the bookmark the titles of those five books. They can then bring the bookmark back to the Dilly Dally and receive a free kiddie scoop of ice cream.
The colorful bookmark was designed by Vaughan, who wanted it to be visually appealing to children.
"I hope that the project inspires kids of all ages to form a lifelong love of reading," Vaughan said.