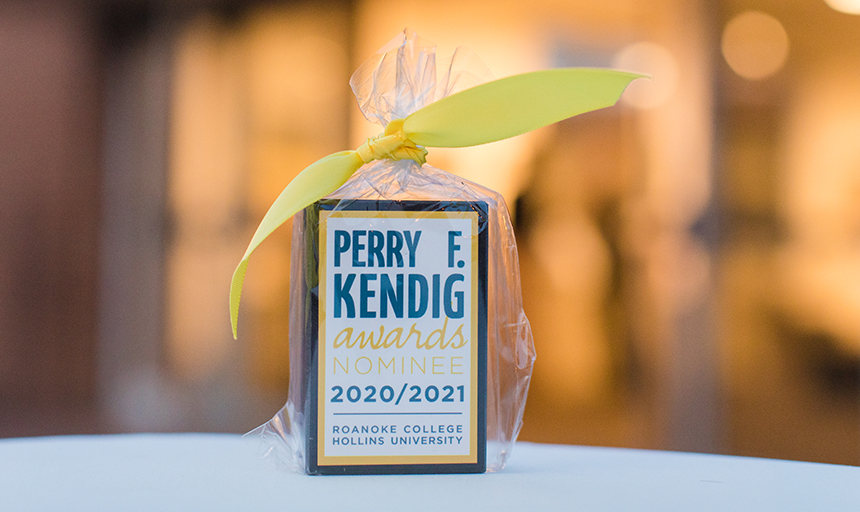 Nomination period for 2022 Kendig Awards extended
The 2022 Perry F. Kendig Arts and Culture Awards presentation and celebration will be held at Hollins University in October 2022. The deadline for nominations has been extended to August 15, 2022.
Congratulations to all of the 2020-2021 Kendig Award winners! Please read the news release here.
Roanoke College and Hollins University are dedicated to providing students with the finest arts and cultural learning experiences. From artist residencies, gallery programs, live theatre productions, music concerts, creative writing activities, and film projects, students are exposed to amazing faculty and professional artists of all disciplines.
To enhance learning and build upon these unique campus offerings, both Hollins and Roanoke have actively sought ways for students to experience the rich and vibrant Roanoke region* arts and cultural community. At any time throughout their experiences at Hollins and Roanoke, students might find themselves working alongside a local visual artist in their studio or in the community, performing in a local theatrical production or learning about arts administration during an internship at a non-profit organization.
In 2013 The Perry F. Kendig Awards, an annual program that has recognized excellence in arts and culture for more than 25 years, found itself without a home. Roanoke College and Hollins University came together to keep the tradition alive in appreciation of the Roanoke region's cultural community resources. In addition, Hollins and Roanoke hope that in presenting this annual program it will build an even stronger arts and cultural bridge between the campus environment and community at large.
Award Categories
One award will be presented in each category only (for a total of three (3) awards).
Individual Artist (of all disciplines – dance, literature, music, media arts, visual arts, and theatre)
Arts and/or Cultural Organization
Individual or Business Arts Supporter
Please see the Kendig Awards page for more information on the nomination process. The deadline for nominations has been extended to August 15, 2022.
*Roanoke Regional Chamber defines the Roanoke region as the counties of Botetourt, Franklin, and Roanoke, and the cities of Salem, Roanoke, and the Town of Vinton.