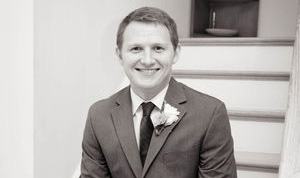 4.29.2015
By Roanoke College News
Kevin Hartley 1994-2015
Kevin Patrick Hartley, a sophomore at Roanoke College, died on Wednesday, April 22, 2015. Hartley, 20, who was from Blacksburg, was a double major in math and computer science. He was a member of the Ultimate Frisbee Team.

Hartley was honored and remembered by students and faculty at several gatherings on campus.

On the evening of Thursday, April 23, a walk was organized on campus in Hartley's memory. Several hundred students, faculty and staff members gathered on the Back Quad under the Roanoke College flag, which was flying at half-mast. The group lighted candles and walked to Crawford Hall, where Hartley lived. After words from Rev. Chris Bowen, Dean of the Chapel, the group walked back to the flagpoles in near silence. Members of the Ultimate Frisbee Team thanked everyone for coming and led the group in their traditional cheer in their teammate's memory. Frisbees were placed at the base of the flag for students to leave messages.
As students placed the Frisbees and candles at the center of the Back Quad, the group of several hundred formed a large circle. Arm-in-arm, hand-in-hand, students began to sing "Amazing Grace" and then the Roanoke College Alma Mater Hymn.
"It was one of the most amazing gatherings I've been a part of at Roanoke College," President Michael Maxey said. "It was deeply moving."
A formal memorial service was held in Antrim Chapel on Monday, April 27. Mainstreet, the women's a capella group, sang "Hallelujah" and "Amazing Grace." The service included remarks by Chaplain Bowen and several of Hartley's friends.
Dr. Matt Fleenor, associate professor of physics, spoke about Hartley. They both loved the outdoors and shared a love of hiking. Hartley had been scheduled to be in Fleenor's May Term class on the Appalachian Trail. "It was one of his dreams to thru-hike the AT," Fleenor said. "There is little doubt in my mind that Kevin would have accomplished this goal."
The service closed with music from Roanotes, another student musical ensemble.
"Kevin was an eager learner who was intellectually gifted," said Dr. Charlene Kalinoski, professor of Spanish. "Reserved, but thoughtful, he made regular contributions to class discussions and worked well with his fellow students. He sat in the back of my class, but by his demeanor, I knew he listened to everything I said--measuring and considering it rather than simply accepting it as is. Methodical, thorough, reflective, but generous in his assessments, he was what a student and college-educated person should be."
With the news of Hartley's death, there was an outpouring of support on social media. Students began using the hashtag #maroonstrong to honor him and Roanoke alumni quickly picked it up to show support for the Roanoke community.
Hartley's family placed the following obituary in The Roanoke Times:
Subtly brilliant and always present, Kevin Patrick Hartley was someone with whom you could have any conversation or just simply be. His brilliance would surface in a whispered answer during trivial pursuit or an intense discussion on European forestry. He was always the fix-it guy for anything technological. Gentle to a fault, Kevin wouldn't say a word as his brothers "borrowed" his stuff, knowing they'd likely forget to return it.
Whether he was playing ultimate at Roanoke College or camping out for days at Floydfest, he wore a big, goofy grin that might also emerge in conversations about records, music, and comics.
Musically, Kevin's taste was niched and specific - as was his interest in everything else. Kevin listened to everything from Boston to A Tribe Called Quest. He pursued whatever he set his mind to with an intensity that was, to say the least, admirable.
Thoughtful and caring, he was fastidious about gift giving, always attempting to find the perfect fit for the recipient. An optimist in almost any situation, he was the kind of guy you could stand next to under a tent in a torrential downpour and hear say, "It's not too bad out, I could use a shower anyway."
Kevin will be continuously loved and passionately missed by his family and friends.
In company with Christ, Who died and now lives, may they rejoice in Your kingdom, where all our tears are wiped away. Unite us together again in one family, to sing Your praise forever and ever. Amen.
"Only connect...Only connect the prose and the passion, and both will be exalted, and human love will be seen at its height." -- E.M. Forster, Howards End