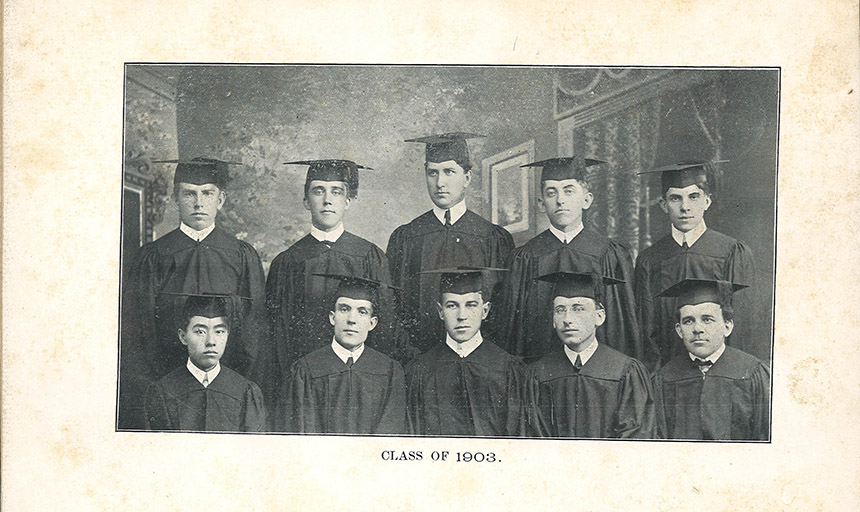 Kim Kyusik, bottom row on the left, on his graduation day from Roanoke College in 1903.
Remembering alumnus Kim Kyusik, leader of Korean independence movement, 100 years later
March 1, 2019 marks the one hundred year anniversary of the March 1st movement of 1919, an early act of Korean resistance against Japanese rule and a catalyst for the Korean Independence Movement. One political and academic leader during these efforts to gain independence, Kim Kyusik, played various important roles throughout the movement and during the establishment of a provisional Korean government. He is also a graduate of Roanoke College.
Kim Kyusik was born near Busan, South Korea in 1881 and was orphaned young. He was taken in by a Presbyterian minister named Horace Grant Underwood who taught him English. Kim traveled to the United States in 1897 and enrolled at Roanoke. He excelled academically and was beloved socially, according to a 1946 edition of the Roanoke Collegian, which says "librarian Janet M. Ferguson and numerous residents of Salem attest to his popularity on the campus and in the community." He graduated in 1903 with a Bachelor of Arts degree and enrolled at Princeton University the next year, earning a Master's degree in English Literature. Kim then returned to Korea where he worked as a teacher until Japanese annexation in 1910. He fled to China in 1913.
Kim Kyusik in 1920.
The March 1st, revolution of 1919 was rapidly quashed by the Japanese, and a Provisional Korean Government was formed in China. Kim was named as secretary of foreign affairs, a role that afforded him a chance to lobby for Korean independence at the Paris Peace Conference of 1919. Though they had the support of China, Kim and those advocating for Korean independence were unsuccessful, as Korea was seen only as a colony of the powerful Japan.
Kim returned to the United States following the Paris Peace Conference to serve in Washington as Chairman of the Korean Commission to Europe and America. He visited Roanoke College on a speaking tour of east coast schools for the first time since graduating. In 1923, Roanoke College awarded Kim the honorary degree of Doctor of Laws, which he accepted in absentia as he had already returned to China to serve as president of South China College. Around this time he was also Minister of Education for the Provisional Government of Korea, a role he gave up to head the Korean Revolutionary Army, stationed in eastern Russia.
"Since his graduation in 1903, Mr. Kim has been an indefatigable worker in the cause of Korean freedom and as a result of his efforts has become identified as one of the most prominent leaders of eastern figures in international affairs. "
The Brackety-Ack, 1923
Kim also helped organize the Korean National Revolutionary Party in Shanghai and served as vice president of the Provisional Korean Government there. The Japanese captured Shanghai in 1942, causing Kim and his family to flee. He took up teaching full-time, writing several textbooks for use in refugee universities. He sent a number of these books to Roanoke College "To be 'shelved' as an oddity exemplifying China's wartime printing."
Korea was liberated from the Japanese in 1945, and Kim returned to his homeland for the first time since 1913. He was chosen by the American military to negotiate reunification on behalf of South Korea, but was not successful. He was kidnapped and taken to North Korea at the outbreak of the Korean War in 1950, where he died in captivity.
Kim played an extraordinary role throughout these efforts academically, militarily and politically. He fought to educate Korean refugees and was sent to broker peace on an international stage. He was posthumously awarded the South Korean Order of Merit for National Foundation and National Unification Prize in 1988 and 1998, respectively.
He had hoped to return to Salem in 1953 for the College's centennial, three years after he died. Today, Kim's legacy continues to educate students and enrich academics on and off campus.
The group of Roanoke College students who traveled to South Korea in May 2018 with Dr. Xu, Dr. Leeson, and Doo-Kyung Lee, the South Korean businessman who provides financial support for the Kim Kyusik Fellowship at Roanoke College. Two students, Anna Ford and Alex Pelletier, back left, have received the award, which assists students in East Asian studies.
In 2008, 110 years after Kim began school at Roanoke, history professor Dr. Stella Xu helped organize a fellowship in Kim Kyusik's name. The endowment was made possible by a generous donation from Doo-Kyung Lee, a Korean businessman, and continues to provide monetary funds to students participating in East Asian studies.
In May 2018, Dr. Xu and history professor Dr. Whitney Leeson led a group of students on a research trip to South Korea thanks to a grant Roanoke College received from the ASIANetwork's Fellowship Award. While in South Korea, Dr. Xu and Dr. Leeson were able to meet Dr. Kim Soo-ock, Kim's granddaughter and vice president of the board for the Kim Kyusik memorial. They also met Dr. Jung Byung-joon, a Korean historian who is writing a book on Kim, ensuring Kim's story and impact will be shared with another generation.