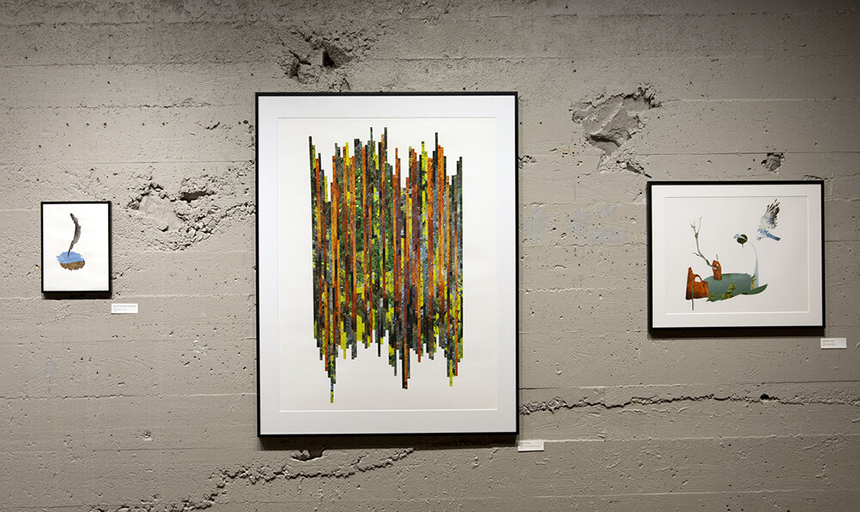 Gallery assistant director's debut exhibition closing soon
Lacey Leonard, assistant director of galleries at Roanoke College's Olin Hall Galleries, is wrapping up her first-ever solo art exhibition this week.
Leonard's exhibition, "Island of Self", has been on display at the Alexander/Heath Contemporary gallery in downtown Roanoke since August, and ends this Friday, Sept. 25. The gallery, at 425 Campbell Ave., S.W., is open by appointment only. Those interested in setting up an appointment can head here for contact information.
The exhibition is a collection of analog collages — in other words, Leonard cut and pasted together photographs she had taken to create pieces of art. The images look almost like they were created digitally.
Her work on the project began at the beginning of the COVID-19 lockdown, and she said the pandemic had a direct effect on her work.
"This whole experience has been enlightening," Leonard said. "I found much peace in the process of creating even in a time of discomfort and turmoil. 'Island of Self' is my first solo exhibition so it was the first time I could really concentrate on the conversation between the work and the process. Time, language, music, and a small silent pause began to feed the dialogue between each piece."
The Roanoke Times wrote about "Island of Self" in August, delving into Leonard's influences and process.