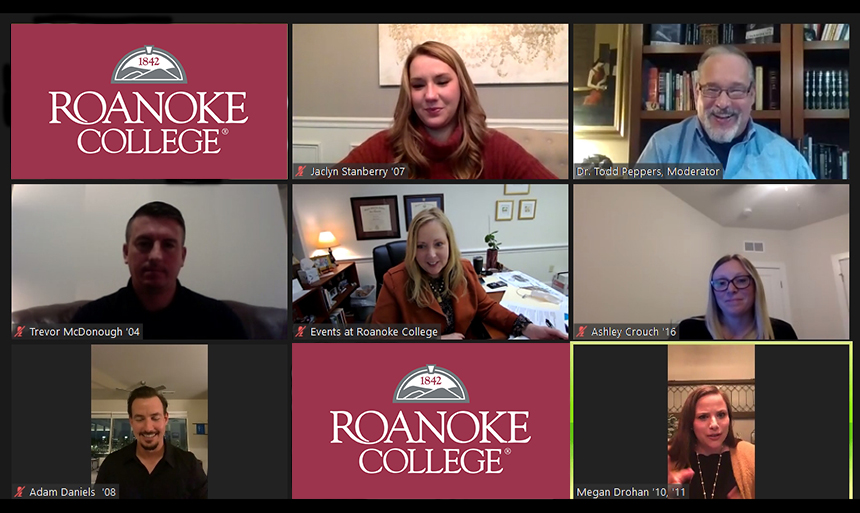 Alumni in law enforcement encourage students to enthusiastically pursue careers
The president of the United States, leaders from three other countries, and the Boston Red Sox were all staying in the same New York City hotel on the same night. It was Trevor McDonough '04's job to keep them all safe.
McDonough, a special agent for the United States Secret Service, spent months planning just for that one night to ensure everyone was safe. McDonough told that story to current Roanoke College students during a panel discussion via Zoom on March 23.
The discussion — organized by the Public Affairs department and moderated by Dr. Todd Peppers, Henry H. & Trudye H. Fowler Professor in Public Affairs — featured seven Roanoke alumni in various federal law enforcement positions. For a full list of who spoke, and their positions, see the event page.
They told stories such as McDonough's hotel security anecdote and shared advice to students who are considering federal law enforcement careers. While their experiences and career paths were extremely different from one another, many of the panelists had similar advice for students.
Panelists said they benefitted from relentlessly pursuing their passions, not getting discouraged, and being as well-rounded as possible.
Virginia "Ginny" Richardson '07, for example, said she wanted to work for the FBI since she was in seventh grade. At the time, people laughed at her for thinking she could. Now, she is a special agent in the FBI's Louisville Field Office on the Child Exploitation and Human Trafficking Task Force. Her success, she said, came in part from wanting it more than anything and by following her dream as hard as possible.
Adam Daniels '08 said he wanted to work for the Bureau of Alcohol, Tobacco, Firearms and Explosives (ATF) right after graduating from college but was rejected at first. He said he had to remind himself that he was only 23 years old at the time and that he still had time to make his vision a reality. He worked hard at other jobs, including serving as an officer with the Prince William County Police Department. In 2016, he got a job with ATF and now works as an agent in Nashville, Tennessee. He advised students to make the best of their situation and work hard no matter what job they have at the time.
"Don't panic," Daniels said. "Whatever job you get, go to work each day with the mentality of, look forward to work."
"Find new experiences all the time. It makes you such a diverse candidate and will really make you stand out."
Megan Drohan '11, a risk advisor for the Cybersecurity and Infrastructure Security Agency
Megan Drohan '11, a risk advisor for the Cybersecurity and Infrastructure Security Agency (part of the Department of Homeland Security), spoke about the value of being well-rounded. Drohan earned three majors from Roanoke — French, Spanish and international relations — in addition to being involved with the Honors program. She encouraged current students to study abroad and to take advantage of as many of the opportunities Roanoke College provides.
"Find new experiences all the time," Drohan said. "It makes you such a diverse candidate and will really make you stand out."
Emily Ball '21 attended the event via Zoom and said she learned quite a bit. Ball, who is majoring in criminal justice with a Spanish minor, had an internship recently with the Secret Service. She said that internship was extremely valuable because she got to interact directly with agents and see what their day-to-day life was like.
Ball said that listening to the panelists describe their journeys revealed the wide variety of paths someone can take in working for the federal government.
"It is always helpful to hear from alumni about their journey, how they got to the careers they have today," Ball said. "I have been learning from attending various panels and talking to other people who work for the government, that there are so many different ways to get a federal career that sometimes it can be hard to narrow down to a specific path."
While the panelists all took extremely different paths, there was a constant among them: They all were enthusiastic about their careers and exuded excitement as they spoke.
Perhaps nobody raved about their job more than Kris McCormick '10, who works as an analyst for Homeland Security Investigations. McCormick, a criminal justice major and sociology minor at Roanoke, works with domestic and international offices to combat transnational criminal networks, illicit markets and other illicit activities that might threaten national security.
McCormick said television shows about federal law enforcement don't always do the jobs justice.
"I know a lot of us think it's like 'NCIS' or 'CSI,'" McCormick said. "A lot of people will say, 'It's nothing like that.' They're right. It isn't. It's sexier than that. Intelligence analysis is where you want to be if you're intellectually curious."