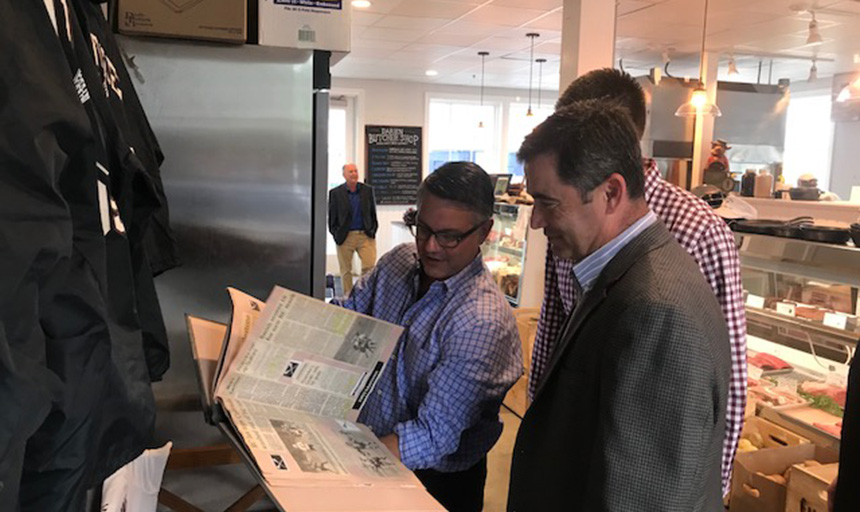 10.02.2018
By Sharon Nanz '09
Roanoke lacrosse alumni gather in Darien, CT
On Thursday, Sept. 13, alumni of the Roanoke College lacrosse program convened at the Darien Butcher Shop on Grove Street. Located in Salem, Virginia, the college boasts a strong contingency from the Northeast. The alumni gathered from across southern Connecticut and New York for the event, which was hosted by lacrosse alumnus and local businessman Mark "Dibo" DiBenedetto '93.

The purpose of the get-together was to thank the 15 alumni in attendance for their ongoing support of the school's lacrosse program. Those gathered represented six decades of Roanoke College lacrosse and included four All-American and Roanoke College Hall of Fame players.
Refreshments, including what an attendee described as "incredible hors d'oeuvres," were served in abundance, prepared by the shop's chef and owner, Peter Crawford. Crawford's wife, Courtenay Swasey Crawford '98, is also a Roanoke College graduate.
Alumni were asked to "BYOS-Bring Your Own Story," and many of these were shared during the gathering. At the end of the evening, Roanoke College athletic director Scott Allison '79 announced that Dale and Janet Sarjeant '74 '73 had pledged an estate gift toward the Roanoke College Lacrosse Endowment in the amount of $500,000.