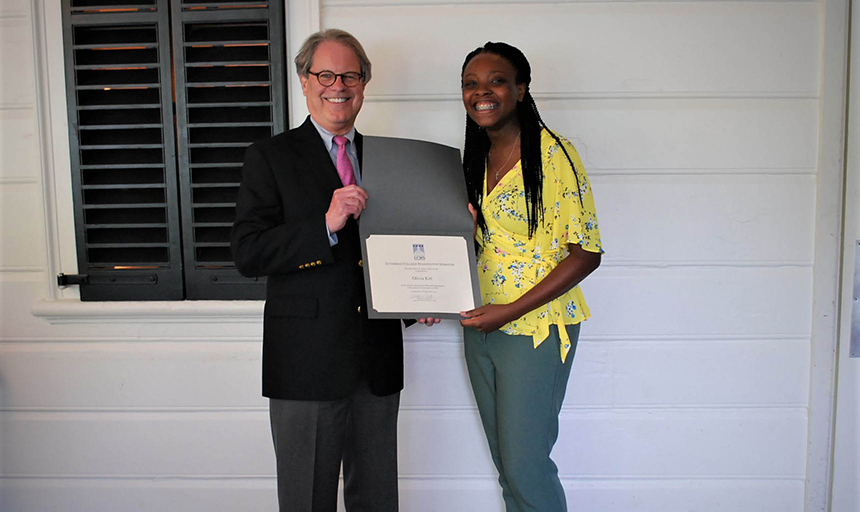 Olivia Kitt '20 wins spirit award for enthusiasm in Lutheran College Washington Semester
Olivia Kitt '20 has been selected by fellow students, faculty and staff of the Lutheran College Washington Semester to receive the Dr. Nancy D. Joyner Spirit Award. This honor commemorates the enthusiasm of the first and longest-serving dean of the program, by awarding it to a student who embodies that same exuberance.
Thanks to her warm personality, leadership and charisma, Kitt received more nominations for this award than any other student in the preceding four years.
Dr. Douglas E. Clark, Dean and Executive Director of LCWS, said "Olivia was a standout student during the spring 2019 semester from the day she moved in. She is a natural born leader who is outgoing, welcoming, and charismatic. She was a natural choice for this award."
"There was such a great group of students, so I was not expecting to receive this honor," says Kitt. "It is a great feeling to know that my peers thought highly enough of me to nominate me for this award, and then to be chosen was incredibly humbling. It showed me that being yourself is always enough."
The Washington program matches internships to students from 13 Lutheran colleges and universities, offering them the chance to explore the capital of the United States.
Kitt, who is studying political science and sociology at Roanoke, interned with Virginia Senator Tim Kaine's office. Among other quintessential Washington, DC experiences, she was also able to hear arguments at the Supreme Court in March. "I stood in line for over five hours to hear oral arguments for a case that I had been following since the beginning of the semester," Kitt said. "I sat in awe as I watched the Justices question both sides. It was amazing to see some of my judicial idols in real life."
After graduating next year, Kitt plans to attend grad school to pursue a career focusing on law and policy. "This award embodies the two things that I strive for in my life- to be enthusiastic and a leader among my peers. I think that no matter what career you go into, these two attributes will help you be successful."
Kitt is the fourth Roanoke College student to receive the award, which has been given each semester since 2013. Gaston Ocampo '20 was the fall 2018 recipient, Hayley Moe '19 was the fall 2017 recipient and Reed Walter '17 was the fall 2015 recipient.