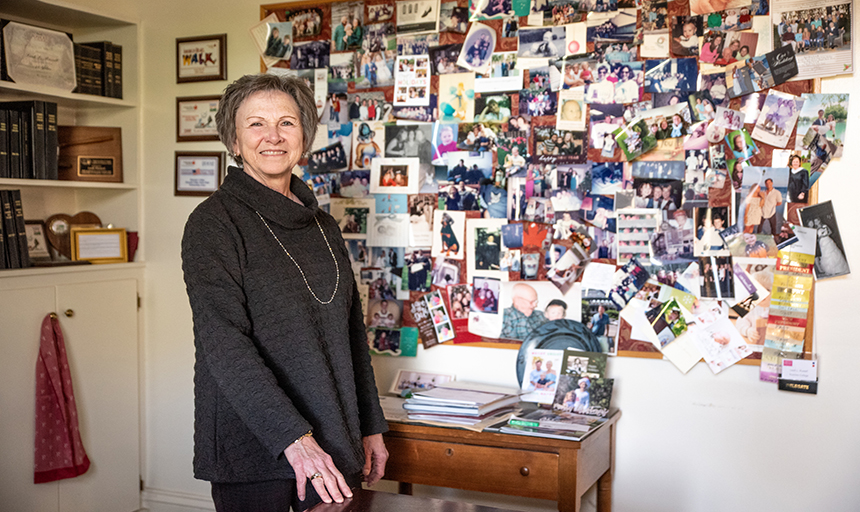 Leah Russell, associate dean and registrar, in her office with a display of hundreds of photos alumni have sent to her over the years. Photo by Griffin Pivarunas '16
Immeasurable impact
At a certain point in every Roanoke College student's experience, there comes a time to meet with Leah Russell '79, associate dean and registrar. For 40 years, Russell has been the steady rock that supports the functionality of the College: registering and scheduling students, ensuring that transcripts are accurate, meeting with students throughout their academic journey — even, for a number of years, announcing graduates' names at annual commencement ceremonies.
In June, Russell will retire. But her legacy and impact will carry on for faculty, staff and students for years to come.
"Leah's impact is immeasurable," says Dr. Richard Grant, interim vice president for academic affairs. "She has changed the lives of so many students over the years. She has handled every student interaction with the utmost care and sensitivity, especially when those difficult conversations need to happen. Leah is truly a champion for Roanoke College students."
Russell, a Roanoke, Virginia, native, has long been a fixture in the Roanoke College community. As a student, Russell worked during her junior and senior years for the Registrar's Office under the legendary C. Homer Bast. Russell considers Bast — who served as professor, coach, administrator and counselor for 33 years at the College — a great mentor in her professional career. Through his mentorship, Russell recognized the importance of supporting those around her.
After graduating with a bachelor's degree in business administration in 1979, Russell became a business manager for a Roanoke law firm and a staff trainer for a local banking software company. In March 1982, the College reached out to Russell to serve as coordinator of Academic Records and Services. Throughout her career at Roanoke, Russell has worked in various roles including Director of Academic Records and Services, Director of Admissions and Financial Aid, and eventually becoming Associate Dean/Registrar, a position in which she has served since May 1990.
Russell says her "greatest joy" has been helping students and learning more about their interests, future plans, and journeys long after graduating. In her office, a display of hundreds of photos that alumni have sent to her over the years encapsulates the many connections she has made during her career.
"It will be such a sad day when I take down those pictures," Russell says. "Every student has meant something to me, and it's the successes of the students that mean the most."
Not only is Russell a guiding force for the College, but also is a pillar of community service to the Roanoke Valley. She serves on the Board of Directors for Children's Trust, a nonprofit agency with a network of support services for Roanoke Valley children and families victimized by child abuse and neglect. In 2017, Russell received the Clarine Spetzler Guardian Angel Award at the 9th annual Children's Trust Golden Halo Awards celebration. The award recognizes individuals who have made a significant contribution in raising awareness of child abuse.
"My husband and I are honored and privileged to provide the initial funding for The Leah L. Russell '79 Endowed Student Scholarship and hope that many more past students like themselves will realize the impact Leah had on their lives and donate as well to the fund."
Heather Davis Coiro '89
Russell's altruistic impact is unmatched. One particular alumna credits Russell as the "single most influential person in my life," leading her to want to honor Russell in a special way.
Heather Davis Coiro '89 met Leah Russell in January of 1986 when she lost her paper ticket during the course registration process. She dropped everything to help Coiro complete her class registration. As a result of that experience and the friendship that formed, Coiro began working in the Registrar's Office as a part of her work study program. Later, Russell moved to the Admissions Office in an interim role and Coiro was asked work with her as an administrative assistant. An opportunity arose for Coiro to interview for the College's Director of Annual Giving position. Russell gave her sound guidance on the interview process.
"Leah practiced every day with me on how to interview, what questions to ask, and what to wear to my first big interview," Coiro says. She credits Russell with helping begin her career in higher education and is indebted to Russell for mentorship as a woman in a male-dominated profession.
To honor Leah Russell's legacy of mentorship, Coiro and her husband, John Coiro '91, established The Leah L. Russell '79 Endowed Student Scholarship, available to any Roanoke College student with demonstrated financial need.
"My husband and I are honored and privileged to provide the initial funding for the scholarship and hope that many more past students like themselves will realize the impact Leah had on their lives and donate as well to the fund," Heather Coiro says. "We hope that Leah's legacy of mentorship will far outlast our time on this earth and hope that countless more students will forever be touched by her legacy. Leah has touched thousands of students' lives at Roanoke."
Likewise, Dr. Brenda Poggendorf '81, vice president, enrollment and Dean for Admissions and Financial Aid, admires Russell's "dedication to Roanoke College and to our students." A longtime friend and colleague of Russell, Poggendorf and her husband, Rick Poggendorf, have chosen to contribute to this endowed scholarship.
"Throughout her career, Leah has consistently put students and the College first," Brenda Poggendorf says. "This scholarship allows her legacy to continue."
Russell's plans post-retirement include home improvement projects, spending time with friends and family, and continuing to give back to Roanoke College and the greater community.
"Everything has been so special to me," Russell says. "It has been an honor and privilege to serve the Roanoke College community. I tried my best to do right and help all these years. I'm just thankful to have had the opportunity."
To contribute to The Leah L. Russell '79 Endowed Student Scholarship, please visit www.roanoke.edu/RussellScholarship. For more information, please contact Steve Esworthy '91, Director of Development, at (540) 375-2028, or email at esworthy@roanoke.edu.