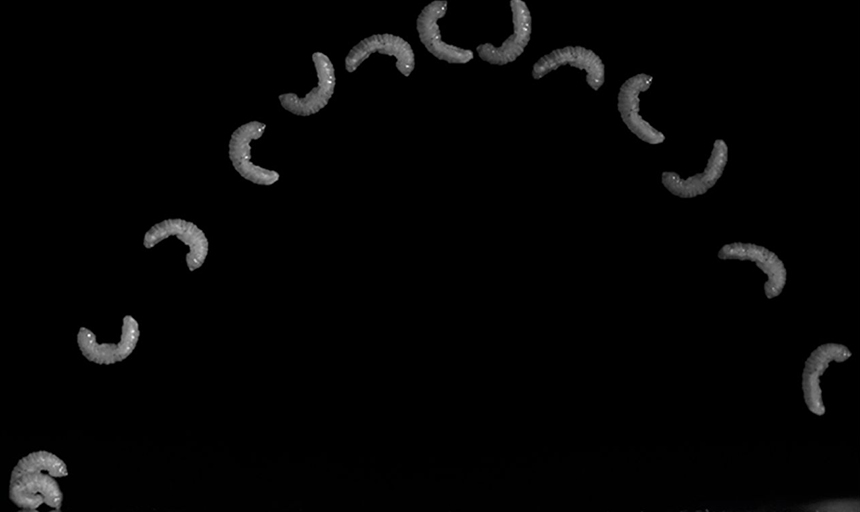 Timelapse image of larvae leaping through the air.
Reproduced/adapted from Journal of Experimental Biology, Farley, G. M., Wise, M. J., Harrison, J. S., Sutton, G. P., Kuo, C. and Patek, S. N., 2019, Journal of Experimental Biology, volume 222, doi:10.1242/jeb.201129
The Legless, Leaping Larvae of Life Science
Who knew that legs aren't necessary to leap and jump? For microscopic larvae, anyway?
Dr. Michael Wise, a Roanoke College biologist, discovered this by examining miniscule, worm-like insects. He noticed their prematurely extracted larvae were launching across the lab out of dishes, despite being smaller than a grain of rice and legless.
Wise then contacted Duke University biology professor Dr. Sheila Patek, who heads a lab at the school that can examine these quick, microscopic animal motions. Through extreme precision, and patience, as these larvae leap for only a short time each August, the team was able to capture video of the larvae launch, 36 times the length of their minute bodies.
How did the leaps work? Their research revealed tiny hairs on the larval surface that latch together, then release, to project the larvae.
The recently released study in the Journal of Experimental Biology has garnered much attention so far – in Science News, Discover Magazine Blog, Eurek Alert, NPR, Daily Mail, Interesting Engineering and the New York Times.