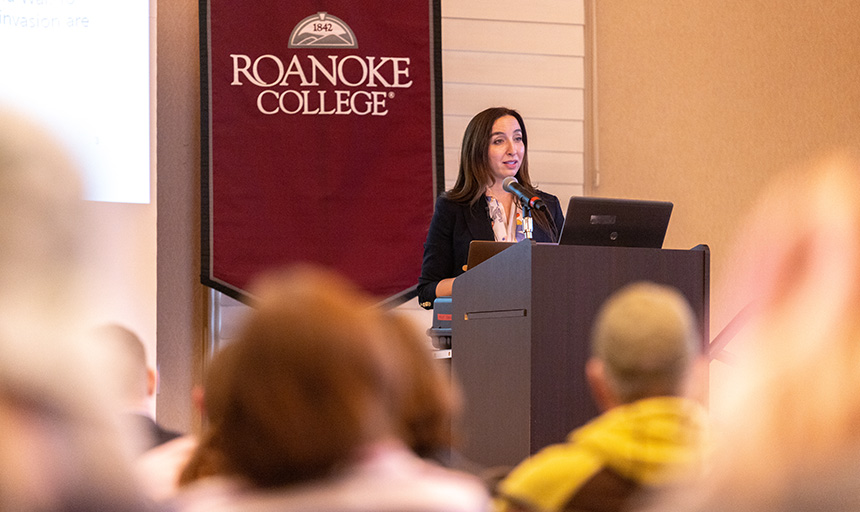 Leila Hanafi, a human rights advocate and international development attorney who's worked around the globe, spoke on campus about women's pursuit of justice in post-conflict societies.
'Equality and justice for all'
In times of war and instability, women are most often talked about as victims — of gender-based violence, erosion of civil liberties and long-term damage to their access to education, medical care and other fundamental rights.
Those dangers are all too real and disproportionately target women, said Leila Hanafi, an international development attorney and senior staffer with the World Bank Group, where she chairs its Women for Development Alliance.
But, Hanafi added, women are not mere damsels in distress. They are leaders, emergency responders and community advocates.
"They want justice and the ability to seek redress for violations," she said. "... We should change the narrative in the sense of not needing to reduce women's experience of conflict to only victimization."
Seeing to it that women are part of leadership talks in rebuilding efforts is important, she added, not only for justice but for lasting stability. "Women's experiences and perspectives can contribute to the development of more sustainable peace agreements that address their needs as crucial members of society," she said.
"Ensuring the protection and the promotion of women's rights helps to rebuild stable societies grounded in equality and justice for all."
On March 28, Hanafi, a human rights advocate and international law expert, spoke to Roanoke College students in an event sponsored by the Henry H. Fowler Public Affairs Lecture Fund. Her talk, "Human Rights, International Law, and Civil Society," offered a global analysis of women's pursuit of justice in post-conflict nations.
Her visit to campus, which included classroom talks and conversations with small groups of students, capped off this month's events commemorating Women's History Month. The focus of this year's International Women's Day, in particular, was "Leading Through Adversity."
"Today more than ever, as fragility and conflict deepen in many parts of the world, there is an urgent need for the international community to address aggravating factors of discrimination faced by women and girls," said Kim Blair, vice president of advancement, who delivered the welcoming remarks at the talk alongside President Frank Shushok Jr.
Blair added she was glad to see students, community members and advocates come together that night to discuss, not only the challenges facing those working for equality, but the paths for creating change.
Clockwise from left: International development attorney Leila Hanafi, Vice President of Advancement Kim Blair and Roanoke College President Frank Shushok Jr. addressed attendees at the March 28 event held in the Wortmann Ballroom.
In her address, Hanafi drew on her multi-faceted experiences working around the world in roles that included serving as a legal commissioner for the Moroccan government after its 2011 constitutional reforms, a staff attorney for the American Bar Association's World Justice Project and the regional coordinator for the International Criminal Court's coalition work across the Middle East and North Africa. In addition to her current work with World Bank Group, Hanafi teaches at George Washington University School of Law and is a principal of the Alliance for Rule of Law Promotion & Dispute Resolution Law Firm.
During a Q&A with students, Hanafi spoke directly to their power as the next generation of emerging leaders.
"I see a lot of young people here in the room," she said. "Know that you, especially globally, are a major force for advocacy and for change … There is an urgent need for local leaders, but also for all of us. I feel that everyone has ways to get involved."
Her words resonated with Kinsey Nguyen '23, a criminal justice major who, like Hanafi, plans to go into law. "What she said really spoke to me," Nguyen said after the event. "Her emphasis on the fact that, in conflict areas, women aren't just people who need to be saved. We can be leaders, and there are women out there fighting for justice and for reparations for what's been done to them and their families. I think that's a really important message."
Aidan Spradlin '25, an international relations major who's aiming for a career in global affairs, said it was inspiring to hear from someone who's dedicated themselves to working for change even in the most difficult circumstances.
"I think our generation can be part of creating that will for change, too," he reflected. "In class, we've seen multiple examples of that. The younger generations are often the catalyst for change. If we promote equality and respect for human rights, I believe we can make a difference."