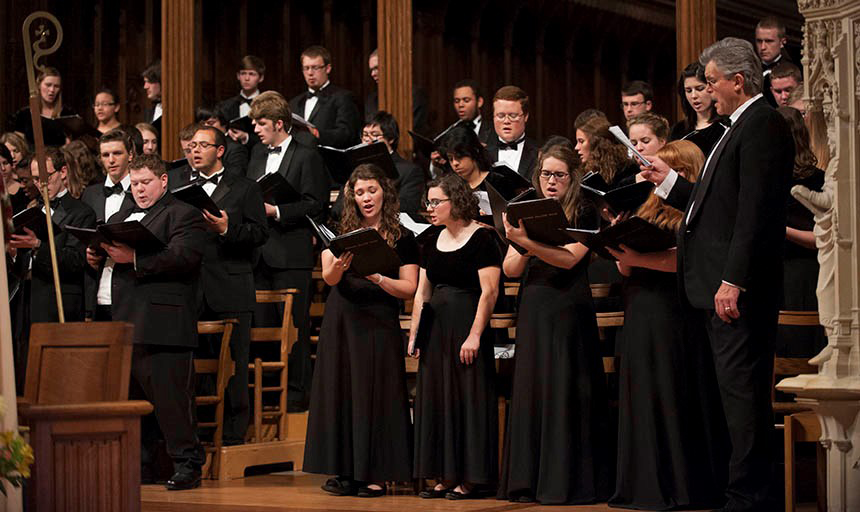 The 35th annual Lessons and Carols carries on longtime holiday tradition
On Sunday, December 1, the Roanoke College A Capella Choir and Oriana Singers will present the 35th annual Lessons and Carols at St. Andrew's Catholic Church on Jefferson Street downtown.
Dr. Jeffrey Sandborg, Naomi Brandon & George Emery Wade Professor of Music, initiated the tradition on-campus when he arrived in 1985, but the program was first held at the end of World War I in Cambridge, England.
The King's College Chapel Choir at Cambridge University performed the Nine Lessons and Carols on Christmas Eve in 1918 as an offering of comfort to residents of a country recovering from war. The program caught on and has been performed every year on Christmas Eve in Cambridge since, and has been carried live by the BBC since 1928. Millions of people watch the performances from Cambridge each year, and different choirs perform various adaptations of the service around the world.
In their version, the Roanoke College choirs will sing both new and familiar carols as well as lead the congregation in the singing of the Advent and Christmas Carols under the direction of Dr. Jeffrey Sandborg. There are two performances on Sunday, December 1, at 4:00 p.m. and 6:00 p.m. There is no charge to attend the performances, though a goodwill offering will be received for local charities.