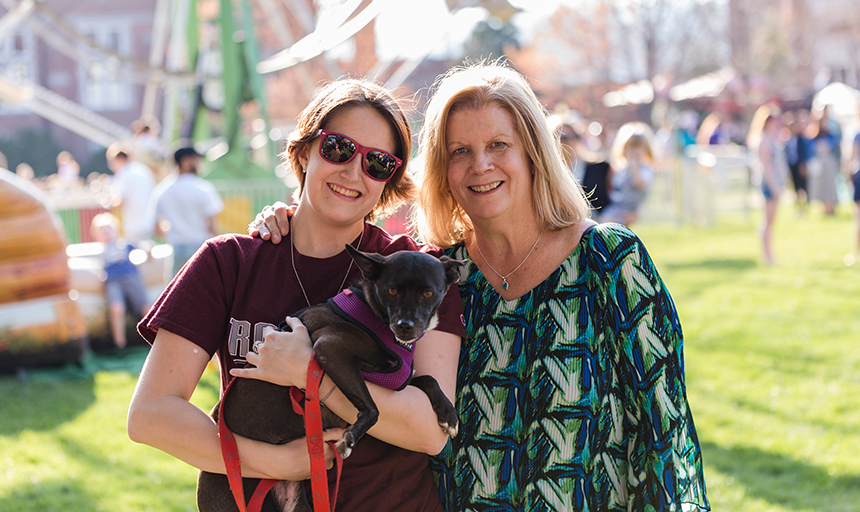 Lindsey Camille Nanz with her mother, Sharon Nanz '09, who works in RC public relations office.
4.30.2018
By Roanoke College News
Donate Life takes on a personal meaning for Nanz
April is National Donate Life Month (NDLM), instituted in 2003 by Donate Life America and its partnering organizations. NDLM features an entire month of local, regional and national activities to help encourage Americans to register as organ, eye and tissue donors and to celebrate those who have saved lives through the gift of donation.

Here, we share the story Lindsey Camille Nanz '18, who has been the recipient of two liver transplants.
Lindsey Camille Nanz had everything planned.
She would get a call that a liver was available sometime in May 2017. She would have the much-needed transplant operation and then spend the summer recovering. That way, Nanz - whose friends sometimes call her L.C. - would be able to start the fall semester of her senior year at Roanoke with her classmates.
Nanz had a good idea of how long she would need for recovering because she had been through this before. She had her first liver transplant in 2011, a domino transplant from a living donor who received another liver, as a high school sophomore in Roanoke, Virginia.
Back in the eighth grade, Nanz's pediatrician had broken the news that she had primary sclerosing cholangitis, a chronic disease of the bile ducts which causes liver damage. Nanz didn't worry too much about the diagnosis, at first. "I don't think I understood that the disease was a really big deal," she says.
She remained calm even as doctors told her she would need a liver transplant. "I didn't realize a transplant would have such a long recovery period," she says. "I figured you get the surgery, then you have to recover for a week, and then you're back to normal."
That's not what happened. Instead, Nanz had to be hospitalized repeatedly as her body rejected her new liver and as she fought off one liver infection after another. "So there were periods of being sick all the time but then it would be followed by months of feeling fine," she says.
Her senior year in high school, Nanz's doctors discovered the primary sclerosing cholangitis had recurred in her new liver, something which happens in a small percentage of patients.
"I'd been sick, so I knew something was wrong," Nanz recalls. "But I guess, in general, I wasn't thinking it would happen again."
The doctors placed Nanz on an experimental medication, one believed to possibly slow the progression of the disease in pediatric patients. Even so, Nanz, by then a biology major at Roanoke College, found herself in the hospital for a liver infection about once a semester. "Then I'd end up coming back to campus with an IV pump that I would put in my purse and take to class with me," she says.
In 2016, Nanz's doctors again placed her on a liver transplant waiting list. "It makes it hard to plan your life," Nanz says of waiting for an organ. "It's like 'Oh, if I go to the movies, will I be able to hear the phone if it rings?"' and 'If it does ring, do I already have a bag packed in the car?'"
Nanz got the call she'd been waiting for in August, about a week before she was due to move back onto campus to start her senior year. She knew that meant she wouldn't be graduating with her class. "Life doesn't always work the way you want it to," says Nanz, who now plans to graduate in December 2018.
"I realized that my friends aren't just students. My friends include everybody who works here, everybody who does and has studied here, everybody who loves Roanoke College."
Lindsey Camille Nanz '18
Nanz felt nervous about the surgery and subsequent recovery - she remembered the pain she felt last time. "But I had been feeling so sick, I was just really wanting to get the liver and feel better," she says.

Doctors at the University of Virginia Health System performed Nanz's second transplant with a liver from a deceased donor. After three weeks of recovery in Charlottesville, Nanz returned home. Her fight wasn't over, though. Doctors struggled to find the right medications to treat her pain. The immunosuppressive drugs, which prevent Nanz's body from rejecting the new organ, also left her more susceptible to infections. Nanz had to make several trips to Roanoke emergency rooms and has had a stay at UVA Hospital since the second transplant.
As she healed, Nanz took delight in letters from Roanoke College President Michael C. Maxey and College Chaplain Chris Bowen, as well as notes from members of the biology department and other offices on campus. "I realized that my friends aren't just students," Nanz explained in an essay she wrote this spring to be considered for the Morehead Award, a prize that honors John Alfred Morehead, president of Roanoke College from 1903-1920. "My friends include everybody who works here, everybody who does and has studied here, everybody who loves Roanoke College."
On a Facebook page for Nanz's supporters, Lindsey's mother, Sharon Nanz '09, posted a picture of Lindsey on Jan. 18, sitting proudly on a pink and white comforter in her dorm room. Nanz is smiling broadly, clearly happy to be back on campus.
"It's not been a zip line toward complete recovery-more like a deliberate crawl, but everything is heading in the right direction," Nanz' mother wrote on the Facebook page.
One month later, the family celebrated Lindsey's six-month "liversary" with a giant cookie, emblazoned with the names Lindsey and Virginia in pink icing.
Virginia is the name Nanz gave the liver she received during the most recent transplant. The one before that, was Olivia. She named the liver she was born with Oliver. Naming her organs, Nanz explains, makes it less awkward to talk about her illness with friends.
"I think it's easier for them to process when I can say, 'Oh, Virginia doesn't feel well today' or 'Virginia is mad about this new medication,'" Nanz says.
Nanz's sisters in Sigma Alpha Omega all know about Virginia. The women in the Christian sorority frequently hold fundraising events to raise money for Donate Life America, a nonprofit that works to increase the number of organ, eye and tissue donors.
Lilly Caudill '18 tells a story about how when she first got her driver's license, she was asked whether or not she wanted to be an organ donor. "I was like, "I would never want to do that. No.'" Caudill remembers.
That was, of course, before she met Nanz and learned organ donations had saved her friend's life. "I was like, 'Well, I need to change that. What am I going to do with my organs after I die?'" Caudill says.
Nanz, who hopes to one day become a genetic counselor, will talk about the beauty of organ donation and her determination to make the most of her RC education despite struggling with primary sclerosing cholangitis during the fall Convocation. Speaking at the event is a prize reserved for winners of the Morehead Award.
"I am a warrior who works hard every day to live another day," she will tell the first-year students as they begin their own personal growth journeys at RC.