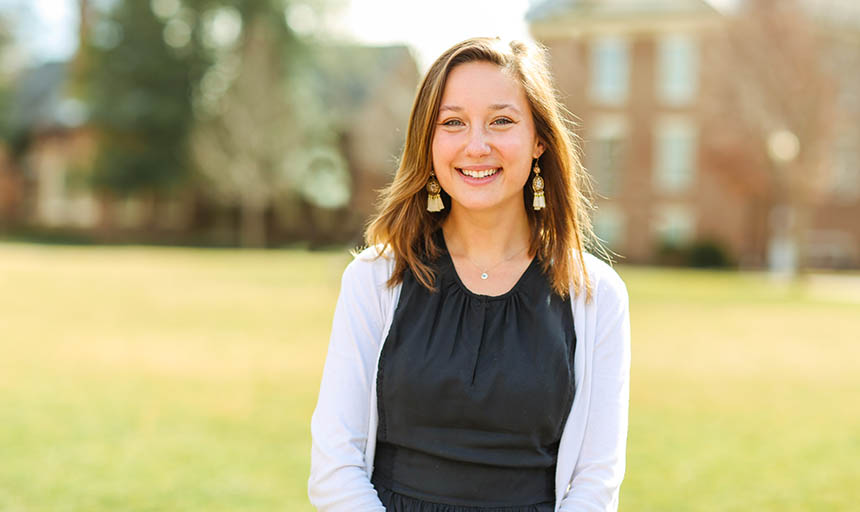 Study/Research Fulbright in India Awarded to Linnea Stewart
Linnea Stewart '19 has been awarded a Fulbright to India to study and conduct research on bird populations on organic and non-organic farms. Stewart is an environmental studies major from Edinburg, Virginia. She was the Vice President of the Beekeeping Society, and was a member of Earthbound and Young Life. She worked on-campus for the energy conservation specialist and outdoor adventures. Stewart is Roanoke College's 17th student awarded a Fulbright in the past seven years.
Her role as the energy conservation student assistant for Dan Cohen was to organize and run the Roanoke College Energy Squad, a student initiative to reduce campus energy waste. She also organized and conducted energy audits of on-campus buildings, trained others to conduct energy audits, planned and implemented campus energy conservation outreach activities, and represented the Energy Squad at campus meetings and events.
Stewart, in the midst of her honors in the major project with Dr. Valerie Banschbach and Dr. Jesse Bucher, created a land use plan for the Monterey ground. The lot will be filled with sustainably grown plants that would have grown in the area during the 19th century.
The Fulbright Program is the U.S. government's flagship international educational exchange program and is designed to build lasting connections between the people of the United States and the people of other countries. The Fulbright Program is funded through an annual appropriation made by the U.S. Congress to the U.S. Department of State. Participating governments and host institutions, corporations, and foundations around the world also provide direct and indirect support to the Program, which operates in over 160 countries worldwide.
The Fulbright U.S. Student Program is administered at Roanoke College through the Office of Major Scholarships and Fellowships.