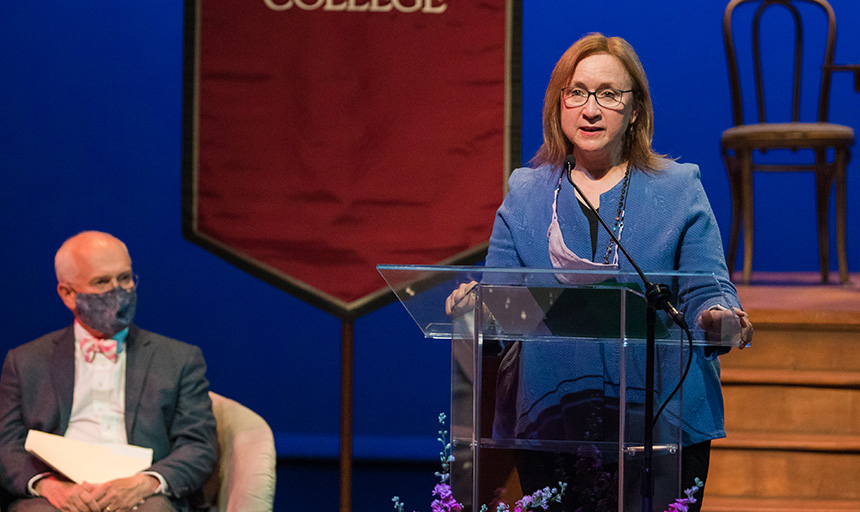 President Michael C. Maxey looks on as Dr. Lisa Warren addresses attendees at a stage dedication ceremony in Olin Hall Theater in May.
The Final Bow
In her 36 years on the faculty at Roanoke College, Dr. Lisa C. Warren inspired and mentored countless students, instilling an appreciation for the theatrical arts along with valuable life lessons. An associate professor of theatre, Dr. Warren retired at the end of the 2020-2021 academic year, leaving a legacy of excellence in the College's Theatre Program and with Theatre Roanoke College (TRC).
"To work on a play together is a project that everybody is a part of, and everybody is dedicated to, which translates into great teamwork," says Dr. Warren, who directed over 75 different productions at Roanoke. "That's what I'll miss most – that camaraderie with the students. It's a very intense schedule – I spent most of my evenings at rehearsal during the school year, 6:30 p.m. to 10:30 p.m. for years and years. But those relationships with the students were worth it."
In honor of her retirement, former students, friends, and other members of the Roanoke College community created the Lisa C. Warren Endowed Student Scholarship in Theatre. The fund recognizes her service, mentorship and commitment to her students in pursuit of excellence in the College's Theatre Program.
Dr. Warren came to Roanoke College in 1985, after earning her Ph.D. from the University of Georgia. She previously had taught at Furman University and William Woods College.
During her time at Roanoke, Dr. Warren directed a wide range of genres, from the William Shakespeare classics "Midsummer Night's Dream" to the feminist play, "The Heidi Chronicles." She also directed a few radio theatre productions, including "Dracula" and "War of the Worlds," and taught Contemporary British Theatre during May Term, guiding students on a theatrical tour through London.
As she begins retirement, Dr. Warren is considering a move to Missouri, where she was born, and her sister still lives. Wherever she settles, Dr. Warren plans to continue working in theatre.
"It won't be the same as directing here at Roanoke College, but you don't have to have all the bells and whistles to do theatre," Dr. Warren says. "I've heard it said that 'All you need is a plank and a passion' to make good theatre. I'm looking forward to seeing what's next."
Dr. Warren says she definitely will continue following the lives of her former students through email, social media and other avenues. She may even make some surprise visits, she says.
"My students are very special to me, and I will miss them the most," she says. "I have such strong relationships with many of them that will continue. And I have very hilarious stories to tell on almost all of them."
For more information about supporting the Lisa C. Warren Endowed Student Scholarship in Theatre, please contact the Roanoke College Resource Development Office at (540) 375-2487 or theodore@roanoke.edu.