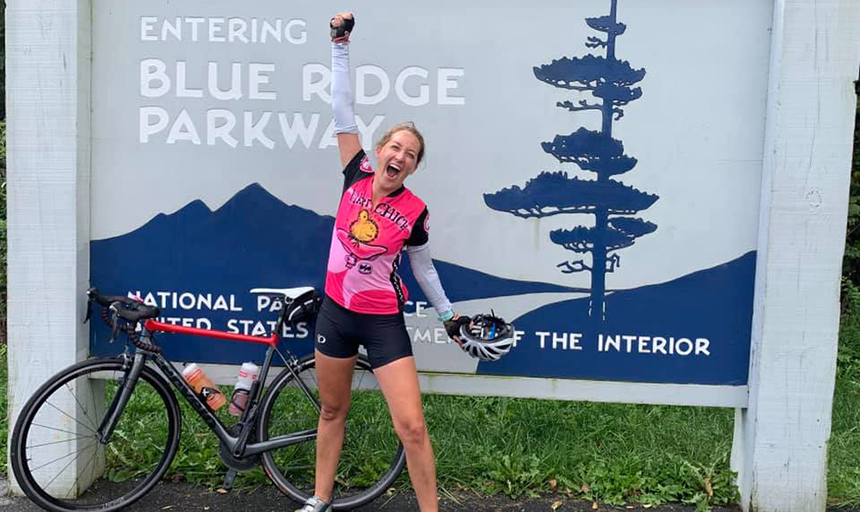 Cycling proves valuable during quarantine summer
Dr. Liz Ackley felt like she was flying.
Ackley, the Brian H. Thornhill Associate Professor of Health & Human Performance at Roanoke College, was biking on the Blue Ridge Parkway between Blue Ridge, Virginia, and the Peaks of Otter. She was on a ridgeline, where the trees surrounding her dropped away, and she could see for miles in each direction.
Then she hit a bump. She looked down to see a 6-foot-long snake on the road.
Ackley doesn't like snakes, and her elation quickly turned to horror. Still, she took the time to check the snake and saw that it was fine. It slithered away, and she went on with her ride.
Reflecting on it months later, that moment stands out as one of her favorite experiences of the summer.
"To feel sheer joy and sheer fear in the same moment was a really neat experience," Ackley said.
Ackley had numerous experiences like that, as she cycled the length of the Blue Ridge Parkway in Virginia (about 217 miles) from the beginning of May until the end of September. She did it in sections, often getting up early in the morning, cycling for a while, and then driving back home to work.
The Parkway, which connects Shenandoah National Park in Virginia to Great Smoky Mountains National Park in North Carolina, is 469 miles in total. The National Parks Service maintains the land on either side of the road. It's one of the most visited National Parks System sites with almost 15 million annual visitors, according to the National Parks Service. The Parkway runs through Roanoke, less than 20 minutes away from the Roanoke College campus.
"People need to adventure. I think getting out and seeing new things and challenging yourself constantly to allow yourself to continue to grow as an individual is something that as we're working or taking classes, we often let ourselves lose sight of. But that's one of the most important ingredients in life, so I wish more people would adventure on a daily basis."
Dr. Liz Ackley, Brian H. Thornhill Associate Professor of Health & Human Performance
Ackley has always found joy in challenging herself and exploring the outdoors, but it felt even more necessary this summer as the COVID-19 pandemic forced everyone to distance themselves from others. Ackley said it helped to establish a routine, and to find a way to make her alone time into something extraordinary.
"I found that waking up, seeing a sunrise from a different stretch of road, getting to experience something I've never seen before, was a really good way for me to ground myself before diving into the workday," Ackley said. "And it was also a really good way for me to feel excited about being alone all the time."
She has a host of stories and wildlife encounters from the Parkway. There were black bear encounters, where both Ackley and the bear were curious, but kept their distance. There was sunrise near the North Carolina border, where Ackley was surrounded by rhododendrons and saw wolves running around her in the pre-dawn gloom.
Ackley also ran Mount Washington and the Black Mountain Crest Trail in North Carolina this summer. She hopes to bike the rest of the Parkway next summer, covering the length of the road in North Carolina.
She says getting out so often and challenging herself helped make this strange summer much more enjoyable and valuable. She encourages others to challenge themselves as well, and to not be afraid to get out of their comfort zone on their own.
"Adventure is the stuff of life," Ackley said. "People need to adventure. I think getting out and seeing new things and challenging yourself constantly to allow yourself to continue to grow as an individual is something that as we're working or taking classes, we often let ourselves lose sight of. But that's one of the most important ingredients in life, so I wish more people would adventure on a daily basis."