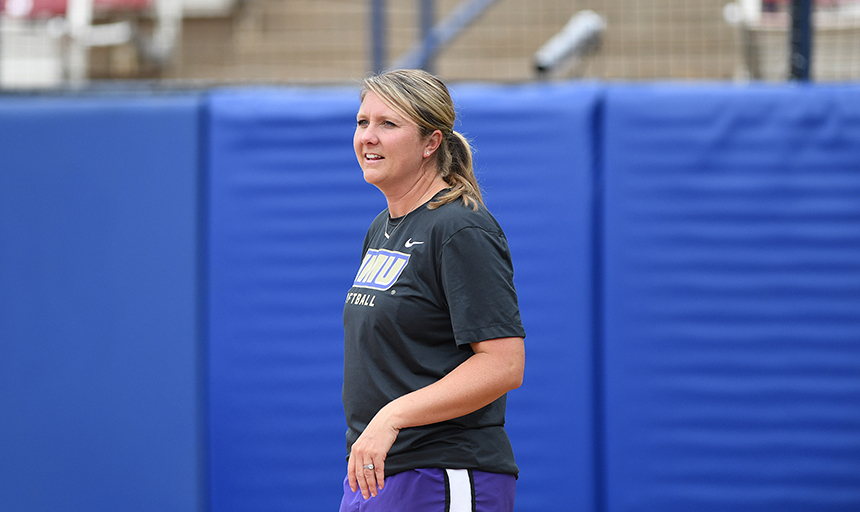 Loren LaPorte '08 is leading JMU softball where it's never gone before. (Photo courtesy of JMU Athletics)
Former Roanoke softball player leads JMU to College World Series as coach
Loren (Messick) LaPorte '08, head coach of the James Madison University Softball Team, has guided the team through a remarkable season, capped this week with a first-time appearance in the Women's College World Series in Oklahoma City. How did the team get there? On May 30, the JMU Dukes — already crowned 2021 Colonial Athletic Association champions — won the Columbia Super Regional, defeating the University of Missouri. Tomorrow, the Dukes will kick off the World Series against No. 1 overall seed University of Oklahoma. The game will air at noon on ESPN.
"It's a dream," LaPorte, a three-time Colonial Athletic Association Coach of the Year, said in a recent television interview. "And it's not just a dream for us as a staff, but it's a dream for every single one of these kids."
Maroons Fact 1: LaPorte played shortstop for the Maroons softball team during her years at Roanoke. Maroons Fact 2: LaPorte is married to Josh LaPorte '08, former Maroons men's basketball forward. They have two children — a son and a daughter.