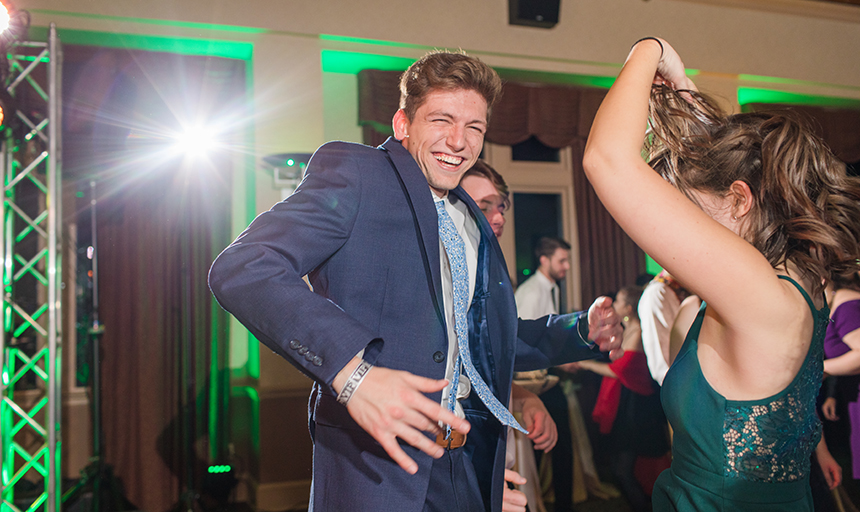 Local student Q&A: Lucas Weaver
Which high school did you go to?
I'm from Roanoke County, about 25 minutes from Salem. I went to Franklin County High School because my mother was an educator there at that time, so we would just go with her.
Was Roanoke College on your radar from an early age?
Yes, because my mom graduated from Roanoke in '88, so I knew about Roanoke College growing up. It kind of was always in the back of my mind. I had initially wanted to go farther from home and I had a top-pick school I was waitlisted at. I also applied to Roanoke and I decided that it seemed like things were working out better for Roanoke, so I decided to go there.
I can say it's been the best thing for me. I'm glad that I ended up at Roanoke. Even though it's only been 25, 30 minutes away from home, it doesn't feel like that. Salem feels like its own special place. I think part of it helps because I decided to live on campus for the first three years of school. I kind of got my own experience, living on my own with other people.
Why did you apply to Roanoke as well as the farther-away school?
Knowing a little bit about it from my mom having gone there, we decided to tour and I really enjoyed the tour. Roanoke's, of course, beautiful and everybody seemed very friendly. I thought it would be a good, at the time I thought it was going to be a good backup school even though I ended up coming and it ended up being the best thing.
The other part of that was, I had started lining up a job in the registrar's office and I decided to do the scholar's competition. I got a pretty good scholarship along with the grants that they give, and it ended up being a good amount for me to go.
What have you enjoyed so much about going to Roanoke?
Definitely the small size. That's one huge appeal. Getting to really know my professors and people in the Roanoke community, especially working in the registrar's office. They have become a part of my family. It's been one of the best experiences for me, it's opened up a lot of doors for me, and my life would be different if I did not know the people in that office and around this campus. I'm very grateful for everything that's played out.
"Even though it's only been 25, 30 minutes away from home, it doesn't feel like that. Salem feels like its own special place."
Lucas Weaver, '20
Academically, you've found it to be a good fit?
Yes. I'm a business major with a concentration in marketing. That's a good part, too, because I've been able to thrive here. Hopefully I was looking forward to maybe being in contention for salutatorian. I don't know how that's going to work with graduation now.
If you're in contention for salutatorian, you really must be thriving, like you said.
I've been fortunate enough to do very well. It makes me excited.
Do you have plans or ideas about what you want to do next?
I have been applying to jobs, but of course with everything going on, not really sure where that stands now, either. Still on the lookout. The plan is also to go to grad school after I've established myself in a career and hopefully go back and get my MBA. That would be the long-term plan.
Do you feel like your time at Roanoke has prepared you well for the job market and grad school?
Absolutely. I'd say business policy is one of the best classes I've ever taken in my life, along with the other courses in my business program. But that one in particular. He teaches that at a graduate level and the experience we've had going through that I think has for sure prepared me for jobs and grad school. Also, they really push internships. I was able to do an internship with Black Dog Salvage in Roanoke, which was really cool. I got to be a marketing intern for them. I worked with the previous director marketing for Roanoke College Blair Garland when he was there. He had a startup business, and I worked with him on that, too, I've been able to have those experiences. I was able to take a marketing May Term in Paris, which was amazing. The experiences that you get are incredible.
Tell me a little bit more about that business policy class. Who is that professor and what makes it such a good class?
That's Dr. Kevin Baker. He is phenomenal, probably the smartest man I know. He teaches it on a graduate level. I know it's a graduate textbook. Most of it is groupwork and it's broken down into case studies in the first half of the semester along with a simulation project. Then in the second half of the semester, you have your own group project. Outside businesses come to him, and if he feels your group is right for a particular venture or business, he will set you up with them and you actually can work to create a real business plan. That is what happened with our group. We were fortunate to work with the chief technology officer from Robertson Marketing in Salem. He has a startup that we helped develop and build a whole business model for, which was awesome. With the simulation, you kind of have to build an entire plan there in different parts, so marketing, finance, human resources, all of that. It's just a very well rounded experience, and it's cool to see everything come together from your entire path in the business department.
What would be your sales pitch to local high school kids to consider Roanoke?
I would say still give it a shot. I know for me, I did want to initially go elsewhere and get farther away from home. You can create your own experience even if you are within the Salem area. It's totally up to you in terms of what you want. At least come tour, give it a shot. It's a great school, great academics, great people. You can decide whether you want to stay on campus or not, but there's just so many options and flexibility and experiences that you can have. You can kind of create and do what you need and want.