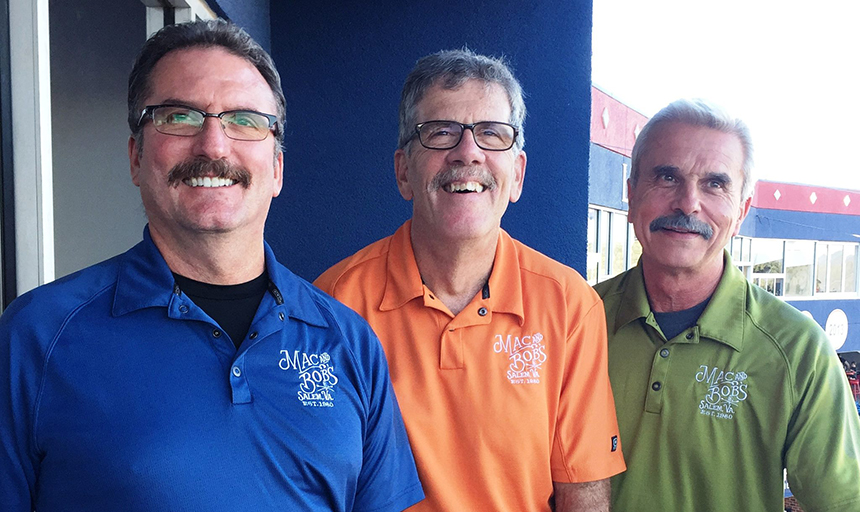 2.20.2020
By Roanoke College News
Mac and Bob's to be featured on "Today" show Sunday
Mac and Bob's is back in full swing, serving calzones, burgers and all of its tasty favorites, after enduring one of the most challenging periods in the restaurant's nearly 40-year history.
This Sunday, Feb. 23, the restaurant's owners will share that story in a segment airing on the "Today" show.
The National, the magazine of Amtrak passenger rail service, published an article in its February/March issue about the restaurant's recent legal challenges. In the article, owners Bob Rotanz '78 and Joe Dishaw '78, and General Manager Keith Griswold '79, talked about how the Salem and Roanoke College communities helped the Mac and Bob's team overcome those legal challenges related to tip pooling practices and the financial hardships that followed.
A producer from "Today" read the article while traveling on an Amtrak train and wanted to cover the story for the show. A team from "Today" arrived Feb. 17 to interview Rotanz, Dishaw and dozens of people who helped them through that tough time. The segment is expected to air near the end of the "Today" show on Feb. 23.
The legal actions and bankruptcies weighed heavily on the shoulders of the Mac and Bob's family. Rotanz took full responsibility and set about rectifying circumstances — and saving the restaurant.
Just like George Bailey in the film "It's a Wonderful Life," the community rallied around Mac and Bob's and helped the restaurant survive, although circumstances did require the restaurant to file for bankruptcy protection.
But the restaurant remains open and is doing well, renewed by community support.
Roanoke College and Mac and Bob's are forever entwined. The founders, all Roanoke College alumni, met through lacrosse at the College.
In fact, the walls of the restaurant, as The National article noted, "are essentially a Roanoke College Hall of Fame."
"Sunday Today" airs on NBC from 8 a.m. to 9 a.m. ET. Click here to read the full article in The National.