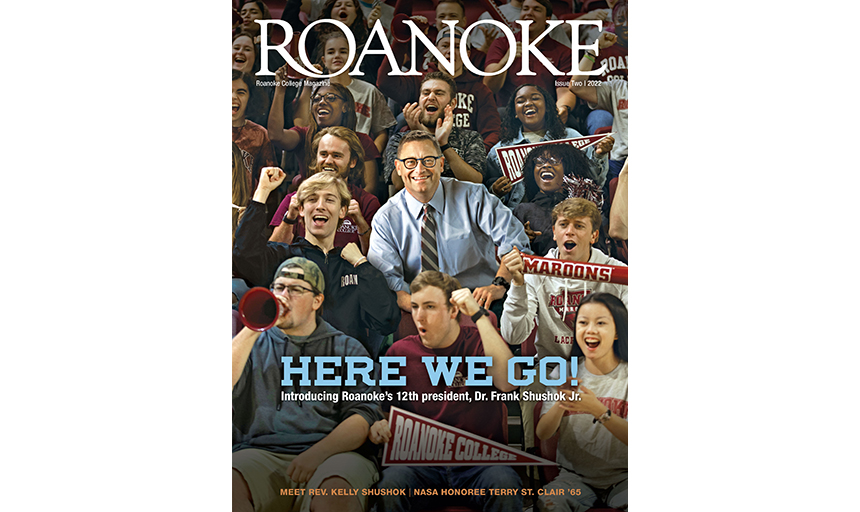 Roanoke College magazine preview: Much to celebrate and anticipate
The second issue of Roanoke College magazine for 2022, which began arriving in mailboxes in late December, is devoted to a series of new beginnings: New president, new first lady, new dean, new magazine editor, new MBA program… and more!
When President Frank Shushok Jr. first took the helm in July as Roanoke's 12th president, several local news outlets told the story of his childhood learning disability and the hard work and support it required for him to become the avid learner and leader that he is today. But we wanted our magazine profile to dig a bit deeper and tell readers more about his background, what inspires him and what he hopes to achieve at Roanoke.
"Higher education and all organizations are mostly designed for a previous generation of people," Shushok told freelance writer Ralph Berrier Jr. "How do we reimagine ourselves meeting the current generation and generations to come? That will be the biggest challenge, to create a culture at Roanoke that is designed to meet the needs of future generations."
Alongside the Shushok piece, you'll find a profile of the president's wife, the Rev. Kelly Shushok, who explains why she believes college is one of the most important times in a person's life. Rev. Shushok has already become a favorite presence on campus.
Click here to read more, including a story about Terry St. Clair '65, who was recently honored by NASA for his revolutionary innovations in materials science. Other content includes:
A feature on Roanoke's new cycling coach, Shelley Olds '03, who competed in the London Olympics in 2012.
News about the College's new MBA program, which was approved by the Southern Association of Colleges and Schools Commission on Colleges just after this issue went to press.
A letter from new magazine editor Lindsey Nair '98.
Maroon Musings by new Dean of the College Kathy Wolfe.
Photos from John Pirro's posthumous induction into the U.S. Lacrosse Hall of Fame.
A look back at furry friends on campus over the years, inspired by Roanoke College's new campus dog, Maple, and campus cat, Salem.
Alumni, we hope you enjoy the new issue. This is your magazine, and we want to recognize and share your many accomplishments, so please reach out to share story ideas or personal news for the Class Notes section by emailing rcmagazine@roanoke.edu.