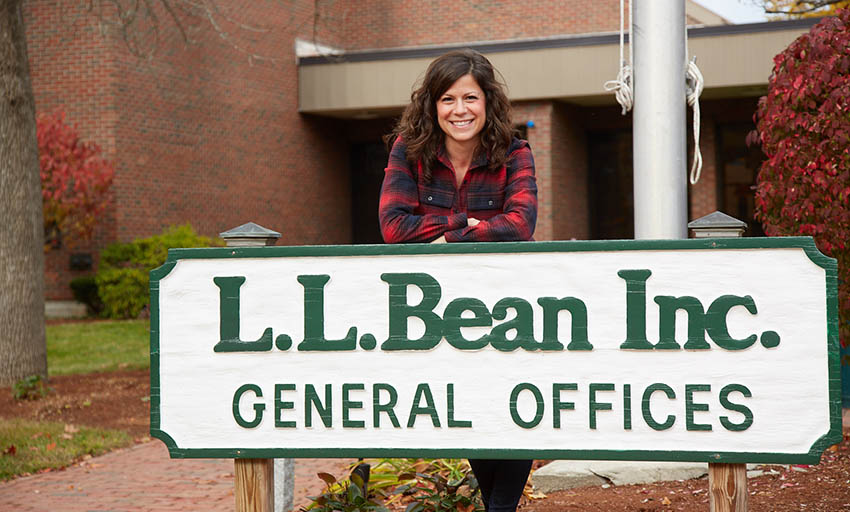 Higgins fashions a career at L.L. Bean
Mara Higgins '02 has always been into clothes and fashion. Her passion for things outdoors was borne out mainly by competing as a Maroon on the field hockey and lacrosse teams. A chance meeting with Roanoke's then-field hockey coach at a camp in Pennsylvania helped land Higgins in the Roanoke Valley.
"As soon as I did the visit to Roanoke College, I was sold," Higgins said.
Ironically, a childhood friend who grew up on the same street in Columbia, Maryland – Ryan Pflugrad – was being recruited to play soccer at Roanoke at the same time and that also made the decision easier for her. Pflugrad '02 is back at Roanoke College these days as the men's head soccer coach.
Higgins also met her future husband Joseph Higgins '04 as an undergrad in Salem. They now have two girls.
When Higgins landed at L.L. Bean more than six years ago, it was the perfect combination of fashion and the outdoors. Now she is a corporate merchant manager overseeing the company's women's sweaters, sleepwear, dresses and the L.L. Bean Signature Collection.
In this role Higgins decides what's hot and what's not, what styles need to be retired after a good run (that's not always easy and sometimes loyal customers let her know it) and what look is on the way up. She works with designers to create the company's own lines and spends time every month on "floor walks," cruising the aisles and observing customers at the famous 24/7 never-closes, no-lock-on the-door, flagship L.L. Bean store in Freeport Maine.
Higgins also sets retail price points for the merchandise in her lines (all private labeled) and makes decisions on how much money will be spent on specific marketing campaigns, working hand in hand with product managers and designers.
"The three of us kind of bring the line to life," she said. That's everything from the initial concept to design, choosing the materials and creating samples before going into production. The sustainable movement has made it to Maine and doing more with organic fabrics like cotton is part of the mix. "Ultimately I make the decision."
Fashion is forward thinking - Higgins said the Fall 2020 line has already been adopted. The outdoors is still "at the heart of everything – that's what we're about at L.L. Bean," she said. The company launched a "Be an Outsider" campaign last year.
Higgins on Business Policy class:
"I think about it to this day and have memories about it – even thinking about decisions I made and what I'm doing now. I'm essentially running my own little business. That's what we did in business policy. It was an incredible course."
Mara Higgins '02, corporate merchant manager, L.L. Bean
Higgins says the business administration degree she earned at Roanoke College before going on to graduate school in Maryland helped steer her towards a path that eventually ended in Maine. She singles out the Business Policy class for making a profound impact.
For the record, business administration is one of the most popular majors and Roanoke College is annually ranked by The Princeton Review as one of the top schools for business/finance majors.
"I liked that it was broad in focus," Higgins says of her degree, which gave her exposure to a variety of business fields, although she did have a concentration in marketing. Her master's at Loyola College of Maryland was focused on marketing. After a brief stint in banking, she went into retail. Higgins had a sharp eye for women's fashions early on and remembers calling out her grandmother for wearing the same outfit too soon after its previous appearance.
She realized that retail and her fashion sense could be morphed into "an actual career." That led to a stop in Washington D.C. at the corporate headquarters of a department store and a road that eventually led to L.L. Bean. Retail is "so much more than people think. It's fascinating trying to stay attuned to the fashion tastes of women, figuring out when to jump on and then off a look or trends in the marketplace," Higgins said. "It's also a ton of math." Now she warns young people interviewing with L.L. Bean right out of school that "it's more than clothes."
Making decisions about styles is "a combination of art and science," something Higgins relishes in her role as merchant manager. L.L. Bean has been around for over a century and attracting a younger customer base to supplement longtime devotees of the brand is another goal.
Road trips include touring the competition to keep abreast on what's trending away from Freeport. "You look everywhere – how are they marketing themselves? We get so in our bubble. We need to talk to the reps and what they're hearing." Higgins will also visit other L.L. Bean brick-and-mortar stores; there are about 30 in all.
Business policy always includes an exercise where students create and run a business from scratch (a bakery in her case). Their project included everything from talking to other retailers for research to ordering barstools for would-be patrons to presenting financial statements.
"I think about it to this day and have memories about it – even thinking about decisions I made and what I'm doing now. I'm essentially running my own little business. That's what we did in business policy. It was an incredible course."
Note: the L.L. Bean Bootmobile, featuring a 12-foot tall Bean Boot and pop up shop, will be at Roanoke College on November 4. "I think it will be fun to see the Bootmobile on campus," says Higgins.