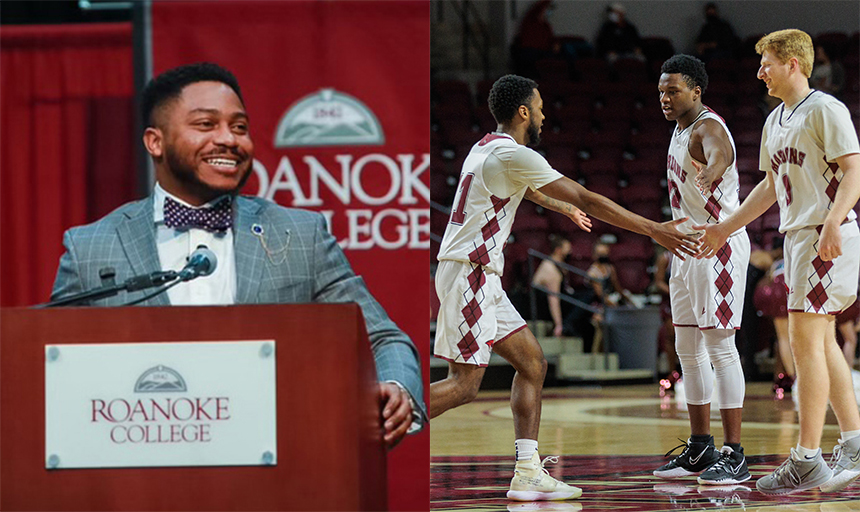 Maroon Madness, Black History Month keynote address highlight eventful night on campus
On perhaps the most eventful evening of the spring semester to date, members of the campus community and beyond came out for a night of school spirit and important emotional and intellectual discussion.
At 5 p.m., the Roanoke men's basketball team took the floor in the Cregger Center, dominating Shenandoah with a commanding 97-57 win. The women's team followed suit, besting Lynchburg 67-50.
All of the action took place in front of bleachers packed with cheering current students and alumni. The dance team performed, many fans left with free t-shirts and at least one student left with a gift card after hitting a halfcourt shot at halftime.
A short walk away, starting at 7 p.m. at the C. Homer Bast Center, Harvard educator and author Brandon P. Fleming spoke about his journey from at-risk youth and college dropout to impacting lives and transforming underprivileged youth into global champions and Ivy League scholars.
Fleming told the emotional story of his life, driving home one of his main points that stories change people more than data or information ever will because they allow us to see the humanity in each other. He encouraged educators and students alike to "love first and teach second."
Members of the community were present at both events, including a few local high school students at Fleming's speech. The Office of Multicultural Affairs, the Department of Modern Languages, and the Department of Education sponsored Fleming's address. Student Government Association, the Student Activities Board, Maroon Athletics and Dining Services sponsored Maroon Madness.