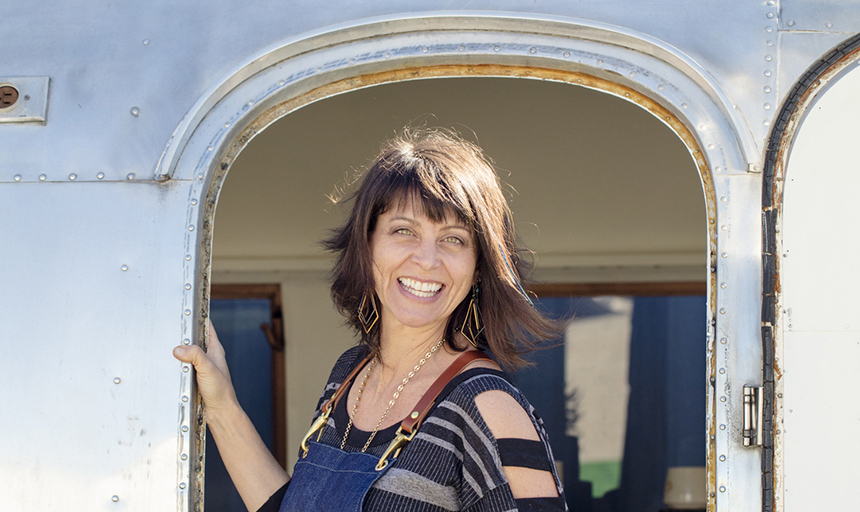 Functional Art
MaryMar Keenan '96 found her calling as a sophomore art major when she walked into the ceramics studio in Roanoke College's Olin Hall. She was "completely drawn" to clay as a creative medium.
"I fell in love with the idea of functional art." Keenan says. "I was immediately hooked and haven't stopped making pottery since."
After graduation, Keenan moved to San Francisco and opened a ceramics studio and gallery, which showcased over 30 Bay Area ceramics artists. She subsequently owned three other clay-centered businesses before rebranding and redefining her business as MMclay five years ago.
Keenan and her staff create several lines of handmade tableware, and her customers include over 50 restaurants and hundreds of homes worldwide. Every piece that comes out of her kiln is handmade and is "considered special, but not precious," she says. "I want my work to be used daily."
Each line features an array of utilitarian pottery including dinner plates, serving pieces, cups, vases, charcuterie boards and more, Keenan says. While most of the pieces are handmade using slabs of clay, a number of pieces are wheel-thrown, adding unique shapes and designs within each series. Customers can choose from several glazes to personalize their pieces.
"I want my work to be used daily."
MaryMar Keenan '96
"My work is designed to be a collaboration between the maker, the server, the chef and, finally, the customer," Keenan says.
MMclay has operated from a 500-square-foot studio behind a coffee shop—a "clay cave," Keenan calls it—and a small retail shop in a retrofitted 1964 Airstream trailer. Both are located in the trendy San Francisco neighborhood of Hayes Valley, but Keenan is currently relocating to a larger studio just three blocks away. She hopes the extra space will allow her to "create a deeper understanding of the importance of handmade pottery" through events, classes and small workshops.
Keenan believes wholeheartedly in the power of positive thinking and visualization, as she does in the advice her father gave her when she graduated from Roanoke: "Find what makes you happy and figure out a way to make a living doing it."
Clearly, Keenan has found the medium to do just that.