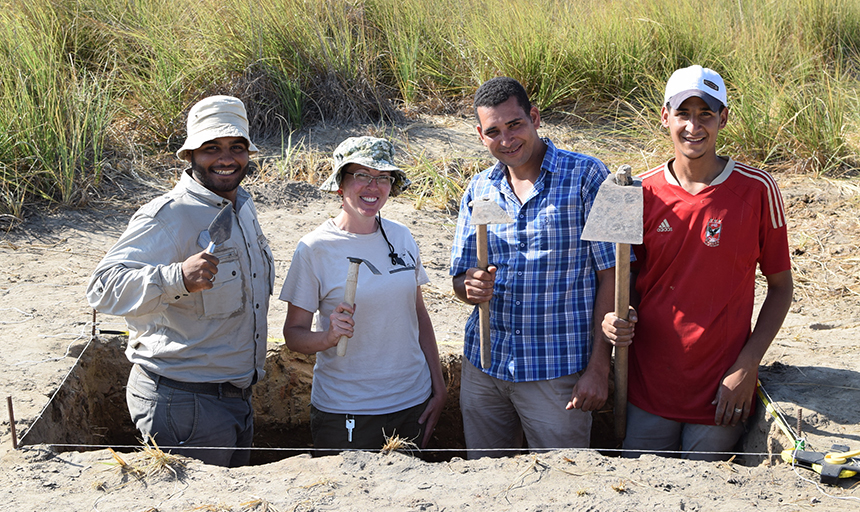 Dr. Warden with her archeology team
In Case You Missed This News
Forbes Magazine interviews Dr. Leslie Ann Warden
When an Egyptian archaeological team discovered a 4,400-year-old tomb of a royal official, Forbes Magazine turned to Dr. Leslie Ann Warden, Roanoke College associate professor of art history and archaeology who is an expert on Old Kingdom Egypt, to ask what the significance of the find might be. Read more here.
Roanoke College named a "Hidden Gem of the Southeast"
Online Schools Center, which reviews and publishes information about online and traditional colleges and universities, placed Roanoke College on top of its list of "Hidden Gems of the Southeast." Criteria such as class sizes, student satisfaction and prestige were considered.
"The curricula include a large focus around service-learning, which bolsters students' understanding of leadership positions and real-world application of their degree programs. "
Hidden Gems of the Southeast - OnlineSchoolsCenter.com
The Roanoke Times features op-ed by Dr. Robert Benne
Dr. Robert Benne, Roanoke College's Jordan Trexler Professor Emeritus of Religion, observes that obituaries can be inspiring when a life has been well lived. He finds a distinct pattern in such lives and examines it in a Roanoke Times op-ed.
Julia Novakovic '06 wins $50K on TV show "Who Wants to Be a Millionaire?"
Julia Novakovic '06, a French and history major and now an archivist at The Strong National Museum of Play in Rochester, New York, gave a strong showing and won $50,000 on the popular trivia game show, "Who Wants to Be a Millionaire?" Her appearance in late December follows a 2016 appearance on "Jeopardy." Watch her "Millionaire" round on YouTube at about the 1-hour, 8-minute mark.
Toy Like Me Club featured on local television
Roanoke's Toy Like Me Club modifies toys to reflect the physical challenges and different abilities of special-needs children. Their creations were delivered to local schools over the holidays, with the help of RC's men's and women's swim teams. WDBJ, WSLS and WSET were on hand for the one of the deliveries.
Martin Luther King, Jr. Day activities
Dr. Brad Braxton visited Roanoke College to speak for Martin Luther King, Jr. Day. His talk was covered by WFXR and WDBJ7. Before the event, Juliet Lowery, director of multicultural affairs, appeared on WFXR to promote the event.