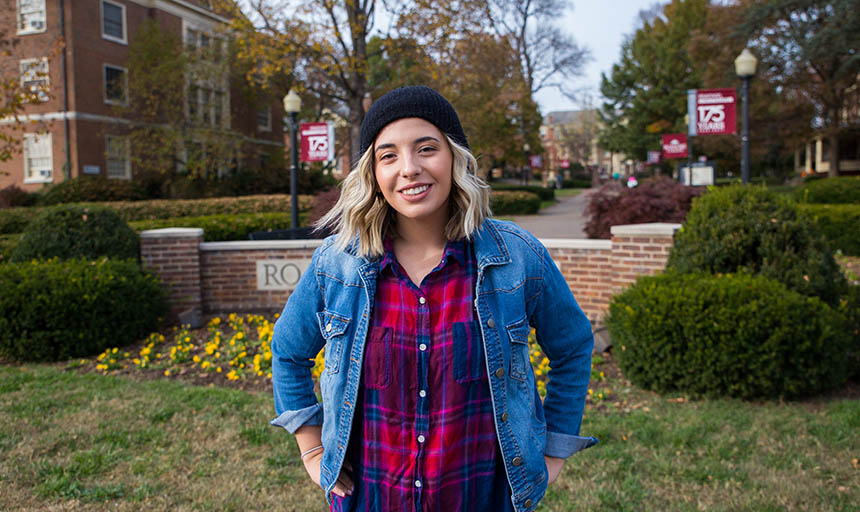 12.13.2017
By Roanoke College News
Student Film Receives Nomination for College Film Festival
Harrison Mines '19 had her first film nominated for the Poe Film Festival College Film Awards, a literary and educational organization that features literary works and short screenplays based on the style of Edgar Allen Poe. Mines' film, Positive, was shown at the Festival, which took place in early November at the Grace Street Theater in Richmond. The film passed the first round of judging and was a nominee for Best Screenplay.
Positive is a five minute horror film that focuses on a young woman who is attacked by an individual with a strange infectious disease. She contracts a virus from the person and an epidemic begins on the Roanoke College campus. The film features Emma Grosskopf, a Roanoke College junior.
Mines is from Lexington, Virginia and is majoring in communications with a concentration in screen studies. She was inspired to make the film by her interest in the horror genre. Positive is her first film, and has received recognition from multiple platforms. In Spring 2017, it won Roanoke College's own Basically Tarantino Film Fest. Eight months later, it was chosen as an Official Selection by the Poe Film Festival.
The festival included three blocks of film screenings for all of the nominated films. After each block, filmmakers were given the opportunity to participate in a question and answer session with the audience. Mines received questions about her life at RC, plans after graduation, and her inspirations. During the session, Mines was able to speak about incorporating RC in a new and unique way. Positive represents the community of Roanoke College in a manner that it had "never been represented before," and its story captivated viewers beyond the campus.
Mines says that she is already planning her next project, which will be a submission for the Basically Tarantino Film Contest in the Spring of 2018. You can watch Positive on the Maroon Matinee channel on Youtube.