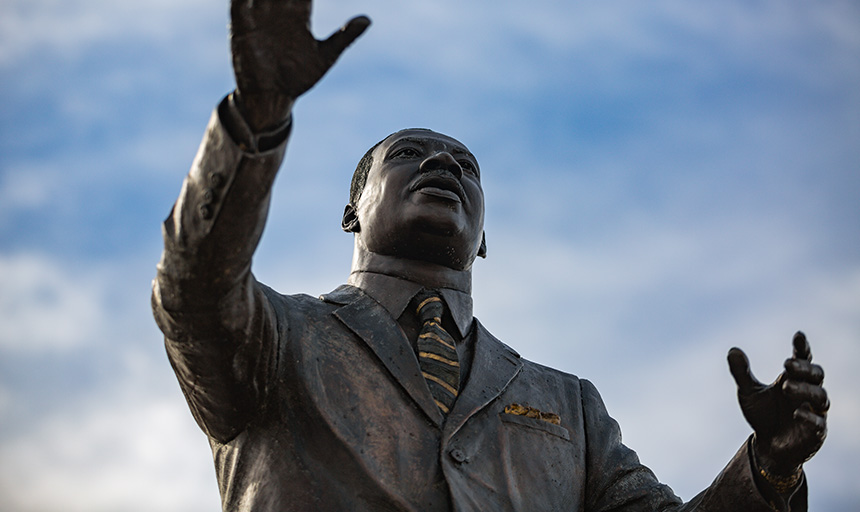 The Martin Luther King Jr. Memorial Bridge statue stands in downtown Roanoke.
Roanoke College to honor Martin Luther King Jr. Day
On Monday, Roanoke College will launch a series of events honoring the legacy of Dr. Martin Luther King Jr. The observance will begin with a day of service project at the Environment Center, a campus site dedicated in part to environmental justice, a movement that Dr. King's leadership helped shape.
The Environment Center is a 10-acre resource that students, faculty and staff are working together to establish as an outdoor laboratory for research, habitat restoration and the study of environmental literacy, sustainability and justice.
Volunteers plan to construct a 290-foot-long, cedar split-rail fence around a site that will become a meadow restoration project. The service project will take place on Monday, Jan. 16, at Elizabeth Campus on Kime Lane.
Dr. King's advocacy for equal rights helped build the foundation for modern-day thinking about environmental justice. The U.S. Environmental Protection Agency traces the history of the movement back to the 1960s Civil Rights Movement when advocates worked to shine a light on public health dangers.
"Social justice and environmental justice have many themes in common," said Rachel Collins, a biology professor and project co-organizer. "Dr. King taught us that important change can come when we make a commitment to make our society better through service. By building this environment center, we're creating a place for the College and the broader community to come together to work on important environmental issues, including environmental justice."
The day of service project is co-sponsored by the Office of Multicultural Affairs, Center for Civic Engagement, Environment Center and Roanoke College Buildings and Grounds.
The project will be followed by a series of events expanding on the life and legacy of Dr. King. Through discussion groups, history tours and art events, the campus will commemorate Dr. King's powerful message of equality for all.

"Dr. King was a multifaceted leader who championed access, equity and civility," said Teresa Johnson Ramey, vice president for community, diversity and inclusion at Roanoke College. "We are proud to be celebrating his leadership and humanity. Please join us for this month's series of programs and learn more about why his influence remains relevant and inspirational."
The event series, which will unfold over more than a week, includes:
Monday, Jan. 16: Students who've previously watched the documentary "King In The Wilderness" will gather for an open discussion with Chaplain Chris Bowen and Associate Professor Srikanth Mallavarapu.
Friday, Jan. 20: The community is invited to take part in a simulated Civil Rights March, designed by Roanoke College students, that will guide them through stations sharing the history of Dr. King's life. Guided marches will be offered at 10 a.m., 2 p.m. and 4 p.m. on the upper level of the Colket Center. Each tour takes about 20 minutes.
Saturday, Jan. 21: Student fellows in the Office of Multicultural Affairs will lead the painting of a memorial piece on the Roanoke College Rock.
Tuesday, Jan. 24: "From Myth to Man: Martin Luther King, An Interpretation by Ira Knight" will be performed and followed by an audience discussion. The one-man play is free and open to the public. It will be performed at 4:30 p.m. at Antrim Chapel.
For More Details: Visit Roanoke College's Events Calendar