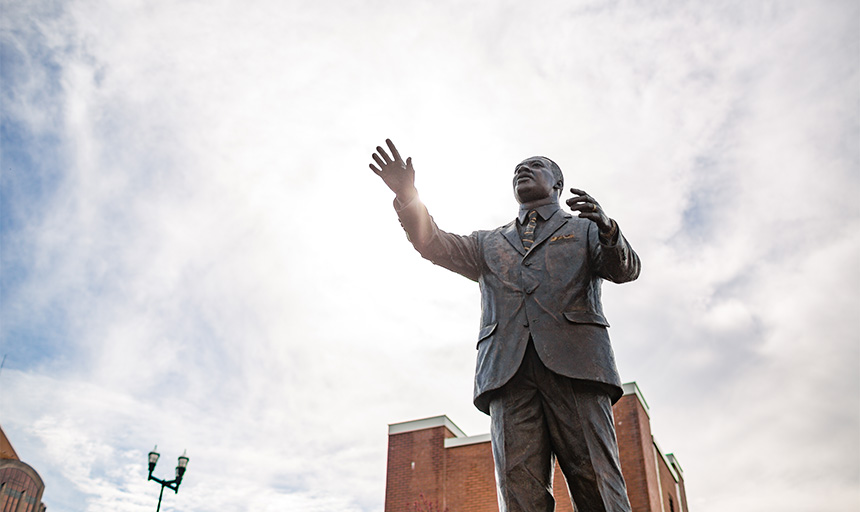 The Martin Luther King Jr. Memorial Bridge statue stands in downtown Roanoke.
Gallery: Day of service pays tribute to Dr. King's legacy
"We must remember that intelligence is not enough. Intelligence plus character—that is the goal of true education."
~ The Rev. Dr. Martin Luther King Jr.
On Monday, Roanoke College students, faculty and staff gathered at the Environment Center for a day of service in honor of Martin Luther King Jr. Day.
Volunteers rolled up their sleeves to build a 290-foot-long, cedar split-rail fence around the future site of a meadow restoration project. The Environment Center, a 10-acre resource located on Elizabeth Campus, is the result of a concept proposed by environmental studies students in 2020. The burgeoning center is being molded into an on-campus, outdoor laboratory for research, habitat restoration and the study of environmental literacy and environmental justice.
To Learn More: Take a video tour of Roanoke College's Environment Center site
"This project is about getting our hands dirty and building this center into a place where important environmental work can be done," said Rachel Collins, a biology professor and day of service co-organizer. "The whole idea behind the center is it's a place that students, faculty and staff are building together. Students are involved every step of the way, and they gain so much by learning firsthand how these things are created."
Dr. King's powerful message of equal rights for all helped give rise to the modern-day environmental justice movement. The U.S. Environmental Protection Agency traces the history of the doctrine back to the 1960s Civil Rights Movement when advocates worked to shine a light on public health dangers.
This year's volunteer project paid tribute to that legacy and honored Dr. King's belief in the significance of service and the larger purpose of education.
In 1947, writing for Morehouse College's campus newspaper (which is dubbed the "Maroon Tiger"), Dr. King wrote:
"The complete education gives one not only power of concentration, but worthy objectives upon which to concentrate. The broad education will, therefore, transmit to one not only the accumulated knowledge of the race but also the accumulated experience of social living."
The day of service was co-sponsored by the Office of Multicultural Affairs, Center for Civic Engagement, Environment Center and Roanoke College Buildings and Grounds. Scroll through our photo gallery of the project below, and join us for additional programs this month honoring Dr. King.
Media Spotlight: Roanoke College holds day of service in honor of MLK Day via WDBJ
Media Spotlight: Roanoke organizations serve the community on MLK Day via WSLS