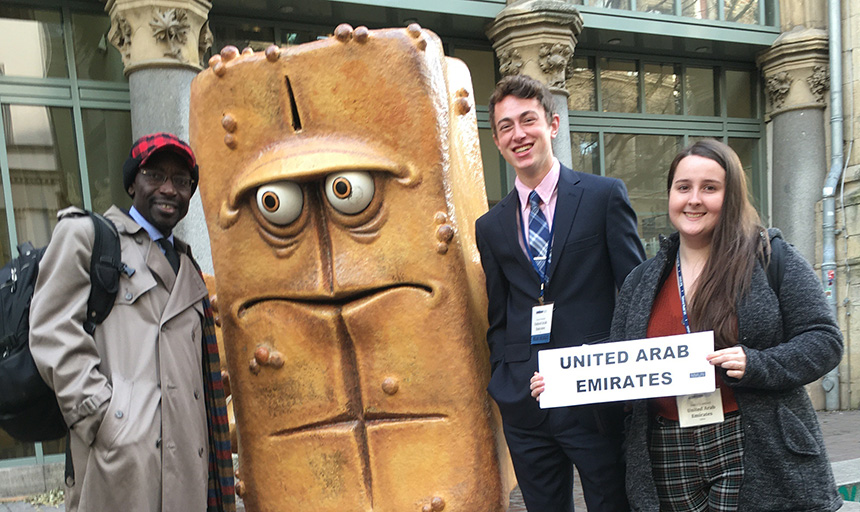 While in Erfurt, Germany for the National Model UN conference during the Thanksgiving break, Dr. Joshua Rubongoya, Roanoke College professor of political science, at left, and students Ryan Denholm and Emily Cranford, pose with a statue of Bernd das Brot (English translation: Bernd the Bread), a puppet character and cult figure of the German children's television channel KI.KA.
Model UN delegation receives award at conference in Germany
A two-student delegation of the Roanoke College Model United Nations returned from participating in an international Model UN conference on Dec. 1 with a first-time award in hand.
Emily Cranford '22 and Ryan Denholm '21 received an Honorable Mention for their portrayal of the United Arab Emirates at the National Model United Nations Germany conference, held in Erfurt, Germany Nov. 24-Dec. 1.
The conference was the first international Model UN conference in which Roanoke College students participated, making this award the first of its kind in the College's history.
"The Model UN conference itself was a hands-on experience for the students," said Dr. Joshua Rubongoya, professor of political science, who accompanied the students to the conference. "Peaceful conflict resolution and diplomacy underpinned the debates and resolutions that were passed."
"This was, honestly, the most amazing experience of my life."
Emily Cranford '22
Rubongoya noted that Frank-Walter Steinmeier, president of the Federal Republic of Germany, addressed the conference and attended the General Assembly debates. Cranford and Denholm also were served Thanksgiving dinner at the conference, Rubongoya said.
"We feel truly honored to have had the opportunity to represent the College in this fashion," said Denholm. Said Cranford, "This was, honestly, one of the most amazing experiences of my life."
Rubongoya said he believes this type of experience should be extended to as many students as possible. "Teaching history and political science in the classroom pales when contrasted with the actual visits and the real-life experiences that study tours entail," he said.
Roanoke's Model UN has enjoyed other success this year. This past spring, a delegation of six members received an Honorable Mention award for their portrayal of the State of Palestine at the National Model United Nations conference in New York City.