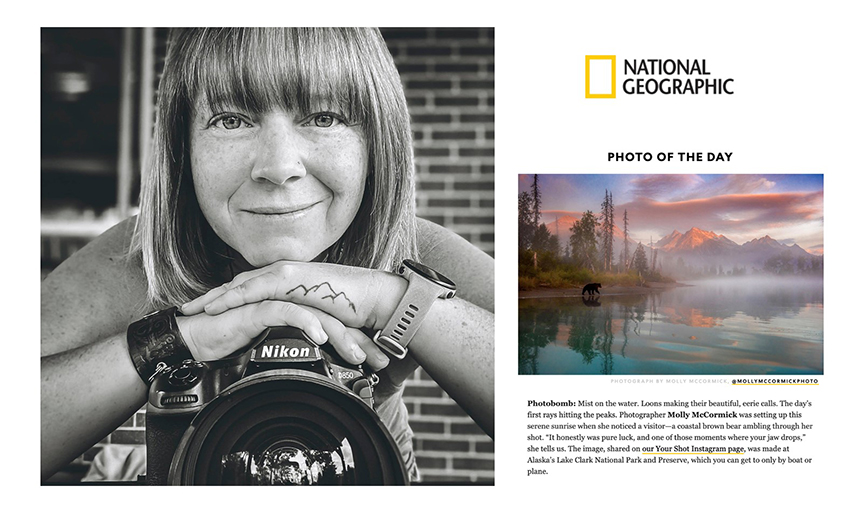 Molly McCormick '08 and her award-winning photo "Misty Morning." Images courtesy of Molly McCormick
Picture perfect
Growing up, Molly McCormick '08 was always the "kid with a camera," photographing little childhood moments offered from a vast world. It's no surprise that as the years progressed, McCormick continued to photograph personal moments, leading her to explore what the art form had to offer for more than just herself.
At Roanoke College, McCormick studied art, solidifying her "love for photography." While spending innumerable hours in Olin Hall's darkroom, she learned the valuable lesson that patience brings beauty, one press of the shutter button at a time.
After graduating with a B.A. in art, McCormick traveled to Tanzania where her appreciation of photography took a deeper dive into landscape and wildlife shots, a type of photography that relies on her foundation of patience.
"Every time I've tried to 'get the shot,' the day never truly turns out as I planned," said McCormick. "That's the best part though; you never know what Mother Nature is going to toss your way. My best shots are those unplanned."
For McCormick, her drive to "get the shot" is rooted in pathos.
"To me, the perfect shot is one that evokes emotion," said McCormick. "I want people to look at one of my photos and feel like they are right there in that moment."
There is one "perfect shot" during her 14-year career that stands out to McCormick. While exploring Alaska's Lake Clark National Park, McCormick was set up to capture the varying sunrise hues reflected off the lake. Out of the corner of her eye, she spotted a brown bear entering the frame. It was a moment in time that stood still.
"It made me incredibly emotional, and it was an important reminder of how lucky I am to witness moments like that, let alone capture it with my lens to share with the world," McCormick said.
That photograph, titled "Misty Morning," has indeed caught the world's attention. McCormick has been featured in National Geographic, Outdoor Photographer, Rolling Stone, and National Parks Magazine. McCormick has also earned a variety of awards including Alaska Travel's 2021 grand prize, Share the View's 2020 first prize, and National Geographic's 2020 "Beyond the Frame" grand prize, her proudest accomplishment thus far.
"Roanoke College provided me an opportunity to really fall in love with the process of photography."
Molly McCormick '08
To add to her list of recognitions, McCormick's photos have also gained attention from the Buffalo Games, a Buffalo, New York, gaming company that specializes in puzzles, games, crafts and educational toys. Three of McCormick's photos are featured as puzzle images for the company's new Photographic Collection, which is available at Walmart, Target, and on Amazon.
The three puzzles feature images from Canada's Moraine Lake and Grassi Lakes, and the Milky Way Galaxy, photographed from Estes Park, Colorado.
While McCormick's career is in an exciting place, she continues to appreciate her Roanoke College experience.
Roanoke "provided me an opportunity to really fall in love with the process of photography," said McCormick. "It set the groundwork for my basic understanding of photography. I feel like I really developed my eye with shooting, and how to slow down, think and really focus on what shots I want to get and what story I want to tell. Roanoke has such a big piece of my heart."
As for the future, McCormick will continue to tell stories through her lens while also bringing attention to conservation, particularly the fight to protect the gray wolf population.
"I love being able to capture animals in their natural habitats," said McCormick, who lives in Colorado with her partner, Bianca, and their four dogs and three rats. "Unfortunately, a lot of those habitats are being destroyed, as well as the species. I want future generations to be able to see these creatures and create their own memories."