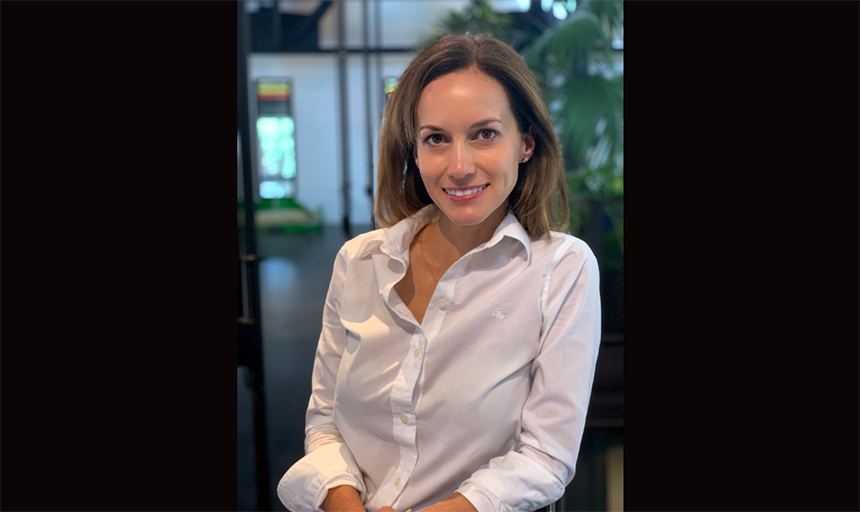 Mary Cunney '02.
Alumna involved in innovative COVID treatment
New York City-based technology company Nanotronics is built on the vision of creating a world where important innovations can be developed efficiently.
That vision became a reality during the COVID-19 pandemic, as Nanotronics helped develop a life-saving piece of technology in just 90 days last summer. That product, called nHale, is a non-invasive ventilator that helps those with COVID-19 get the respiratory support they need. nHale can be used at home, and is a more affordable option than many other ventilators. The company released it through a subsidiary of the company called Nanotronics Health.
Mary Cunney '02 is the chief marketing and communications officer for Nanotronics, and worked directly with CEO Matthew Putman to get the word out about nHale.
"The manufacturing of this life-saving machine was done so using our proprietary Intelligent Factory Control, which supports accelerated innovation and fosters rapid and cost-effective scaling of products for demanding mass markets," Cunney said. "This process improves yield, reduces waste and should serve as an example for how other manufacturers can operate in order to get Americans what they need, when then need it."
Many organizations sought to develop products like this last year as hospitals filled up and lives were at risk. Nanotronics was in a particularly good position to create and develop a product quickly because the main focus of the company itself is to streamline manufacturing processes and simplify supply chains to produce products more quickly and affordably.
Nanotronics Health was able to get nHale to market in 90 days and for a fraction of the price of many portable ventilators. Cunney said people can buy nHales with a physician's prescription for around $350 whereas other ventilators can cost upwards of $1,300.
Outreach was a key part of ensuring nHale was affordable. Cunney and her colleagues worked with prisons and with people in the local Brooklyn community to make sure they can have these machines if they need them at income-based prices.
"You're motivated by trying to get something to people they can afford," Cunney said.
"It helps free up the hospital beds for the more serious people who potentially do need to be intubated. But it also helps people at home.""
Mary Cunney '02 on the nHale ventilator
The U.S. Food & Drug Administration (FDA) gave nHale an Emergency Use Authorization so it could be used to help patients suffering from COVID-19. The ventilator is small enough and simple enough that it could be used either in a hospital or at home. Cunney said hospitals in Brooklyn and beyond are using the nHale as a discharge device so that they can manage their respiratory health at-home post COVID.
"It helps free up the hospital beds for the more serious people who potentially do need to be intubated," Cunney said. "But it also helps people at home."
Cunney's journey to the fast-paced, cutting-edge world of tech marketing and communications began at Roanoke. She majored in English, knowing she wanted to go into communications. She said her time at Roanoke helped set her up for success.
"I think the English program was rigorous and interesting, and one that definitely challenged us but was also a very supportive community," Cunney said.