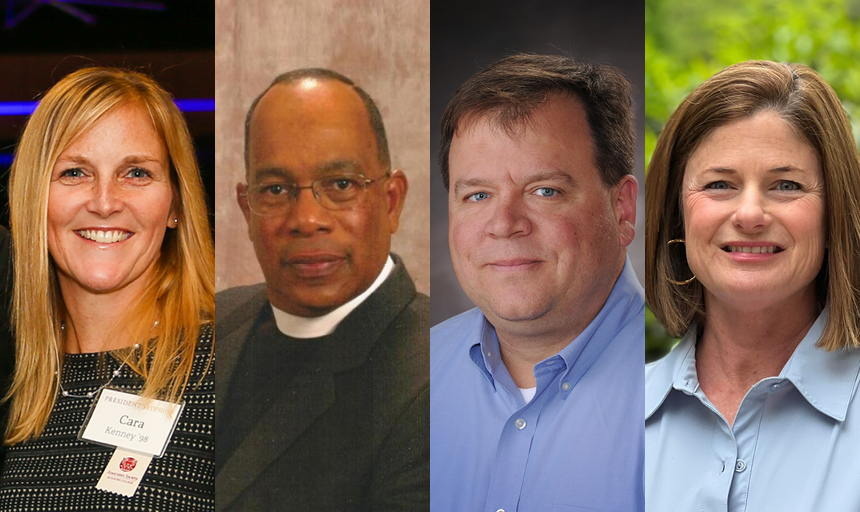 From left to right: Cara Kenney, Harry Griffith, Greg Terrill and Nicole Terrill
New members appointed to Board of Trustees
Four new members are joining the Roanoke College Board of Trustees.
Harry Griffith will be the new Evangelical Lutheran Church in America Representative, replacing Richard Goeres. Greg Terrill '94 and Nicole (Brewer) Terrill '95 have been named as co-chairs of the Parent Leadership Council, making them ex-officio members of the Board of Trustees. Cara Kenney '98 is the new president of the Roanoke College Alumni Association, which is an ex-officio member of the Board. She replaces Joe Carpenter '99 in the Alumni Association leadership role. Carpenter will remain as a member of the Board of Trustees.
Pastor Harry W. Griffith is the retired pastor at Our Savior Lutheran Church in Virginia Beach. Griffith is a 1974 graduate of California Lutheran College, where he majored in religion and was the first Black American senior class president. Griffith also served with the U.S. Marines Corps and the U.S. Navy and has received many military commendations. His daughter, Karen Griffith, is a Roanoke College graduate from 2019 and is now a coordinator of management services for the homeless at The Planning Council of Hampton Roads.
The Terrills are the new co-chairs of the Parent Leadership Council. Greg Terrill majored in English at Roanoke College and received an M.B.A. from Seton Hall University. He worked as a research analyst at CIBC Oppenheimer and is the president of Chervan, Inc. and of TXTUR, furniture manufacturing companies based in Roanoke, Virginia. The Terrill's' daughter, Nora Terrill '24, is an environmental studies major at Roanoke College.
Nicole Terrill holds a B.A. in English and sociology from Roanoke and a Master of Public Health (MPH) from Colombia University. She has a well-known working background in healthcare administration, project management and education, and is a community volunteer.
Cara Kenney is a 1998 graduate with a major in education. While working with Arlington Public Schools, Kenney earned her Masters of Education (M.Ed.) from the University of Virginia. Kenny has been a teacher since 1999. She received a gifted education endorsement, a National Board Certification, was an adjunct professor at the UVA Higher Education Center, was on the Literacy committee chair, and led professional development at Oakland Elementary School. From 2013 to today, Kenney was a part of the Valley Youth Hockey Association Board and was a volunteer coach for the Learn to Play Hockey organization. She has also served as a Roanoke College Friendship Family Host. Most recently, she has served as the Roanoke College Alumni Association Executive Council Secretary and Communications Director. Kenney and her husband, Patrick Kenney '99, have three sons. Patrick Kenney was a political science major and a U.S. history minor receiving his Juris Doctor degree from the University of Vermont.