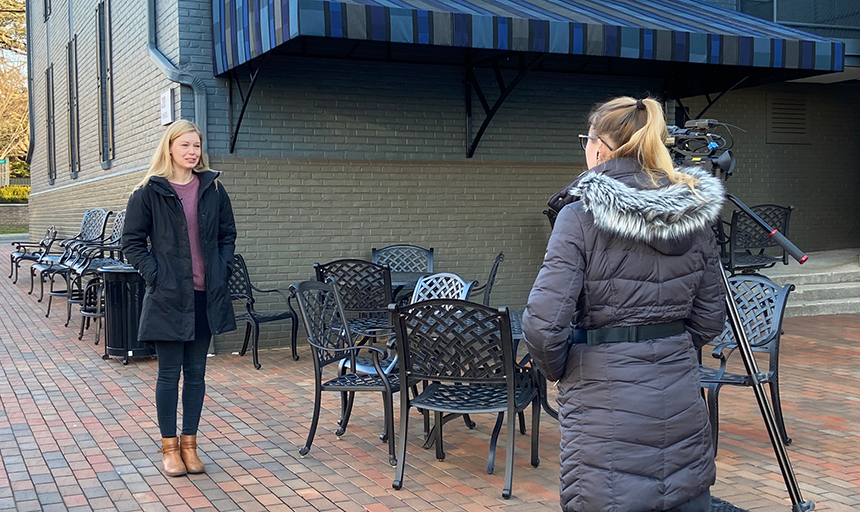 Dr. Chelsea Peters is interviewed by a reporter from WDBJ7 for a story about the environmental impact of road salt.
Roanoke College News Roundup
As 2021 ended and 2022 began, Roanoke College has seen major coverage in the news, especially pertaining to faculty and alumni.
Dr. Liz Ackley, the Brian H. Thornhill Associate Professor of Health and Human Performance, was recognized as one of 12 recipients of the 2022 Outstanding Faculty Awards by The State Council of Higher Education (SCHEV) and Dominion Energy, as announced by the College on Dec. 16 and the Salem Times-Register on Dec. 22. The award will be presented at an in-person ceremony on March 1, 2022.
Ackley's research was also featured in a proposal co-written by Elvir Berbic, immigrant activist, and Landon Moore, founder of the Star City Soccer Foundation, to convert old tennis courts into futsal courts at Preston Park. Ackley's research discovered that the Preston Park youth "had higher rates of being overweight and obese compared to other Roanoke neighborhoods," as reported by Culpeper Star-Exponent on Dec. 22.
The Roanoke Times shared some of Salem's history on Dec. 23, recounting the story of how Roanoke College's Elizabeth Campus used to be its own establishment – Elizabeth College.
The men's basketball team hosted the Cregger Invitational, and the women's basketball team hosted the Susan Dunagan Holiday Classic, as shared by The Roanoke Times on Dec. 28.
The Roanoker featured several alumni in their "40 under 40" list: Johnathan Murrill '09, Rachel Spencer '04, Hannah Curtis '15, David Guynn '13 and Madeline Sefcik '17. Also featured was Ariel Clark, who worked on restoring the historic Clay Street House and Monterey Slave Quarters for the College.
David Linden '87, another alumnus, was selected as the new chairman of the Roanoke County School Board, as reported by The Vinton Messenger and The Roanoke Times on Jan. 5.
Both WSLS and WFXR reported about the College's phased return for the spring semester in order to keep COVID-19 and flu cases at a manageable level.
Dr. Gregory Samantha Rosenthal, associate professor of history, reached the ninth spot in Book No Further's top 25 bestselling titles of 2021 for their book "Living Queer History: Remembrance and Belonging in a Southern City." Rosenthal spoke in-depth about the book in an interview with the Roanoke Rambler.
In preparation for an upcoming snowstorm, Dr. Chelsea Peters, associate professor of environmental studies, spoke to WDBJ7 about salt contamination in the environment on Jan. 14.
Dr. Alice Kassens, John S. Shannon Professor of Economics, talked with WFIR about inflation rates on Jan. 17.
Micah Spruill '11 and Dan Strelka '89 were elected to the Roanoke College Board of Trustees, as reported by the Salem Times-Register on Jan. 19 and Roanoke Times on Jan. 23.
Virginia's Blue Ridge Twenty24 women's cycling team announced Roanoke Valley as their new training grounds for the next few years. In attendance were President Michael Maxey and 2012 Olympian and Roanoke College alumna Shelley Olds '03. The Roanoke Times, WSLS, WFXR and WWBT all covered this announcement on Jan. 22.
On Jan. 26, The Roanoke Star shared that Garrett Channell '20, Salem Museum's director of education and archives, is hosting a Zoom event in celebration of Thomas Edison's 175th birthday. Channell studied history at the College and often volunteered at the museum before joining the staff.
Students from Dr. Rosenthal's spring 2021 INQ-300 course, LGBTQ Issues, were featured in an article from Roanoke Rambler on Feb. 2. The students researched and presented information to the Roanoke City Council on ways to improve the city's Municipal Equality Index score.
President Maxey was elected chair of the Board of Directors of the Council of Independent Colleges, as reported by AP News, Virginia Business, yahoo!finance and MarketWatch on Feb. 7.
The latest news coverage about Roanoke College and our campus experts can be found on the media coverage page.