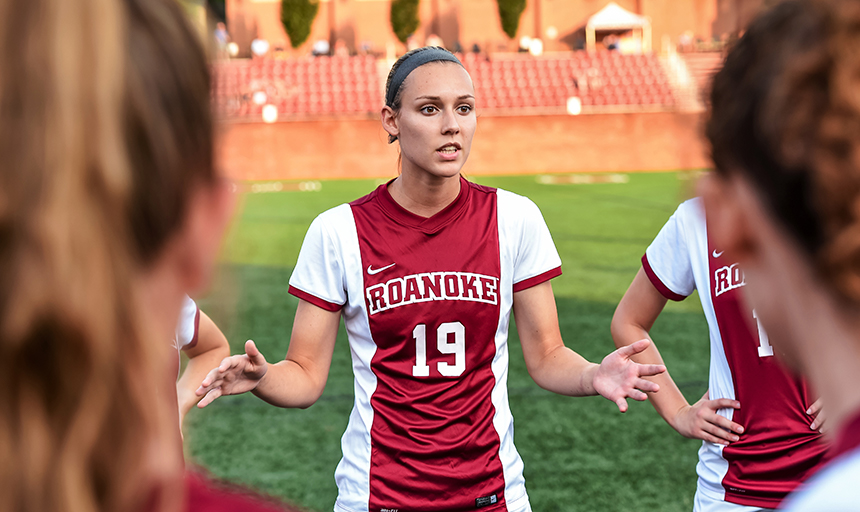 Omicron Delta Kappa names Jillian Barnard '19 Leader of the Year for Athletics
Roanoke College graduate Jillian Barnard '19 has been selected as a 2019 Leader of the Year by Omicron Delta Kappa, one of the nation's oldest national leadership honor societies.
Each year, ODK awards the General Russell E. Doughtery Leader of the Year honor to five students nationwide who have shown the greatest dedication in each of ODK's five phases of campus life: scholarship; athletics; campus or community service; journalism, speech, and the mass media; and creative and performing arts.
Barnard, captain of the Roanoke College women's soccer team, received the honor in athletics.
"I'm very grateful to have been named ODK's Athletic Leader of the year," says Barnard. "I'd like to thank Dr. Trexler and Dr. Hollis as well as Coach Benne and the RC Athletics staff for their support and investment into my development as a leader while at Roanoke. Go Maroons!"
ODK Roanoke College circle, or chapter, members are students in the top 35% academically of their class, nominated to join by faculty, staff, coaches and administrators. ODK's National Awards Committee received 37 applicants for the five awards this year. This is the first time ODK has selected a leader of the year in athletics from Roanoke College.
"Jillian Barnard embodied ODK's ideals from her role as captain of the soccer team, to her work as a resident advisor to her leadership as president of the RC Circle (2018–2019)," says Dr. Melanie Trexler, professor of religion and ODK faculty advisor. "I have no doubt that she will continue to express these values as she finds new leadership roles as a graduate student in Radford's Masters in Occupational Therapy program. We are so proud of Jillian!"