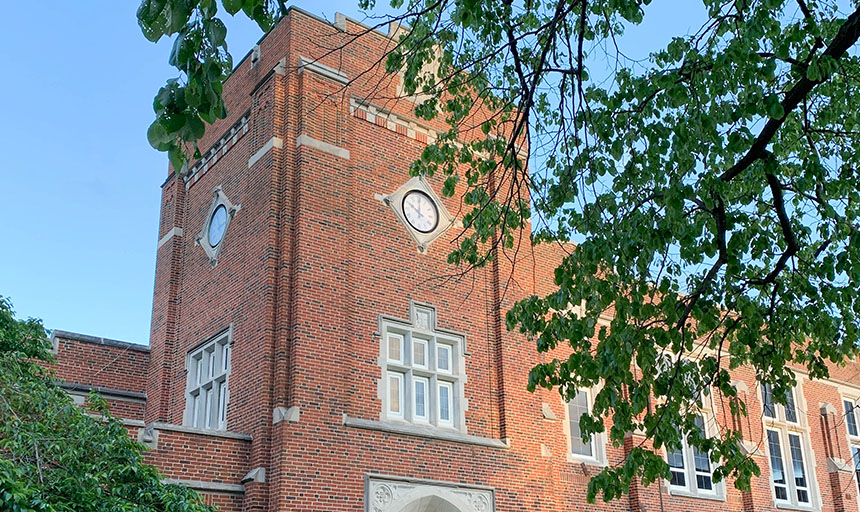 Nominations open for annual Office of Multicultural Affairs awards
The Office of Multicultural Affairs has opened nominations to honor individuals, organizations and offices or departments that have gone above and beyond in promoting diversity, equity and inclusion, or who exemplify leadership qualities needed to live, learn and work in an inclusive community.
OMA recognizes these efforts annually, but because the Spring 2020 semester was interrupted by the COVID-19 pandemic, nominations for the 2019-2020 academic year are being accepted now until Oct. 15. Nominations — submitted to Natasha Saunders at nsaunders@roanoke.edu — must include the nominee's name, organization or office/department; any additional background information you wish to provide; three to five sentences explaining why you are nominating the individual, organization or department; and the category for nomination.
Categories include:
Rising Star - First- or second-year individuals who have committed themselves to embracing diversity and social justice at Roanoke College.

Upperclassmen Award - A junior or senior who exemplifies the ideals of campus diversity through their actions, an affiliation with organizations that promote diversity education, and/or contributes to implementing events promoting diversity.

Faculty Award - Recognizes a faculty member who demonstrates exemplary leadership and who manifests the ideals of diversity, equity and inclusion through practical action across a range of areas.

Staff Award - A professional who has demonstrated commitment to fostering a positive campus climate and community through the advancement of diversity, equity and inclusion efforts.

Student Organization Award - Actively engages students, the campus community and/or the wider community in efforts that promote and facilitate dialogue and social engagement with and between individuals of varying backgrounds and capabilities.

Department/Division Award - Cultivates and promotes diversity initiatives that establish and foster a more inclusive and equitable work environment. Exhibits visionary and insightful leadership to confront and resolve inequities, outlines defined goals, and/or demonstrates progressive best practices that support diversity, equity and inclusion goals.

Legacy Award -- Contribution to Roanoke College and the Office of Multicultural Affairs through

time, creativity, being involved, participating, advocating in and for anything diversity and inclusion related.

Maxine Fitzgerald Trailblazer Award -- A person who blazes a trail for others to follow.
Recipients of these awards will be recognized at the OMA 20th Anniversary Legacy Event on Nov. 13. During this event, the winner of the newly established Bonilla Legacy Essay Contest will read their speech.
The Bonilla Legacy Essay Contest was created in collaboration with brother and sister Catherine Bonilla '14 and Cesar "Chico" Bonilla '19, the Office of Multicultural Affairs, and the Roanoke College Board of Trustees, to award and financially assist current Roanoke College students. Student awardees will be recognized for their commitment to impacting their communities and the lives of others through leadership, mentorship, civic engagement, research and/or participating in diverse opportunities in a number of fields.
This year's essay theme is "Diversity Means All of Us: How I Contribute to Creating Legacy within the Roanoke College Community and Beyond." To enter, a student must be an undergraduate currently enrolled at Roanoke College, with a grade point average of 2.5 or higher. Essays must be no fewer than 500 words, but no more than 1,500 words, typed in 12-point font and double-spaced. The entry must be submitted to Natasha Saunders at nsaunders@roanoke.edu by Oct. 23.
Judges, representing faculty, staff and alumni, will review all submitted essay contest entries and rank the essays for thoughtfulness in response, impact of contribution and clarity of communication. From there, judges will select a first-, second-, and third-place winner, who will receive a monetary prize of $3,500, $2,500, and $1,500, respectively.
Mark your calendars for the OMA 20th Anniversary Legacy Event, to be held on Nov. 13. As of now the event will be hybrid with both in-person and virtual options – a RSVP announcement will be released soon to provide limited seating to nominees, winners and faculty, staff and students who want to attend, so stay tuned! Support student awardees and hear more about Roanoke College's efforts to promote diversity, equity and inclusion!