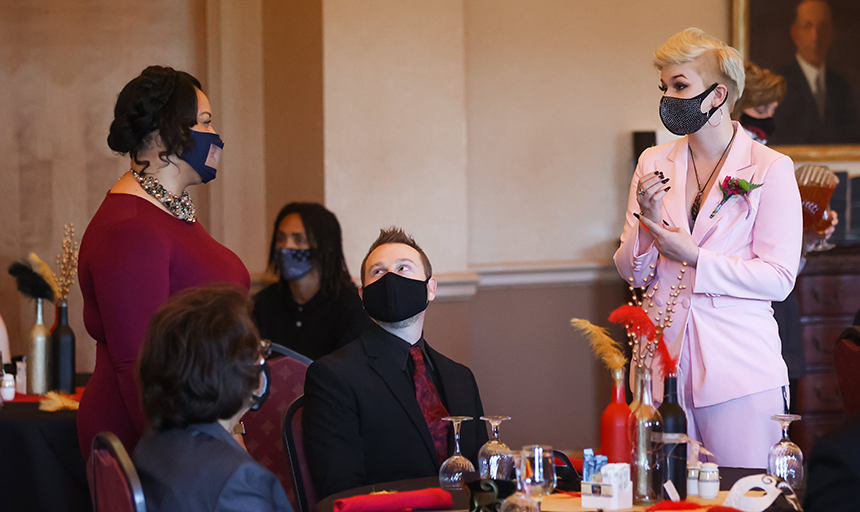 Students, faculty, staff honored with diversity awards
On April 16, the Office of Multicultural Affairs honored 25 students, faculty, staff and alumni with the annual Kenneth R. Garren Excellence in Diversity Award, recognizing exemplary dedication and work in promoting diversity, inclusion and equity.
Award recipients were able to experience the ceremony in-person or via Zoom, which made for an exciting event that involved family and friends, near and far. From the dining hall to the classroom to the boardroom, these Maroons are making campus a more inclusive place.
The awards were given out during the annual Heritage Ball. Director of Multicultural Affairs Natasha Saunders said the event was a team effort.
"During the 21st annual Heritage Ball, we had the time to reflect on all that it has embodied for so many students who have become family through OMA," Saunders said. 'We also recognized our Spring 2021 Ken Garren Diversity Award recipients. I also would to give a heartfelt thank you to President Maxey, Dean Smith, Board of Trustees Ken Belton and Joanne Cassullo, alumni Cathy and Chico Bonilla, RC Dining, the Campus Center & Student Activities and our amazing OMA team for pulling the event together. Diversity doesn't just mean all of us, it INCLUDES all of us."
Recipients include:
Garren Diversity Faculty Award 2021
For this award, the committee sought faculty members who demonstrate exemplary leadership and that manifest the ideals of diversity, equity, and inclusion through practical action. Recipients may demonstrate this commitment across a range of possibilities: student-centered inclusion initiatives; efforts to support recruitment and retention of diverse faculty and/or students; teaching and/or research that expands and embraces our understanding of inclusiveness; multicultural programming or related initiatives; community outreach activities; or several other possibilities:
Dr. G. Samantha Rosenthal

Dr. Nadia Martinez-Carillo

Dr. Jesse Bucher

Dr. Melanie Trexler
Garren Diversity Staff Award 2021
For this award, the committee sought a professional who has demonstrated a commitment to fostering a positive campus climate and community through the advancement of diversity, equity, and inclusion efforts:
Dean Richard Smith

Elizabeth McClenney

Jimmy Whited

Shelby Thompson
Garren Diversity Upperclassmen Award 2021
For this award, the committee sought individuals who exemplified the ideal of campus diversity through their actions, an affiliation with organizations that promote diversity education, and/or contributes to implementing events promoting diversity:
Snigdha Somani

Shania Glover

Troy Crawley

Aspyn Totten

Michelle Ogutu
Garren Diversity Rising Star Award 2021
For this award, the committee sought first or second year individuals who have committed themselves to embracing diversity and social justice at Roanoke College:
Amaia Boykin

Rosemarie Barnes-Lilye

Anna Pickard
Garren Diversity Student Organization Award 2021
For this award, the committee sought organizations that actively engage students, the campus community, and/ or the wider community in efforts that promote and facilitate dialogue and social engagement with and between individuals of varying ethnic, racial or religious backgrounds, gender identities, socioeconomic statuses, sexual orientations and/ or physical and mental capabilities:
CAB (Kayla Marshall & Dianne Dervis)

BSA (Jordan Robinson, President)

Lambda Alliance (William Wiener, President)
Garren Diversity Maxine Fitzgerald Trailblazer Award 2021
For this award, the committee sought individuals who blaze a trail for others to follow; a pioneer and innovator:
Jordan Robinson

Aaron Rogers

Tatiana Cherry-Santos

Shakil Persad
Garren Diversity Legacy Award
For this award, the committee sought individuals that contribute to Roanoke College and the Office of Multicultural Affairs in a significant, impactful way:
Mr. Kenneth J. Belton, Trustee & Roanoke College Alum

Tiffany Bennet
The award is named for Dr. Kenneth Garren '62, who served at Roanoke College as mathematics professor, associate dean of academic affairs, and vice president and dean of the College. It was through his leadership and vision that the Office of Multicultural Affairs was created in 2000. Garren retired as president of the University of Lynchburg in 2020.