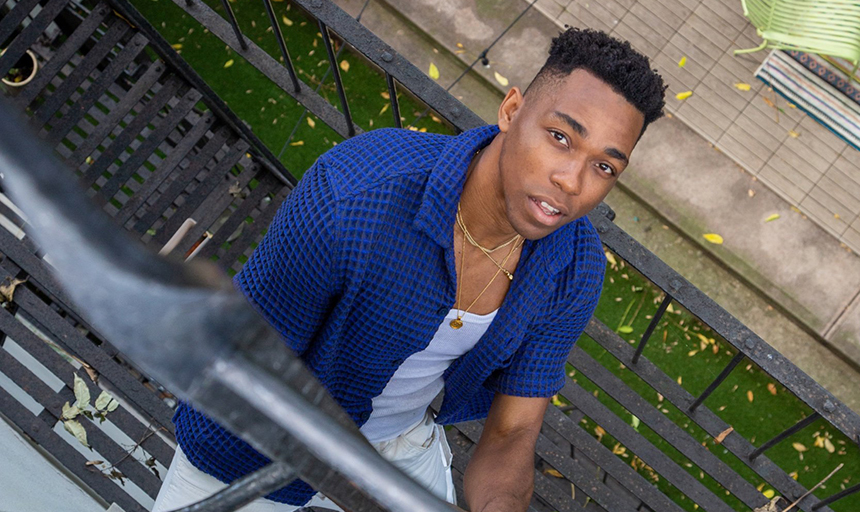 Scene on the screen
Most college students hope to find a vocation in their major or minor area of study, but on occasion, it is a person's extracurricular passion that spills over into a meaningful career – and Omari Chancellor '17 is a perfect example.
Chancellor, who graduated from Roanoke College with a degree in international relations, has parlayed a college love of filmmaking into an acting career that shows big promise. Most recently, Chancellor starred alongside Zac Efron and Russell Crowe in the movie "The Greatest Beer Run Ever," which was released in theaters and began streaming on Apple TV+ on Sept. 30.
"To see a student like Omari go out and make it happen and continue on a path they started here at Roanoke College is inspirational, not just for me but for other students, too," said Joe Boucher '87, Roanoke College's director of student activities and an early mentor to Chancellor.
Born and raised in St. Croix, U.S. Virgin Islands, Chancellor felt drawn to Roanoke during the college search process. "Coming from a small island where everyone kind of knew everyone, it felt like a no-brainer to go to a small liberal arts school where everyone knew everyone, treated everyone like family, and professors cared about their students," Chancellor said, "Which is what I felt like I got out of Roanoke."
Outside of class, Chancellor spent a lot of time in the Student Activities office with best friend Andrew Miller '17. Both were student workers for Student Activities, and both were fascinated by the art of filmmaking. They ended up warming the couch in Boucher's office almost daily, picking his brain about the time he spent as a Los Angeles-based producer of the hit television shows "The Simpsons" and "King of the Hill."
"We had a lot of fun, and they brought a lot of energy to the office," said Boucher, who had just made his career move from television production to higher education. "They were kind of my guys, and they were important to me because they confirmed that I had made the right career move."
In 2016, Boucher held a screenwriting contest for students, and Chancellor was cast as a lead in the winning film, "Daylily Day" by Stephanie Spector '16. "That was the first time I had done any acting," Chancellor said. "I learned a ton and I didn't think I would keep going with it, but I had a great experience."
Around that time, with Boucher's encouragement, Miller and another friend created the Basically Tarantino film festival at Roanoke to help promote the College's new screen studies concentration. "Daylily Day" premiered at the festival, which was held at Grandin Theatre in Roanoke. At the following year's festival, Chancellor and Miller shared their film "Out of Darkness," a mildly scandalous cartoon about a down-on-his-luck sex toy that starts selling drugs in order to buy a new battery for his dying mother. The friends taught themselves animation in order to complete the film on deadline – not an easy task.
"I felt super supported by my professors and by the community at Roanoke, and I felt very confident and able to try and fail at things, which I think is a comfort I haven't had in anything I've done since."
~ Omari Chancellor '17
Chancellor (left) with Zac Efron (right) in "The Greatest Beer Run Ever." Photo credit: AppleTV+
The summer before their senior year, Boucher connected Chancellor and Miller with fellow Roanoke alumnus David Robinson '93, who is president of Morgan Creek Entertainment Group in Los Angeles. Both students got internships at Morgan Creek, and Chancellor spent the summer cataloguing wardrobe and props for the 2017 Tupac biopic "All Eyez on Me."
"Joe called David and he said 'Sure, send them out,'" recalled Chancellor. "I just feel like that is kind of the culture of the school; it is such a small community."
Chancellor, who didn't take theater classes or participate in any theater productions at Roanoke College, still dreamed of attending graduate school for writing and/or acting at New York University. As a senior, Chancellor sought audition advice from theater professor Bruce Partin, who was in his last year of teaching before retirement.
"When Omari came knocking on my office door to ask for my help for taking a shot at NYU, I was more than a bit skeptical," Partin said, adding that he wondered if the student knew how much work it would require. As they started rehearsing monologues, Partin learned immediately that Chancellor was committed – and vice versa. "I didn't even know Dr. Partin but he worked with me in his office for like a whole month," Chancellor said.
When Partin got the call one year later that Chancellor had been accepted at the Tisch School of the Arts at NYU, Partin called it "one of the most rewarding calls I've ever received."
After graduation from NYU, a short film called "The One" landed Chancellor representation with Paradigm Talent Agency. Since then, there has been a lot of auditioning and "just throwing a lot of things at the wall." Chancellor was cast in a few television pilots that did not move forward – then "The Greatest Beer Run Ever" came along. The movie, which is based on a true story, tells the tale of a man who leaves New York and travels to Vietnam in 1967 to share a few beers with his friends.
Chancellor originally read for a part in a bar scene near the beginning of the movie, which would have been shot with Bill Murray in New Jersey. Instead, Chancellor was cast as a soldier in Vietnam named Erickson, which meant travelling to Bangkok, Thailand, where Crowe and Efron were shooting.
"It's weird to see movie stars up close," Chancellor said. "But it was cool because I was like, 'You're Zac Efron' and he was like 'Yeah, but you're my coworker now.' He was just a really nice dude."
Chancellor spent six weeks in Thailand, but two weeks of that time were spent holed up in a hotel room for mandatory COVID-19 quarantine. Chancellor passed the time writing and auditioning for roles over Zoom, sometimes in the wee hours of the morning. Because the film was shot out of sequence, Chancellor only shot scenes for a total of three or four days in Thailand. But that left plenty of time to explore the area. "It was a blast because I got to really see the country with a bunch of people that I didn't know. We bonded."
Chancellor now hopes that "Beer Run" will be the big break that leads to additional roles. The ultimate dream would be a role on "Atlanta" and a chance to meet Donald Glover. But Chancellor, who has acted in several plays at the Williamstown Theatre Festival in Massachusetts, said theater is actually more fun than television. "TV and film is what will get your name out there and pay you more, but you do more waiting than you do acting, and you're in your trailer for a long time. In theater, you are in the moment, living in the story from beginning to end, and finding something new in the story night after night."
Although a future in Hollywood is not certain, Chancellor said, more visits to Roanoke College are definitely in the cards.
"Roanoke is one of my favorite places in the world, hands down," Chancellor said. "I loved NYU, but I didn't feel as at home there as I did at Roanoke. I felt super supported by my professors and by the community at Roanoke, and I felt very confident and able to try and fail at things, which I think is a comfort I haven't had in anything I've done since. I don't think I would be able to do these things without the growth and development that I found being a student at Roanoke."