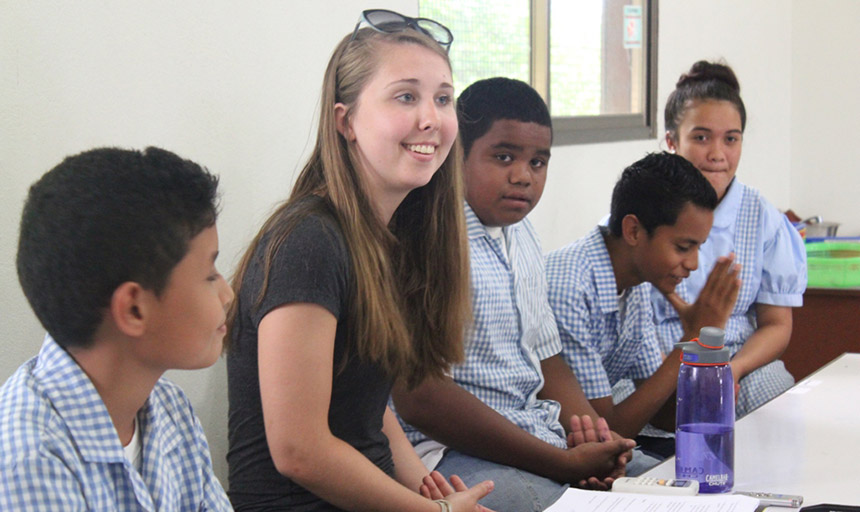 Roanoke's Madison Howard talks with students at a school in Palau. Photo courtesy of The U.S. Embassy in Palau.
10.12.2015
By Sharon Nanz '09
Fintel Library receives books from Palau as result of Roanoke research work
It's not often that Roanoke's Fintel Library acquires books from 8,600 miles away. That's how far three volumes traveled to find their way into the book stacks.
The colorfully illustrated monographs are gifts from the minister of education of the Republic of Palau, a western Pacific island nation where Dr. Chad Morris, an anthropology professor at Roanoke, and 15 of his students traveled for May Term.

A vacation trip to Palau several years ago opened Morris' eyes to how colonization and globalization had negatively influenced traditional Palauan dietary behavior, and it sparked his desire to learn more. He began studying the epidemic of obesity, diabetes and heart disease among the Palauan population and soon invited Roanoke students to do the same.
His first May Term group visited Palau in 2012. Those participants and Morris' on-campus honors students laid the groundwork for this year's work.
The 2015 May Term team met with focus groups of Palauan students, parents and teachers to discuss their nutritional habits, school policies, curriculum, and ideas for improvement. Afterwards, the Roanoke students prepared a presentation for Palauan education officials. In appreciation of their work, Minister of Education Sinton Soalablai presented the students with three books about Palau for the College's library.
The work of Roanoke's students will be far-reaching. Their research findings were discussed at an annual workshop of Palauan school principals over the summer, and their visit was featured on the U.S. Embassy to Palau's website. Focus group analysis is ongoing, and results will be used by officials seeking funding for family and school nutrition programs.
Morris, who travels to Palau yearly, will be returning next spring to assist with program implementation. His keen interest in this area led him to co-edit a book with Alexandra DeLaricheliere '14, "The Applied Anthropology of Obesity: Prevention, Intervention and Identity," to be released in early 2016.
Other May Term travelers, Amanda Wolfe '18 and Sarah Womack '15, also contributed to the book.