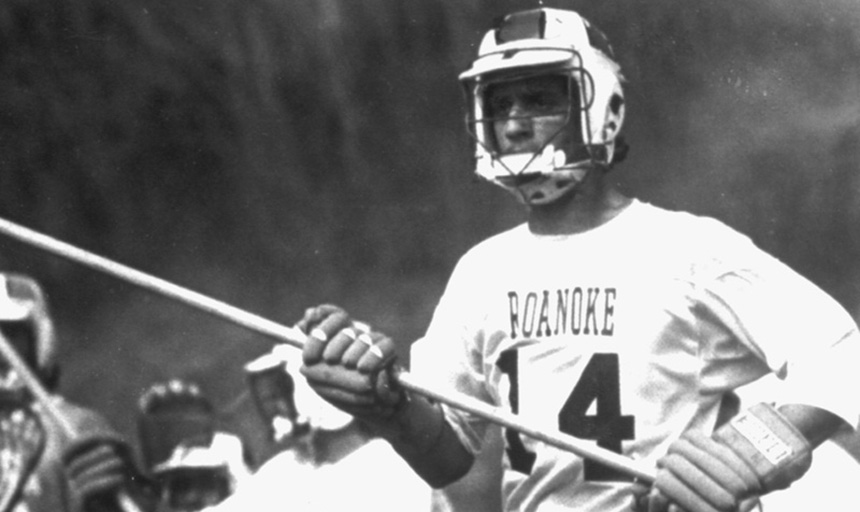 John Pirro '77 playing lacrosse for Roanoke College Maroons
John Pirro '77 enters National Lacrosse Hall of Fame
Bill Beroza ' 77 was trailing behind John Pirro ' 77 when he saw something amazing.
Pirro was pushing the ball up the field for the Maroons lacrosse team against one of the top teams in the nation, Washington and Lee. An All-American midfielder raced toward Pirro to slow him down. Without missing a beat, Pirro bounced the ball off the grass field, through the legs of the All-American, and snared it again with his net before continuing his drive up the field.
"It was absolutely a spectacle," Beroza said. "I wish it was on film. I don't know if everybody believes me, but I watched it."
Pirro's playing career at Roanoke College was full of unbelievable plays like that, and nearly half a decade after his college days, he is being inducted into the National Lacrosse Hall of Fame on Oct. 15.
Pirro, who died in 2013, is just the second Maroon to be enshrined in the National Lacrosse Hall of Fame, following in Beroza's footsteps. Roanoke Athletic Director Scott Allison ' 79, who was also a teammate of Pirro's and Beroza's, said Pirro's induction is a source of pride for the Maroons athletic department.
"It's been a long time coming, but it's quite an accomplishment for a tiny little school in Southwest Virginia to have somebody in a national hall of fame," Allison said. "This is a proud day for Roanoke College."
Beroza said it feels "fantastic" to have another Roanoke player alongside him in the Hall of Fame. Beroza was inducted into the National Lacrosse Hall of Fame himself in 1996 after an outstanding career as a goalie for Roanoke, the Long Island Club team and the United States National team.
"I feel fulfilled as a friend, as a player, as a teammate, as a lacrosse enthusiast that John got the well-deserved award," Beroza said. "Granted, it's posthumously, but you know what? It doesn't take away from the accomplishments for him that he can pass along the legacy to his children, his family and his friends."
Those accomplishments were numerous. He was the first athlete in the history of Roanoke College to be named a First Team All-American three times. He also won the national Most Outstanding Defenseman award twice. He played in the 1976 Superstars Game and the 1977 North/South All-Star Game, and he was twice named an All-South Atlantic Region All-Star.
But Pirro's impact goes beyond the stat sheet. He is an integral part of the College's men's lacrosse tradition. After one year of playing club lacrosse and then serving as assistant coach of the Maroons for two years, Pirro became the team's head coach in 1982 and coached for five seasons. In just his second season at the helm, he led the Maroons to the national title game. Roanoke won the Old Dominion Athletic Conference championship every year of Pirro's coaching career. He was elected to the Roanoke College Athletic Hall of Fame in 1987 and was the first Roanoke lacrosse player to have his jersey retired.
The same year Pirro took over as head coach, Bill Pilat was a freshman. Pilat, who graduated in 1985, has served as the head coach for the men's lacrosse team since 1988. The two grew close during Pilat's time as a player, especially because Pilat played goalkeeper and Pirro was a very defensive-minded head coach.
"He coached like he played," Pilat said. "Very fiery, very excitable, very animated, very enthusiastic, upbeat and intense. Same way he was as a player, he was as a coach. He was funny, he always had funny lines and things to say. Just a great guy, a guy you wanted to play for and a guy you wanted to win for."
"I feel fulfilled as a friend, as a player, as a teammate, as a lacrosse enthusiast that John got the well-deserved award. "
Bill Beroza ' 77
Pilat, who has won well over 300 games in his three decades at the helm of the program, said he has tried to carry on Pirro's intensity and the high expectations in the Roanoke men's lacrosse program. Pilat said he could tell how much Maroons lacrosse meant to Pirro, and he tries to channel that pride and pass it on to his players.
Those current players get a constant reminder of Pirro's legendary status within the program. A bust of Pirro overlooks Donald J. Kerr Stadium, and players often touch the bust prior to games for good luck.
"It's a great honor," Pilat said about the Hall of Fame induction. "He's only the second player we've ever had from here going in there, which is a great honor for them and for us. We're a smaller school. Most of the people who get inducted into the Hall of Fame are from Johns Hopkins or Maryland, big schools like that. …It's definitely a source of pride for us."
Pirro never backed down from players at those larger institutions, and now he will stand alongside many of them in the National Lacrosse Hall of Fame. Beroza's story of Pirro's heroics against Washington and Lee is not unique. It seems like everybody has a Pirro story to share and almost all of them can be described as "unbelievable."
Allison was a freshman on the bench in 1976 when Roanoke played Towson. One of Towson's best players was starting a play from a dead ball, and Pirro crouched in a defensive stance a few yards away. He locked eyes with the Towson player and raised his hand in a "bring it" motion, as Allison remembers. As soon as the play began, Pirro checked the player and stole the ball. Allison remembers it vividly to this day, and he said it's the moment he thinks of whenever anybody brings up Pirro.
"That was an unbelievable play, and it speaks to the kind of player he was," Allison said. "The skill to take the ball away, the confidence to show his opponent how dominating he was, the leadership that it takes to put yourself in that situation when you realize your team is struggling and you need somebody to step up. That play personified that."
Those traits made Pirro an exceptional player and Maroon, Allison said. His legacy continues to impact the lacrosse program, and the College as a whole, in a positive way.
"It's pretty cool how the players of today, 2022, know the name John Pirro," Pilat said. "I think it's a testament to our tradition of our program, that it's been handed down from him to me, all the way down to these young guys who weren't even born when he was doing his thing."
John Pirro '77