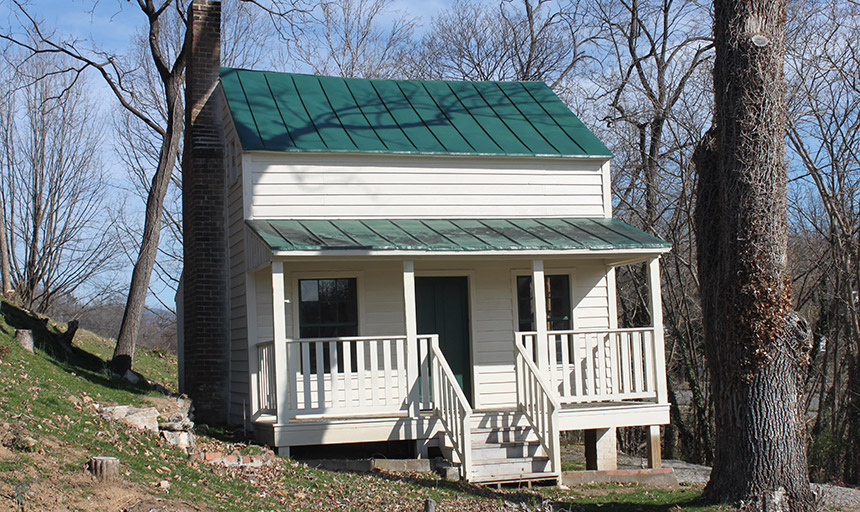 Preservation group lauds Clay Street House, Bank Building restoration
A local preservation group has recognized a former house and future museum site on Roanoke College's campus as historically significant.

The Roanoke Valley Preservation Foundation presented Roanoke with an adaptive reuse award for its restoration work at Clay Street House, located adjacent to the College at Clay Street and Thompson Memorial Avenue. Each year, the nonprofit recognizes restoration, adaptive reuse and other heritage and historical projects in the Roanoke area.
The Clay Street House's recognition comes a year after the foundation presented the College with another preservation award - the renovation of the former Farmers National Bank building on Main Street, which now houses Roanoke's History department faculty. The building's main floor now is used as an event and exhibition space for the College and the History department.
The two-room Clay Street House, known formerly as the Tanyard House and the Burke Cabin, is one of the oldest homes in Salem, and it has been nominated for state and national historic registries, according to the foundation. Local historians estimate that the structure was built in the mid-19th century.
Renovations to the small house's exterior began several years ago after the College received two donations to fund the work. Southwest Restoration in Roanoke did much of the restoration.
"There are a lot of creative things that could be done."
Dr. Whitney Leeson, professor of History and Anthropology
Once the house's interior renovations are complete, the home eventually will become a 19th century Salem domestic museum site, said Dr. Mark Miller, who is David F. Bittle Historian of the College and a History professor. The College needs about $54,000 to complete the home's interior restoration, which would involve replacing missing floorboards and reconditioning the walls, among other work, he said.

A 1930's addition to the back of the house also will be repurposed as a work space for students and as storage for materials.
Miller said he expects the interior work to be complete by the end of this year.
Miller and Dr. Whitney Leeson, a professor of History and Anthropology at the College, said Roanoke students will work in the museum, preparing exhibits and working with artifacts. Some of Leeson's archeology classes already have used the site for excavations.
Another class, an architecture and historic preservation course taught Dr. Gary Dent, has analyzed the structure's architectural features.
Along with the site serving as a learning space for students, it could connect well with large Salem historic events and other community initiatives, Leeson said.
"There are a lot of creative things that could be done," she said.