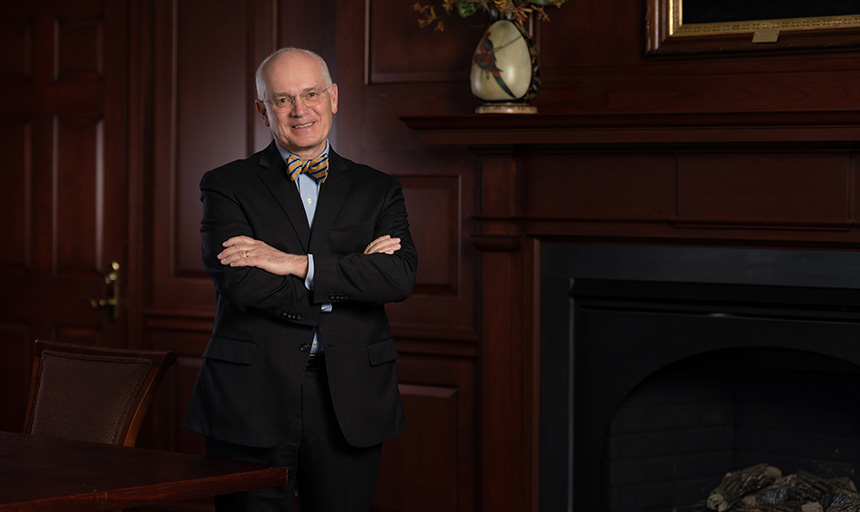 President Emeritus Maxey honored by higher education council
President Emeritus Michael Maxey has been tapped for one of the highest national honors awarded by The Council of Independent Colleges.
Maxey, Roanoke College's 11th president, was picked from a pool of nominees from across the country to receive the 2023 Charles W. L. Foreman Award. The award recognizes a higher education president or trustee who has demonstrated truly exceptional commitment and leadership, organizers said.
"To win the Foreman Award, a nominee must have a strong and abiding commitment to the mission of the Council of Independent Colleges and their State Council, as well as an outstanding record of service — a record that truly distinguishes the recipient from their peers," said Matthew Shank, president of the Virginia Foundation for Independent Colleges (VFIC).
The VFIC nominated Maxey for the honor. The award will be presented to Maxey during the CIC State Council's annual conference, which is being held on April 30-May 2 this year in Virginia Beach.
RELATED: Maxey Farewell | President to retire in 2022
RELATED: President Maxey to lead CIC Board of Directors
The Council of Independent Colleges (CIC) is an association of independent, nonprofit colleges and universities that work together to strengthen campus leadership, advance institutional excellence and enhance public understanding of higher education's contributions to society. For more information, visit www.cic.edu.
The VFIC aims to advance the distinctive values and strengths of its 16 consortium schools across Virginia. That work includes generating financial support, with more $172 million raised since its inception, and leading a range of programs that support a vibrant and rigorous educational experience. For more information, visit www.vfic.org.