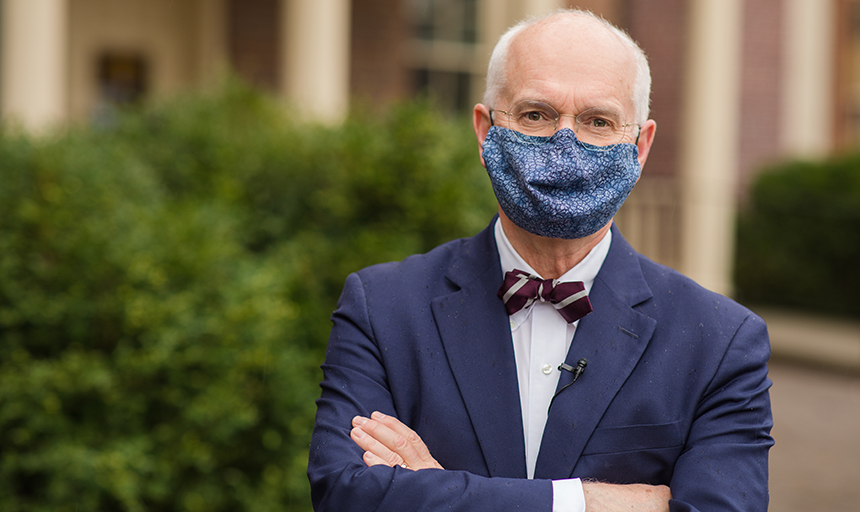 President Maxey's mid-semester message and plans for Fall 2021
Dear Maroons,
Today marks the midway point of the spring semester, and there are many reasons to be hopeful! Spring on campus is a beautiful season and Virginia's COVID-19 cases are declining while the vaccination rate grows every day. As of today, March 19, we have 41 positive cases on campus and there are 51 students in quarantine. While our COVID-19 cases on campus remain manageable, they have increased and we are approaching the capacity of our isolation spaces on campus. If cases continue beyond our capacity, we'll be forced to consider additional measures, including a return to remote education and sending students back home.
We all want to continue education on campus and in person so it is imperative that we follow the COVID protocols. Please don't let your guard down, and do your part to keep campus safe and prevent spread. This includes wearing a mask, washing your hands, social distancing and not attending or hosting gatherings where guidelines are not being followed.
I thank you for remaining diligent and continuing to take the prevention of COVID-19 seriously. I also encourage you to keep up your vigilance so we can finish out the semester successfully.
Following is an update on several key items the College has communicated about over the past year and how we're progressing.
• We are in the process of hiring a Vice President for Community, Diversity and Inclusion, who will dedicate their time to ensuring our campus continues to be a place where every voice is heard and fairly represented.
• Regarding Title IX operations, we remain committed to turning our words into action when it comes to handling Title IX complaints and keeping our campus safe. We are also paying close attention to proposed changes in Title IX regulations under the Biden administration.
In early April, a survey will be conducted on campus regarding students' perceptions of the College's climate surrounding unwanted sexual contact and sexual assault, students' perceptions of how thoroughly the College responds to sexual assault, and whether and how often students have experienced unwanted sexual contact or sexual assault. I hope all students will participate in this survey.
• We hope to celebrate with our 2020 and 2021 graduates in person, but are prepared to perform engaging virtual ceremonies if restrictions require alternative plans. There are multiple teams of people working on graduation plans. Our outdoor venue is at the Salem High School Football Stadium. We will be in this location in order to comply with the requirements of the Virginia Governor and Health Department; this venue will also allow us to have a greater number of guests.
"We all want to continue education on campus and in person so it is imperative that we follow the COVID protocols."
President Mike Maxey
Looking beyond this semester, we are confident that we will be able to welcome all of our students to campus in the fall and will not have to offer remote courses. This optimism is based on the projection of U.S. leadership that 300 million doses of vaccines will be available by the end of May and that everyone above the age of 16 will have the opportunity to be vaccinated by the middle of the summer.
In-person education is who we are and what we do at Roanoke. In-person education and our campus life experience are the best ways for our faculty and staff to connect with students and for students to connect with one another in order to create our wonderful tight-knit community. Connections and a sense of community are likely major reasons why you chose to attend Roanoke College in the first place. We miss it and know you do as well.
I look forward to seeing even more students on campus this fall, and witnessing in-person classes, large social gatherings like President's Ball, concerts, in-person speakers, clubs and lively sporting events. But these activities are still at least a few months off. So, once again, I ask you to stay vigilant, stay safe, and stay healthy. Doing so will allow us to finish this spring semester on campus.
Please continue to send any questions you may have to questions@roanoke.edu.
Be well Maroons,
President Michael Maxey